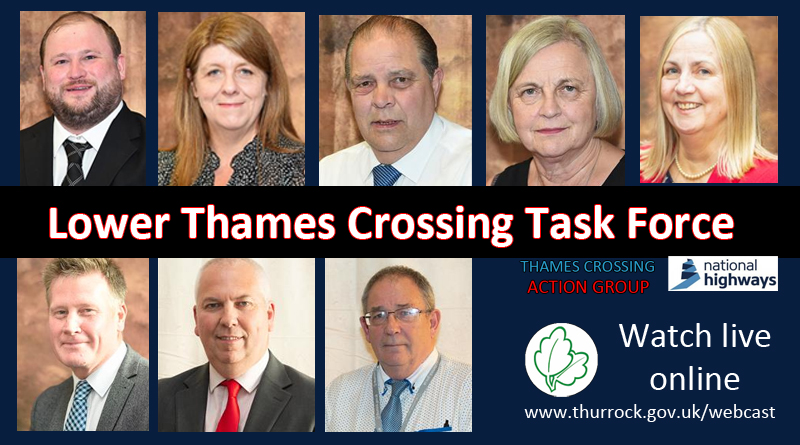 The LTC Task Force was formed in Sept 2017 by Thurrock Council.  The meeting takes place monthly, and TCAG have had a seat on the committee from the very beginning.  National Highways (formerly Highways England)/LTC are sometimes in attendance.
Members of the public can usually attend and sit in the public area, but not ask questions directly.  Meeting is usually held in the Civic Offices, New Road, Grays, Essex RM17 6SL.  Please check the agenda on council website (usually released a week before the meeting) for meeting location and any other updates as things can sometimes change.  
Questions can be emailed to any of the following Councillors who are on the Task Force Meeting up to 3 working days before the meeting.
Alternatively you can email your question to admin@thamescrossingactiongroup.com and we will do our best to ask your question.  Please just be aware not to leave it right to the last minute to email us your question!!
Current LTC Task Force committee members
Next LTC Task Force Meeting
When – Mon 16th October 2023 – 6pm – Committee Room 2
Where – Thurrock Council, Civic Offices, New Road, Grays, Essex RM17 6SL
When they are taking place meetings should be webcast live on www.thurrock.gov.uk/webcast
More info and the agenda will be published on the council website in due course.
If it is not webcast live, a recording will be uploaded in due course.

NB. Please note that meeting details above have been provided to TCAG by Thurrock Council, but could of course be subject to cancellation dependent on COVID-19 and other circumstances.
Previous LTC Task Force Meetings
Below are lists of all the LTC Task Force Meetings so far.  You will find links to Agendas, Minutes, and some TCAG updates about Task Force Meetings. Click through the years to review the meeting details.
Related
Thurrock Council remain unanimously opposed to the LTC (Jan 2023) – click here
TCAG statement on why TCAG will not be in attendance at July LTC Task Force meeting –  click here
LTC Task Force under threat (July 2020) – click here
Thurrock's LTC Assistant Director leaving (Feb 2021) – click here
Thurrock Council's response to LTC Design Consultation (Aug 2020) – click here
Task Force and TCAG on Time 107.5FM (Oct 2017) – click here
LTC Task Force agreed (Aug 2017) – click here
TCAG ejected – from Thurrock Council meeting (July 2017) – click here