The LTC Carbon Emissions data has finally been obtained through a Freedom of Information (FOI) request and appeals.  We have been trying to get our hands on this important info for quite some time now, and our friends at Transport Action Network put the FOI request in back in July 2020 and have since had to appeal three times before the info was finally released.  We are grateful for their persistence.
This is just another example of Highways England (HE) trying to withhold important info as long as they possibly can.  They had a legal duty to provide everyone with clear and informative materials during consultation. Yet whilst asking us to comment on Environmental impacts and mitigation in relation to LTC during consultation, they failed to provide us with info about the carbon emissions amongst other things. It's ludicrous, and their lack of ability/willingness to share adequate info resulted in them withdrawing the LTC Development Consent Order (DCO) application as it was due to be refused by the Planning Inspectorate due to lack of adequate info being provided.
What are carbon emissions, and why are they important?
When people are discussing carbon emissions they are referring to Carbon Dioxide, CO2.  CO2 is released into the environment in many ways. This includes the CO2 we breathe out, as well as that from other animals and plants.  Nature does it bests to keep these emissions in balance. Trees and other plants for example absorb CO2. However, we humans are not as good at the balancing act as the rest of nature, and our actions are pushing things out of whack in the wrong direction.
Put in simple terms, CO2 is one of a number of greenhouse gases that absorbs radiation and prevents heat from escaping our atmosphere. When the heat can't escape it increases and creates disruption to weather patterns and causes climate changes which result in negative outcomes to our lives, which long term will not end well for us.  This is why climate emergency has been declared around the world, and why it is so important that we take Carbon Emissions into account.
Some may deny Climate Change, but surely it is better to play it safe and worse case scenario we end up with a cleaner greener planet to live on?  Oh and of course there's also the little consideration of having cleaner air to breath!  Let's not forget that evidence shows that areas impacted by the proposed LTC already have illegally high levels of air pollution.  Or that the whole LTC route fails against World Health Organization (WHO) standards for PM2.5.
So how many carbon emissions will LTC create?
LTC Construction emissions are predicted to be 2 million tonnes, and Operational/user carbon over 60 years comes in at 3.2 million tonnes.
So in total the carbon emissions resulting from the construction and operation of the LTC project are estimated to be 5,272,562 tonnes of carbon dioxide equivalent. 
THAT'S OVER 5 MILLION TONNES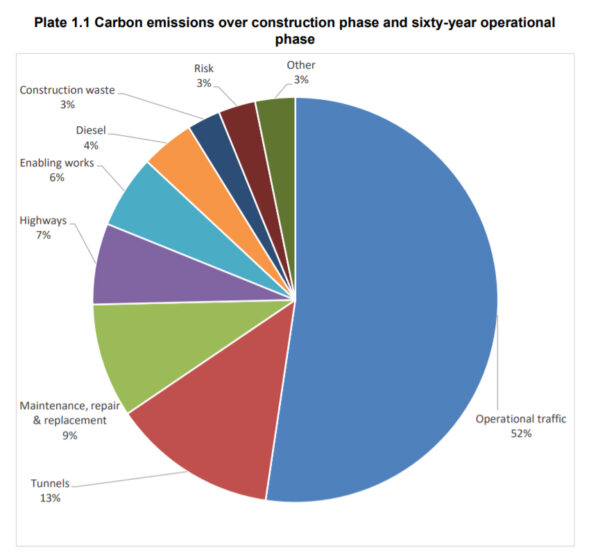 The full 99 page document is available to view/download here.
What the Government are saying
In June 2019, the UK became the first major country to legislate for a net-zero target for carbon emissions by 2050.
It was only days ago (4 Dec 2020) that the Prime Minister announced a new ambitious target to reduce the UK's emissions by at least 68% by 2030, compared to 1990 levels.
In 2021 the UK will host COP26, or the 26th UN Climate Change Conference of the Parties to be a bit more formal! The COP26 summit will bring parties together to accelerate action towards the goals of the Paris Agreement and the UN Framework Convention on Climate Change.
As hosts the UK needs to start backing up all their talk with some actions, and the recent Carbon Emissions data for LTC, alongside the rest of the £27bn road building scheme makes a mockery of the Government's promises.
What the Climate Change Committee saying (June 2021)
In their report in June 2021 the Climate Change Committee said:
New roads should only be built if they can be shown not to increase emissions.
By that reckoning the proposed LTC, which is estimated would create over 5 million tonnes of carbon emissions, should not be built.
The Guardian also reported on this latest CCC news.
What are the New Economics Foundation saying (Feb 2022)
Due to changes in the way the government now calculates carbon emission costs the proposed Lower Thames Crossing carbon costs for construction alone have risen by more than 230% to almost £500million.
What TCAG are saying
TCAG chatting about LTC Carbon Emissions on BBC Radio Kent (8th Dec)
Thames Crossing Action Group are pleased that Highways England have finally had to provide this important information.  We and others have been trying to obtain this, and various other important info/details, and HE have constantly been withholding such info.  Their lack of ability to provide adequate info to the Planning Inspectorate for their LTC DCO application is the reason they had to withdraw the application, rather than the Planning Inspectorate refusing it, which was due to happen.
There is so much important info that people need and deserve to review, and should have been shared during the consultation period to allow meaningful responses to be made.  How are people supposed to have been able to comment on the environmental impact and mitigation of LTC, as we were asked to do in the consultation, when info like this had until now been withheld?
From our experience of dealing with HE we also have to wonder if these figures are a true representation of what should be expected if the LTC goes ahead, or if as we suspect it would be worse than they are predicting.  We don't believe HE will be taking certain aspects which will be a direct result of LTC into account when predicting these figures.  Things like the carbon emissions associated with the Blue Bell Hill improvements (if they go ahead), and the Tilbury Link Rd and Rest and Service Area (both of which have been 'removed' from the LTC to be progressed as separate stand-alone projects despite the fact they are needed due to LTC as were previously part of the LTC project.  False economy both on environmental impact and also economic impact.
We would also remind those questioning whether this will be balanced out by traffic not sitting at the Dartford Crossing, that not only are these figures huge amounts of Carbon, but also that the Dartford Crossing is still going to be over capacity even if LTC goes ahead.  LTC is not going to solve those problems.
At a time when many are quite rightly very concerned about negative impacts on the environment, and our lives and health; and when the Government are saying they are serious about tackling environmental issues, with COP26 (26th UN Climate Change Conference of the Parties) being hosted in the UK, it is time for actions to back the announcements, and that means putting the brakes on with regard to the proposed Lower Thames Crossing, and other environmentally harmful projects.  It would be bad enough to consider the huge negative and destructive impact the LTC will have, if it solved the problems we all suffer with due to the Dartford Crossing, but the fact is that the LTC is not fit for purpose and will not solve those problems.  We deserve better.
Related
LTC 6.3 Environmental Statement Appendices Appendix 15.1 Carbon and Energy Plan available to view/download here.
Foundation for Integrated Transport (FIT) – Transport Appraisal and Carbon webinar
Highways Magazine (March 2022) – LTC facing carbon questions
New Civil Engineer (Feb 2022) – Carbon cost of Lower Thames Crossing construction rises to £500M
The Guardian  (Apr 2021) – Carbon emissions from England's roads plan '100 times greater than Government claims'
BBC News – Climate change: Lower Thames Crossing CO2 impact figures revealed
KentOnline – Lower Thames Crossing to generate '5m tonnes of CO2'
Highways Magazine – Get real on Thames crossing carbon impact, Govt told
TCAG response to the Transport Decarbonisation Plan Consultation – www.thamescrossingactiongroup.com/transport-decarbonisation-plan-consultation-response/
Electric Vehicles argument – www.thamescrossingactiongroup.com/electric-vehicles-argument/
BBC News – Road planners accused of rigging carbon emissions rules
CPRE – 'The end of the road?' video