Lower Thames Crossing Maps
Lower Thames Crossing maps have been issued numerous times over the years.  This page is to help you quickly find the latest maps, and links to historic LTC maps.
Lower Thames Crossing maps (issued 12th May 2022) by National Highways as part of the Local Refinement Consultation documentation.
You can find their latest interactive map here.
Check out our update on using the interactive map here.
2022 - Map book 2 - Land use plans

All Lower Thames Crossing maps (issued 12th May 2022) are available to view, and download on the National Highways Lower Thames Crossing consultation website (scroll to the bottom on that page:
Please note some of these files are large in size, worth noting if you are using data
When viewing some of the maps you will likely find it helpful to look on Google Maps or similar to help identify places on the the NH maps as the maps that they overlay their plans on are often not very detailed.
If you feel your property/land is directly impacted we would recommend contacting National Highways with any queries you have.  We are not qualified legally, and share the info on this website as fellow concerned residents.  We would always recommend seeking professional legal advice if needed.
A quick overview
This is image shows the whole route which is helpful to get a quick overall view of where the LTC route is proposed to go.  This purely represents the proposed route of the actual road, and not the development boundary.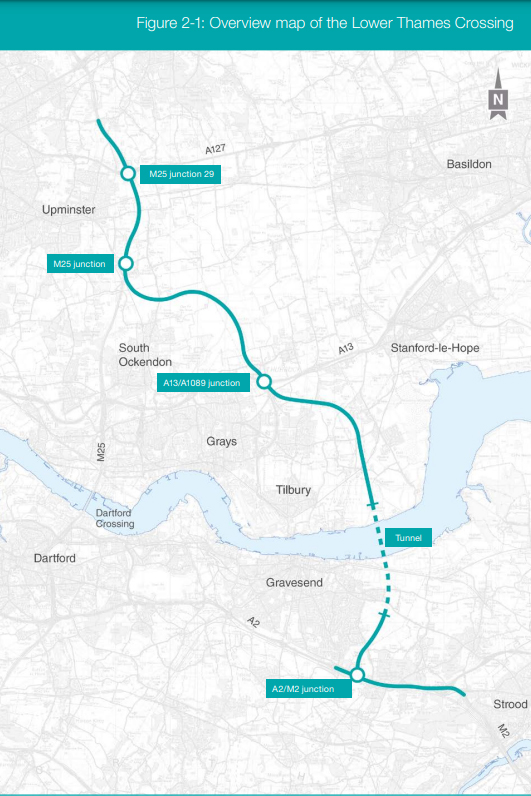 Map archives
LTC maps (issued 14th July 2021) – click here
LTC maps (issued 14th July 2020) – click here | Related – LTC map legends issued (July 2020) – click here
LTC maps (issued 29th January 2020) – click here
LTC Ground Investigations map (issued 1st July 2019) – click here
LTC maps (issued 10th October 2018) – click here
LTC development boundary maps (July 2018) – click here and here
LTC EIA Scoping Report (inc maps) – click here
LTC Red Line maps (1st Nov 2017) – click here and here
Historical maps (2017) – click here
Option C Route 3 corridor map – click here