One of the main things you can do as a supporter of the campaign is to help spread the word!  It is vital that as many people know exactly what is going on, so that as many people as possible can have their say regarding the proposed Lower Thames Crossing!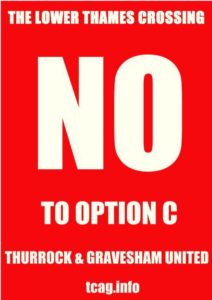 Please sign up for updates, so that we can keep you up to date with any meetings, events, and news relating to the campaign.
Tell others about the mailing list, website, social media accounts, meetings, events, and updates, so that as many people as possible can be involved.
If you feel you can do a little more, and/or help in any way then please consider getting in touch to volunteer – Click here
If you wish to make a donation to the campaign TCAG bank details can be found here.
If you'd like to put up a poster showing your opposition feel free to print one of ours out if you wish!  Click the image to the left and download and print!
Current calls for action (last updated 20 Sept 2020)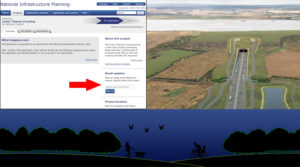 Planning Inspectorate Updates
Register your email address for LTC updates from the Planning Inspectorate here, so that you can get the official updates and will be amongst the first to know when it's time to register as an Interested Party so you can continue to have your say!
You can find out more about why this is a good idea here.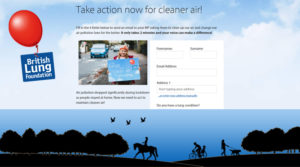 Have your say for the Environmental Bill Debate
The UK Government will soon be debating the Environmental Bill. We all need to share our views on this with our MPs and let them know what we want now!
We all have serious concerns over air quality in regard to the proposed LTC, and British Lung Foundation have set up a quick and easy form to fill in, where you can add your own words too if you wish to get your message across to your local MP.
As we know the whole proposed LTC route would fail against World Health Organisation standards for PM2.5, which is why we feel it important to push for WHO standards for PM2.5 to be enshrined in UK as a matter of urgency. We need and deserve clean air.
Please click here and send a message to your local MP now! It literally takes a couple of minutes. Of course if you prefer to email your local MP directly instead of using this template then that's great too!
Letter/email writing
Residents should still send letters of protest to the Government, HE, MPs. We cannot have a repeat of the 13K letters being counted as one reply due to it being seen by HE as not from individuals but from an organised Group.
Your individual letters can be sent to: –
The Prime Minister – 10 Downing Street, London, SW1A 2AA or Click Here