One of the main things you can do as a supporter of the campaign is to help spread the word!  It is vital that as many people know exactly what is going on, so that as many people as possible can have their say regarding the proposed Lower Thames Crossing!
At previous consultations residents from all areas responded in unprecedented numbers.  Following on from the Statutory, and Supplementary Consultations, there is a Design Refinement Consultation running for 4 weeks from Tues 14th July to Weds 12 August 2020, and we need as many people as possible to be prepared with the relevant info and facts and to take part.  An index of all our updates relating to the Design Refinement Consultation can be found on our site – www.thamescrossingactiongroup.com/ltc-design-consultation-2020-index/
Whilst this is considered a targetted consultation, meaning HE will not have info events and promote it as far afield as the Statutory Consultation, anyone and everyone is still able to take part and respond if they wish!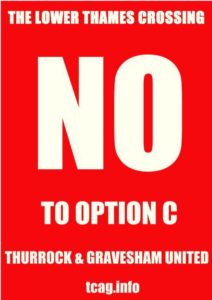 Please sign up for updates, so that we can keep you up to date with any meetings, events, and news relating to the campaign.
Tell others about the mailing list, website, social media accounts, meetings, events, and updates, so that as many people as possible can be involved.
If you feel you can do a little more, and/or help in any way then please consider getting in touch to volunteer – Click here
If you wish to make a donation to the campaign TCAG bank details can be found here.
If you'd like to put up a poster showing your opposition feel free to print one of ours out if you wish!  Click the image to the left and download and print!
Residents should still send letters of Protest to the Government, HE, MPs. We cannot have a repeat of the 13K letters being counted as one reply due to it being seen by HE as not from individuals but from an organised Group.
Your individual letters can be sent to: –
The Prime Minister – 10 Downing Street, London, SW1A 2AA or Click Here
---
The Secretary of State for Transport – Rt Hon Grant Shapps MP
Department for Transport, Great Minster House, 33 Horseferry Road, London, SW1P 4DR
---
Your Local MPs
Click here if you are unsure who your MP is, or are in a different area to those listed below
Gareth Johnson MP – Dartford
gareth.johnson.mp@parliament.uk
Adam Holloway MP – Gravesham
hollowaya@parliament.uk
Stephen Metcalfe MP – South Basildon and East Thurrock
2 Orsett Business Centre, Stanford Road, Grays, Essex, RM16 1BX Tel: 01268 200430
stephen.metcalfe.mp@parliament.uk
Jackie Doyle-Price MP – Thurrock
2 Orsett Business Centre, Stanford Road, Grays, Essex, RM16 3BX – Tel: 01375 802029
jackie.doyleprice.mp@parliament.uk
Julia Lopez MP – Hornchurch andUpminster
julia.lopez.mp@parliament.uk
---
Your Local Councillors
Click through to find your local councillors contact details: