We all know what the true costs are to our lives, health, homes, communities, green belt, ancient forests, agricultural land, wildlife, countryside etc.  What about the financial cost in figures! What is the estimated cost per mile of LTC?
Well, further details were released when the Road Investment Strategy 2 report was released alongside the Spring Budget in 2020.
The estimated cost of the proposed LTC is now up to £8.2bn of tax payers money.
What does that work out at per mile?
The cost of the proposed LTC per mile is nearly £573.5m per mile.
Compare that to the cost of the highly controversial HS2, which is being scrutinised over a cost sitting at at £307m per mile of track.
To be clear we are not commenting that one is any less impactful than the other, this reference is purely to highlight the fact that there is a lot of attention over the cost of HS2, and LTC is a lot more expensive per mile.
And this is tax payers money, and we'll be charged to use it too if it goes ahead!
Just let that sink in…..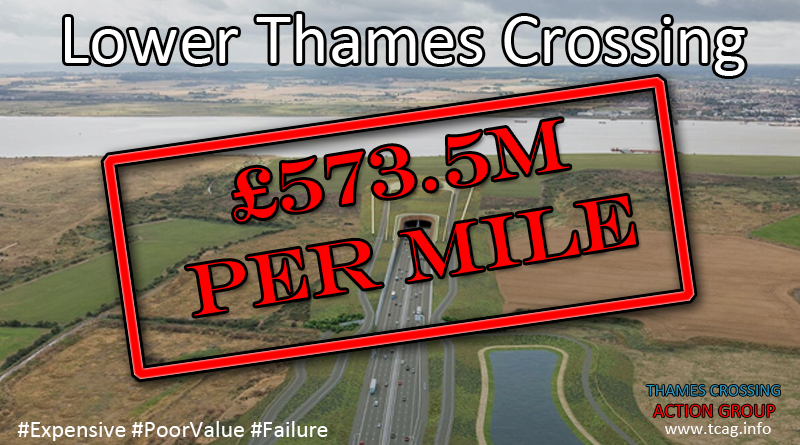 And that's not even the true cost!
As we all know projects of this size and scale never run to budget, so we can safely presume that the overall cost for LTC will be over £8.2bn.
In addition to the cost of the actual project in monetary terms there is of course also the cost to our lives, health, communities etc. The environmental cost with the loss of greenbelt land, ancient woodland, grade 1 agricultural land, countryside, impacts to wildlife and their habitats.
How do you put a price on all of that?  How much will end up being spent in NHS costs as a direct result of the air pollution related illness caused by the LTC Toxic Triangle?
Thurrock Council have published a report that states at least £150m in loss to Thurrock as a direct result of LTC if it goes ahead.  If one impacted local authority reports this kind of impact then surely it can be considered that the other impacted areas will also be impacted in a similar way?
False Economy
Then there's the matter of how HE/LTC have removed the Tilbury Link Road and Rest/Service Area from the LTC project, but both projects are now being considered as separate stand alone projects in their own right.  We would question whether this is being done to try and make the benefit cost ration of the LTC look better than it really is. To be clear the Tilbury Link Rd is already featuring in the Road Investment Strategy 3 as a pipeline project, and we know the rest/service area is also still being discussed as a separate project.  If they are deemed worthy enough to still be considered in these ways, then why have they been removed from the LTC project?  Not that we want them of course, but the question has to be asked!
Oh and then there's the issue of all the additional works that will need to take place to the existing road network as a direct result of LTC.  We all know that if the LTC goes ahead it will create the need for much more additional work on the connecting roads, because we know that HE/LTC are not factoring in adequate connections, and it is not fit for purpose.
Not forgetting that the Dartford Crossing will still also be over capacity even if LTC goes ahead, so more money will need to be spent trying to fix that.  So all this cost in so many ways and forms, yet the original issue that the LTC was meant to address will still not be solved.
Highways England have been keeping the ever rising cost as quiet as they can, not even mentioning it in subsequent consultations to date.
Ask yourself whether you really feel that spending £8.2bn+ of tax payers money is good value for money, for a project that doesn't even fulfil it's original task to solve the problems at the Dartford Crossing.
Related
We added a new update in July 2021 after the Office of Rail and Roads released a new report that specifically comments on the rising cost of LTC – click here
New Civil Engineer – Lower Thames Crossing opponents claim £8.2bn price tag is 'not realistic'  (Sept 2021) – click here
TCAG 2021 Spending Review Representation – click here