LTC DCO Updates Index 2022
This LTC DCO Updates Index 2022 will be added to as things progress, and we hope you will find it helpful as a place to find all LTC DCO related updates.
LATEST
The Planning Inspectorate announced on Nov 28th 2022 that they have accepted National Highways LTC DCO application for examination.  Read more…
The next step will be when the Planning Inspectorate open up the registration process, when people can register as Interested Parties to take part in the DCO process.  More soon.
DCO's are different from general planning applications, so if you aren't familiar with the DCO process please take a look at our LTC DCO process update.
Official LTC DCO updates from the Planning Inspectorate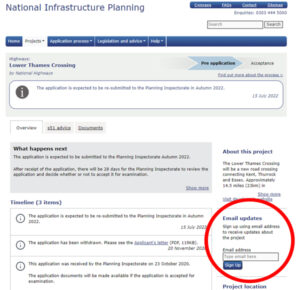 Whilst we will be doing our best to keep you updated as always, you may also wish to register for the official Planning Inspectorate email updates relating to LTC.  You can do this on their website here.
Please be aware that you can only currently sign up for email updates, and this is not the same as registering as an Interested Party.  If you are signed up for these PINS email updates they will advise you when and how to register as an Interested Party at the relevant time.
LTC DCO related Updates Index 2022
LTC DCO process 2022 – click here
LTC DCO resubmitted on 31st October 2022 – click here
11 Nov 2022 – PINS have published the LTC DCO documents online – click here (The decision on whether to accept the application for examination has not yet been made)
TCAG 2022 Inadequacies of LTC Consultation representation – click here
LTC DCO application accepted for examination (28 Nov 2022) – click here
More updates will be linked here as things progress
Historic
LTC DCO application (2020) Update Index – click here