LTC DCO Updates Index 2022/23
This LTC DCO Updates Index 2022/23 will be added to as things progress, and we hope you will find it helpful as a place to find all LTC DCO related updates.
LATEST
The registration period for everyone to register as Interested Parties to allow them to continue participating in the LTC DCO process ended at 23:59 on Fri 24th Feb 2023.
The Planning Inspectorate have now published the Relevant Representations that people made during the registration period.
They will be reviewing the representations to help them get an insight into the main concerns and issues.  This also assists them in planning the Examination timetable.  Since the Examination period is strictly 6 months, and can not be extended, our representations help PINS understand what is likely to need to be covered in Examination, and plan accordingly as best they can.  Obviously with such a huge and complex project as the proposed LTC, this is not an easy task.
From this point on anyone who has successfully registered as an Interested Party will receive letters/emails at the appropriate times from PINS to advise and guide you through the next steps in the process.  We will also do our best to bring you more updates through the process when we can.
The next and final stage of the Pre-Examination process will be the Preliminary Hearing.  PINS will send out what is known as the 'Rule 6' letter to all registered Interested Parties to advise them when the hearing will take place and to invite people to share views about any procedural matters in advance of the Preliminary Hearing.  Immediately after the hearing has taken place the strict 6 month Examination period will begin.
We highly recommend you continue to familarise yourself with as much of the info that is relevant to you from the Examination Library, and start to think about and prepare your representations for the Examination.
TCAG will obviously be making representations, if anyone is willing and able to assist in helping wade through some of the documents please do let us know – admin@thamescrossingactiongroup.com.  We certainly would appreciate any help we can get as it is a huge task, and together we are stronger!  Thanks.
DCO's are different from general planning applications, so if you aren't familiar with the DCO process please take a look at our LTC DCO process update.
LTC DCO related Updates Index 2022/23
LTC DCO process 2022 – click here
LTC DCO resubmitted on 31st October 2022 – click here
11 Nov 2022 – PINS have published the LTC DCO documents online – click here (The decision on whether to accept the application for examination has not yet been made)
TCAG 2022 Inadequacies of LTC Consultation representation – click here
LTC DCO application accepted for examination (28 Nov 2022) – click here
DCO Inspectors appointed – click here
Examination Library published, including all the application documents – click here
Register as an Interested Party by Fri 24th Feb 2023 – click here
Thurrock Council's participation in the LTC DCO – click here
LTC DCO Preliminary Hearing – click here
More updates will be linked here as things progress
Official LTC DCO updates from the Planning Inspectorate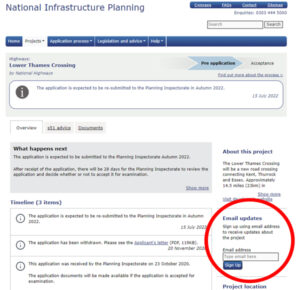 Whilst we will be doing our best to keep you updated as always, you may also wish to register for the official Planning Inspectorate email updates relating to LTC.  You can do this on their website here.
Please be aware that you can only currently sign up for email updates, and this is not the same as registering as an Interested Party.  If you are signed up for these PINS email updates they will advise you when and how to register as an Interested Party at the relevant time.
Historic
LTC DCO application (2020) Update Index – click here