Ground Investigations for proposed Lower Thames Crossing
Highways England has today (July 1st 2019) launched a comprehensive programme of Ground Investigations (GI) along the route of the proposed Lower Thames Crossing.
Ground Investigations
Highways England's programme of ground investigations and surveys in Kent, Essex and Thurrock will evidently give engineers a clear picture of the type of soils, rock and groundwater along the proposed 14.5 mile route.
The information will, say HE, help them design the structures required for the road including bridges and viaducts, embankments and cuttings. They also say the studies are vital to planning the construction of the tunnel under the Thames, which will be the world's third-largest bored road tunnel.
The ground investigation programme is the next step in designing the new crossing, and is not the start of construction. HE's findings will be published as part of their future planning application.
What is happening, and where?
Tests will be carried out at over 700 locations, including over 400 boreholes, ground water sampling and monitoring, shallow trial pits and a wide range of unobtrusive geophysical surveys.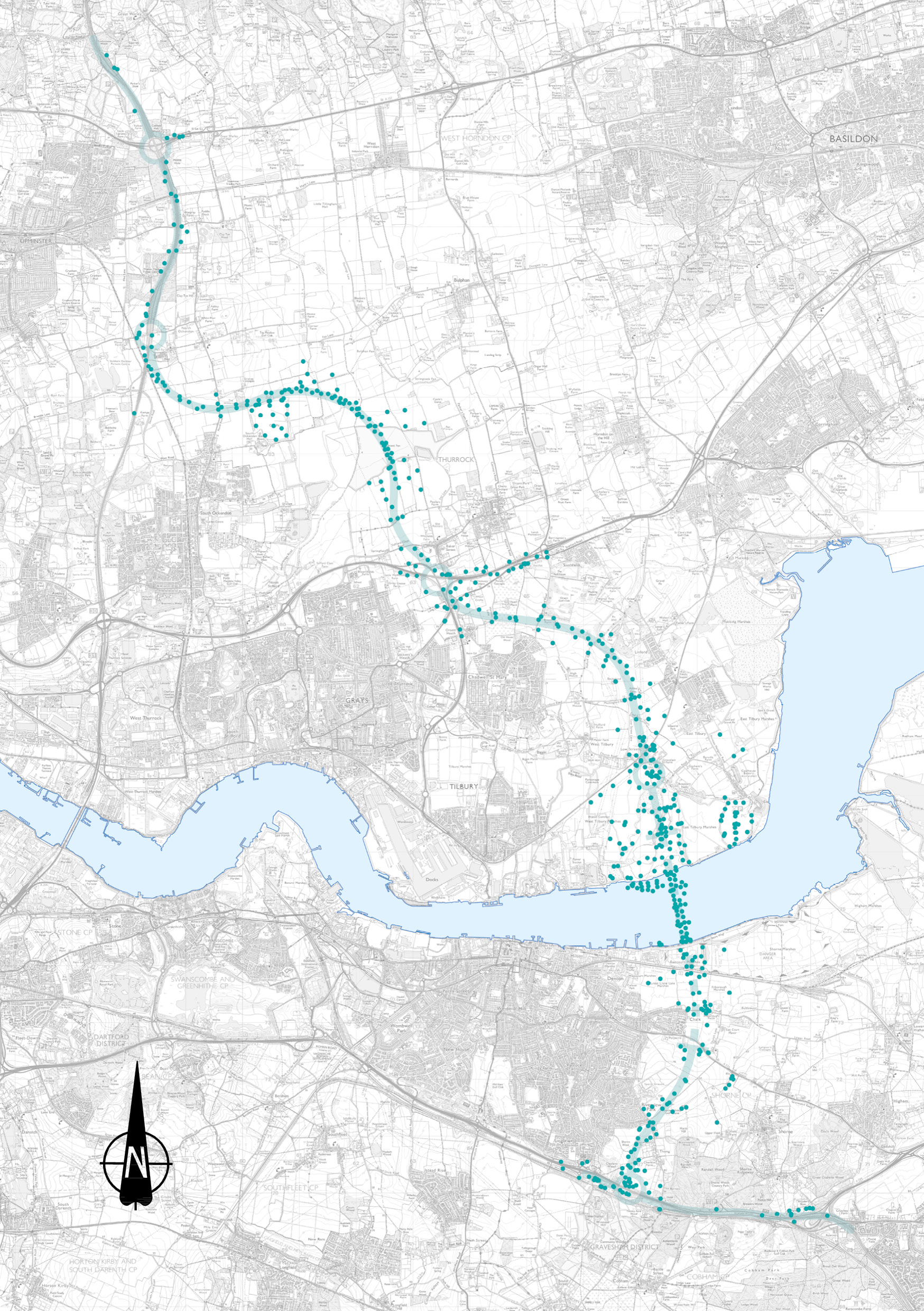 HE aim to start later this month and finish by the end of the year. Marine GI, which will focus on the ground beneath the River Thames, will begin later in the Summer.
Find out more details on each different technique being used, where and when, on HE's website.
https://highwaysengland.co.uk/lower-thames-crossing-ground-investigations  (Click on the 'What we're doing and where' tab to see images of each technique)
Working in the community
HE say their priority is to carry out this programme of work in a way that will have the smallest possible impact on the nearby community and environment.
The majority of our work will be carried out during normal working hours, between Monday and Friday.
If work is going to take place next to residential properties, HE have said they will write to those properties in advance to let them know what is happening and when.
You can also sign up for updates specific to the Ground Investigations on HE's website – http://roadsdev.highwaysengland.co.uk/lower-thames-crossing-ground-investigations/#email.  Plus we will of course provide updates as soon as we get any news.
HE's answers to some Frequently Asked Questions relating to Ground Investigations
When is work taking place?The work is planned in phases.  Some early non-intrusive work is already underway to help us plan our full programme of work.From the summer onwards the full programme of work will get underway. With over 700 locations, we do not yet have a detailed plan of what work will take place when, however when the plans become firmer, we will agree how we carry out the work with the local council and write to nearby residents to let them know.
Will the work be noisy?
Some of the techniques we will use will inevitably be noisy and are likely to be heard if you are located within 50 metres of the machine.For example, a percussion bore hole rig involves a long, steel pipe that is hammered into hard ground to keep it open, in order to take a sample of the deep soil.However, there are many different types of techniques that are non-intrusive and virtually silent, such as the Geophysical Surveys.Regardless of how noisy it is the majority of our work will be carried out during working hours, between Monday to Friday. Where we think there will be an impact we will take measures.
What will we see?
The GI works are not much different from the type of works that we see on our roads and pavements every day – for example, in towns or cities you may see barriers around a small section of a pavement or road, with a diversion around it for traffic or pedestrians.Many of the site locations will not be visible from the road; some may be on private property with no public access such as a farmer's field or a landfill site. You may be able to see parts of our rigs from over hedge rows in farmland but most of the works will not be visible.Take a look at images of each technique on HE's website – https://highwaysengland.co.uk/lower-thames-crossing-ground-investigations  (Click on the 'What we're doing and where' tab to see images of each technique).
What will the sites look like after?
HE's contractors will be required to leave every site as they found it – whether that means laying new turf on a patch of grass or resurfacing a small section of road. Landowners will be compensated for any damage arising from works, although the timing of investigations and access routes will be negotiated to minimise the effects of the disturbance. Sites will always be left safe and secure.
How long will the Ground Investigation works take?
HE have 24 kilometres of the route to investigate. The investigations will be split into a number of packages, each relating to a specific length of the route. Each package will typically take a few months to complete, including work on site, laboratory testing and reporting of the results. Investigations on site can take a matter of hours, or days, depending on the location. Additional investigations may have to take place if something unexpected is found and further information is required.
How will HE make sure the ground investigations are safe?
"Safety is always are highest priority and nothing will happen until we are certain it can be done safely. We will ensure that the site risks associated with the ground investigations are identified, assessed and managed. We will assess the contractors' health and safety performance, and security will be managed at all stages, so sites are safe and secure during and outside working hours."More info about the Ground Investigations can be found on LTC/HE's website – https://highwaysengland.co.uk/lower-thames-crossing-ground-investigations/
Just to clairfy again this is for Ground Investigations, and is NOT the start of construction.  Highways England still haven't applied for the Development Consent Order they need to obtain before construction can begin, let alone be granted it yet.