TCAG initial observations to Local Refinement consultation
We thought that it may be helpful if we brought you TCAG's initial observations to the new LTC Local Refinement Consultation, which launched at a minute past midnight on Thurs 12th May 2022.
We will of course publish further updates and info once we've had a chance to review the info in more detail, and try to get some answers to the many questions we have.
Land take increase
The land within the revised Order Limits/Development Boundary has increased from 22.2km² to 24.35km².  The majority of the extra land that is being taken appears to be showing as land at Hole Farm (near Great Warley) and near Blue Bell Hill (Kent).
Hole Farm
After trying for so long to associate the Hole Farm site with the proposed LTC, it seems NH/LTC have finally included it within the LTC development boundary.
However, this does lead to questions since they have previously claimed that they bought the land and proposed a community woodland on the site to 'improve' biodiversity along their major routes, in this case the M25.  That in it's self is questionable since they have not yet had time since buying the site to be able to carry out adequate ecology surveys to know what the current levels of biodiversity are.  So how would they know if it is poor and needs improving, or already got good biodiversity?
They currently have a consultation running on their plans for the site, and apparently still intend on putting in a planning application to Brentwood Council for the change of land use from agricultural to community woodland.  If it is being changed to a community woodland by that means then how can it also be considered environmental mitigation for LTC?  Brentwood Council can't give permission for any part of the LTC, only local planning.
They mention that Forestry England (a Government body) would be managing Hole Farm Community Woodland, and go on to say that Forestry England are supporting the Government's target of planting 30,000ha of new woodland every year by 2025 to help deliver ambitious plans to become net-carbon zero by 2050. With all the attempts of greenwash etc so far, we have to ask whether the site would also be included in these tree planting targets.
How many times can the same site be counted as different types of environmental mitigation?  We shall be asking lots more questions, and publishing further updates on this!
Plus, surely these sites should also need ecology surveys to be completed as part of the LTC DCO application? And where is the evidence to back up NH/LTC claims that their proposals are adequate?  We certainly won't believe it just because NH say it, evidence/data is needed so that educated and meaningful comment can be made.
Blue Bell Hill
It seems as though NH/LTC are now saying they need environmental mitigation space near Blue Bell Hill.  We have all been voicing our concerns about the pressures the LTC would put on the Blue Bell Hill area for years now.  The question is that if NH/LTC are finally admitting that this area needs mitigation, why was Option C variant ruled out at route selection stage? Route C variant for those that may not know was pretty much what is being proposed now, but with an extra bit to the south that included the Blue Bell Hill (A229) connection between the M20 and M2.  You may remember there is a separate Blue Bell Hill improvement project that we've commented on before, and responded to the consultation for.  As well as the impacts to the road and area, there is also the question of the false economy of any Blue Bell Hill 'improvements' that need to be carried out as a direct result of the LTC not being included in the LTC project/budget. More on all this soon!
Air and noise pollution
Up to date air and noise pollution assessment data is not being shared with us until they reach the Development Consent Order (DCO).  Our understanding is that the data is not even complete yet.  This is simply unacceptable, we deserve to be consulted on air and noise pollution, and we need that data to be able to provide meaningful comment on these important points.
Even worse in some sections of the consultation materials NH pass comment on changes to air quality as being negligible despite the fact there is no evidence to back up this claim, especially if the data is not yet complete.
Tilbury Fields redesign
Because of the land conflict between LTC and the future plans of the new Thames Freeport, changes have been made to the Tilbury Fields 'park' section of the proposed LTC.  This can be seen in the area marked with the number 7 on the map below.  The orange area just to the left of it represents the land conflict area.  So what they were selling as a park overlooking the river, is now a park overlooking the proposed LTC.   Again, more on this soon!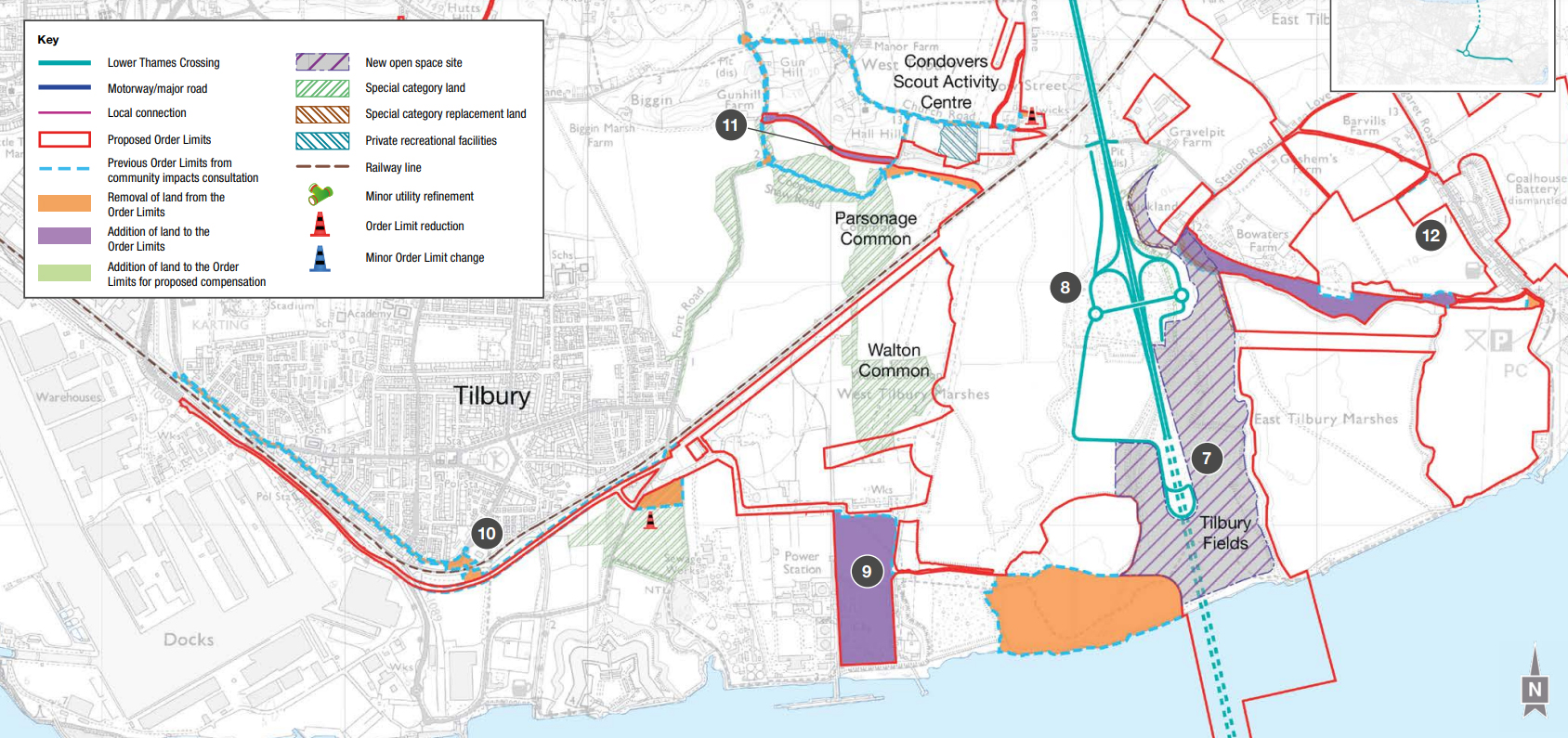 New operations/emergency access
You will also notice number 8 on the map above that highlights the newly proposed operational and emergency access connection.  You might remember we published an update questioning what this was all about back in February after NH/LTC inadvertently posted the wrong version of maps when they had their info events.  We're still getting our heads around it, and already have questions, but it appears to be an alternative connection for operations and emergency access, not for public use.  More soon!
New LTC/A13/Orsett Cock/A1089 link road
Another change is the addition of a new connection between the Orsett Cock roundabout and the A1089.  NH say this is being proposed to reduce the impacts of traffic to local roads.
The current A1089 access from the A13 westbound would be removed if LTC goes ahead.  In this instance traffic from the LTC would have needed to either use local roads from the Orsett Cock junction to the A1089, or would have more than likely taken the Stanford Detour.
Previously the connection from the A13 westbound to the A1089 was from the new joint LTC junction. So you would have taken the same exit off the A13 westbound for the LTC north, LTC south, and the A1089 south.
Now the LTC junction from the A13 westbound would be purely for the LTC.  To access the A1089 south you would need to come off the A13 up onto the Orsett Cock roundabout, then take what would be a newly realigned slip road as though you want to go back down onto the A13 towards London, and take the A1089 south slip road off of the Orsett Cock to A13 west slip road.  Got that!?  No!? Take a look…..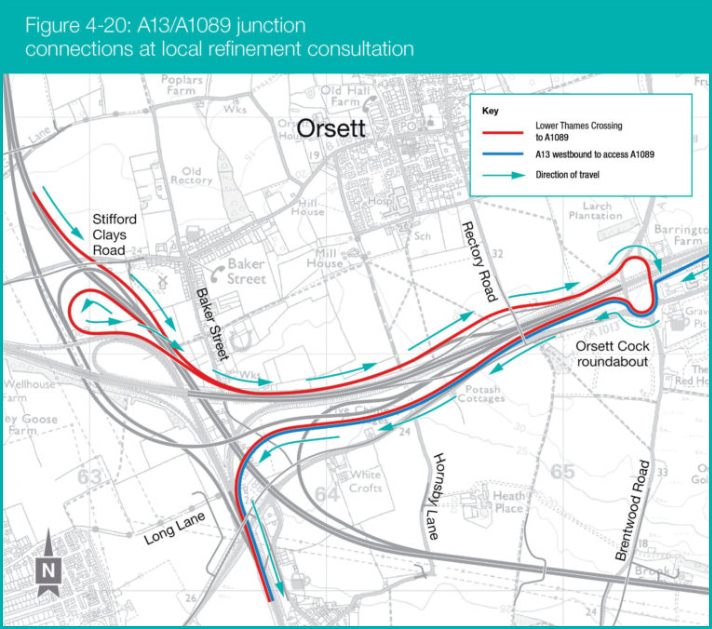 Having said that this is supposed to reduce traffic from local roads, they go on to state that this change would mean an increase of over 40% strangely along Conways and Rectory Rd in Orsett.  We're not sure how they come to that conclusion, especially when they are showing a reduction in traffic on the A128!
Why would traffic on the A128 suddenly decide to turn right off the A128 into Conways, up through Rectory Rd (where according the map some traffic disappears at the High Rd, yet no increase in traffic movements is shown on the High Rd) and then up to the Old A13/A1013 (which isn't shown as having an increase in traffic movements) turn left down to the Orsett Cock roundabout, and then take the sharp hairpin bend down onto the slip road towards the A13 west and the new slip road off the slip road to the A1089 south.  Because hey, why would they not just want to stay on the A128 to the Orsett Cock roundabout and go round the roundabout to the slip road with a much easier line of approach?!  All this extra traffic cutting through Orsett, and using the Orsett Cock and surrounding roads, yet according NH changes to air pollution would be negligible. And don't forget they are claiming this before even completing the air and noise pollution assessments or sharing them with us or local authorities etc.
We have lots of questions for NH on this change, and will bring you more info soon!
TCAG Conclusion
Of course this is just the tip of the iceberg, and there are many other changes and issues which we will bring further updates on in due course. We just wanted to give a quick insight into our initial observations.
We also want to reassure you, if you are sat looking at the consultation materials and struggling that you are not alone.  The info in this consultation is misleading, contradictory, and inadequate to say the least.
Some may question whether NH are purposely trying to make it as difficult and frustrating as possible in an attempt to put people off!  Remember they are on a mission to resubmit the Development Consent Order (DCO) application asap, they won't want lots of consultation responses slowing them down!
We have a right to have our say on the changes they have announced, and any other aspects and concerns we have in regard to the proposed LTC, and we cannot let them put us off doing so!    That is why we are busy wading through all the info and will bring more updates asap.  Together we are stronger!
Related
Local Refinement Consultation Guide – click here
NH Local Refinement Consultation website – click here