We attended a great Woodland Trust LTC event on Weds 13th July 2022.  As well as members of the TCAG and Woodland Trust teams, also in attendance were CPRE Kent, CPRE Essex, West Kent Badger Group, Transport Action Network, Councillor Bryan Sweetland (Kent County Council), campaigner Robin Bull, rangers Tim and Michael from Shorne Woods Country Park.  It's always tricky arranging timings of these kind of events, and others that would liked to have been there but had prior commitments sent their apologies and support.
We met at the wonderful Shorne Woods Country Park in Kent, a magical ancient woodland that is under threat from the proposed LTC.  After some introductions and chats, we started our walk through the woodland, with some stops with updates from the Kent County Council rangers for Shorne Woods, who explained about the various loss and impacts the proposed LTC would bring, if it goes ahead.
It was interesting to hear about their experience of dealing with National Highways and how their rangers are doing all they can to try and minimise the impacts should the worse happen and the LTC goes ahead.
As well as direct loss of woodland we learnt more about the concerns over pollution, including noise and nitrogen deposition etc, and impacts to historic heritage aspects of the area.  One of our stops was at an amazing coppiced Sweet Chestnut.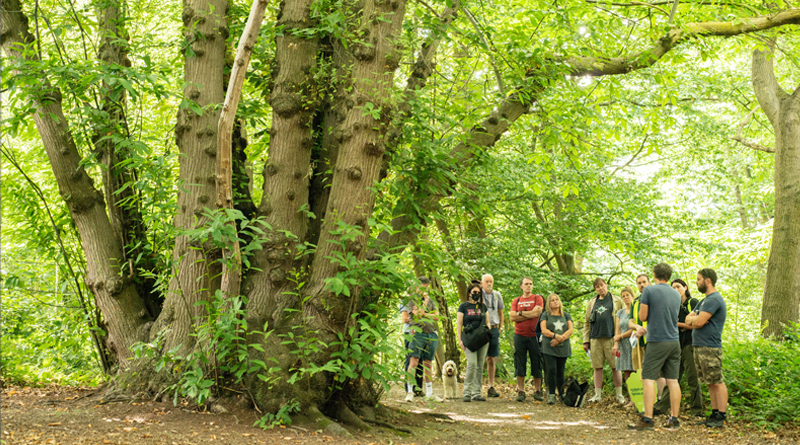 Our route then took us across to the Woodland Trust site of Ashenbank Wood, another wonderful ancient woodland under threat from the proposed LTC.
Here we learnt about new methods for managing and maintaining woodlands, and again about some of the heritage features of the site.
We also discussed the negative impacts that the proposed LTC would bring to Ashenbank Wood, if it goes ahead.  Some may not initially realise that impacts a diversion of a cycle route (NCR177) would have on such a special site.
Paths like the one below that we walked along through the woods are currently permissive paths, meaning they are not public rights of way, rather the land owners are allowing people to use them, but can withdraw access at any time.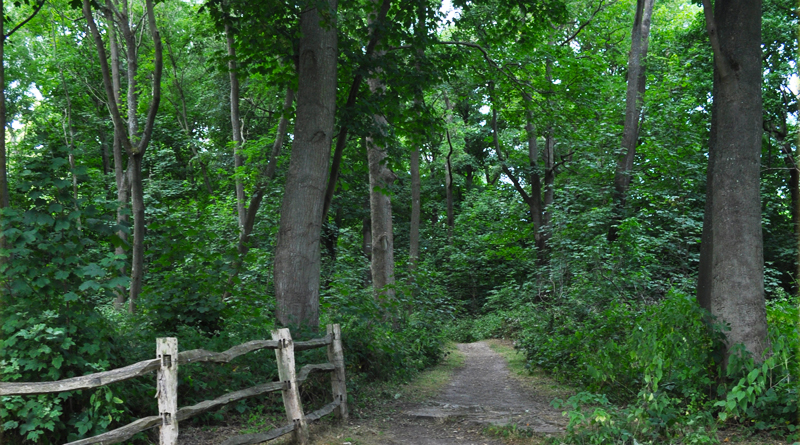 National Highways refuse to share details of things like the widths and surfaces of the proposed cycle route diversion.  Consider the damage laying a hard surface over the top of a path like this would have.  Depending on width, and taking health and safety guidance etc into account some trees may be at risk of being lost.  The roots of such mature trees like this could be damaged by laying a hard surface.
In the foreground you can make out some historic ruins that the path crosses, no detail has been provided of how aspects like this would be handled if the proposed LTC goes ahead.
In addition there would likely be an increase in usage of the path, which would impact the woods, biodiversity, and create additional maintenance costs etc, which again to date there has been no clear information provided on how such things would be dealt with.
Both Shorne Woods Country Park and Ashenbank are Sites of Special Scientific Interest (SSSI), and also fall within the Kent Downs Area of Outstanding Natural Beauty.
It was bitter sweet to be meeting up and enjoying these amazing ancient woodlands, knowing that they are at threat of being destroyed and impacted if the proposed LTC goes ahead, but a great opportunity to meet up with other campaigners, because together we are stronger!
We would like to thank all who organised and took part in this event. Special mention to Phil at Woodland Trust for doing such a great job taking photos and videos at the event (group image and sweet chestnut image in this update are images kindly shared with us).  We highly recommend visiting these and other amazing woodlands, and please do consider showing your support to all involved, and continue to say NO to LTC!
Related
Cllr Bryan Sweetland tweets about Woodland Trust LTC event – click here
CPRE article on the event – click here
LTC impacts on woodlands, inc ancient woodlands – click here
LTC impacts on badgers – click here
LTC impacts on fungi – click here
Light pollution – click here
Nitrogen deposition – click here
Noise pollution – click here
Public Rights of Way – click here
TCAG correspondence with Kent County Council on LTC – click here