LTC at Feb 2022 ASELA Joint Committee meeting
LTC Exec Director, Matt Palmer spoke at the Association of South Essex Local Authorities (ASELA) Joint Committee meeting on Feb 10th 2022.
Despite the fact that Cllr Wootton, who was chairing the meeting, stressed that he would be watching time very closely and is not one for time drift; when it was time for Matt Palmer to give the National Highways LTC update he wasn't even in the room!
The meeting is available to watch:
First up Matt explained where in the process the proposed LTC is. The accompanying slide in his presentation for this showed the newly announced Local Refinement Consultation in March 2022, when the reality is they had to postpone it after much opposition to the proposed timing, since it clashed with pre-election purdah (in Thurrock and Havering), Easter, and the fact it was only proposed to be 4 weeks.  Since this meeting they have announced the new dates as 12th May running five and a half weeks until 20th June 2022.
Note how he seems to think it is a general public narrative that is pushing carbon emission issues.  Surely it's more to do with the climate emergency, rather than generally just what people think?!  We would have hoped he understood that considering he is responsible for a project that is estimated to emit over 5 million tonnes of carbon.
He went on to say that HS2 has not set good standards on things like environmental mitigation, carbon, and to some extent engaging with the local populous.  But that Government see HS2 as setting the standard, and he wants to drive ambition higher with LTC.
He spoke about the upcoming consultation, and the changes that have been needed due to the land clash with the Thames Freeport expansion plans.
He refers to National Highways buying Hole Farm, near Great Warley in 2021 as an accident, or bit of good luck!  He acknowledged that he knew it frustrated Lynn Carpenter, Chief Exec Thurrock Council, that she had said it's in the wrong location, and he agreed that she is absolutely right, and that ideally it would have been further into the middle of the route!
He suggested that they are looking at trying to get further 'open space' along the route, and the map in the presentation appears to show that, to the north of the A13 between Orsett and Stanford junctions.  This can be seen in the screen capture below marked by a circle to the left of the 'Additional biodiversity/open space' labelling.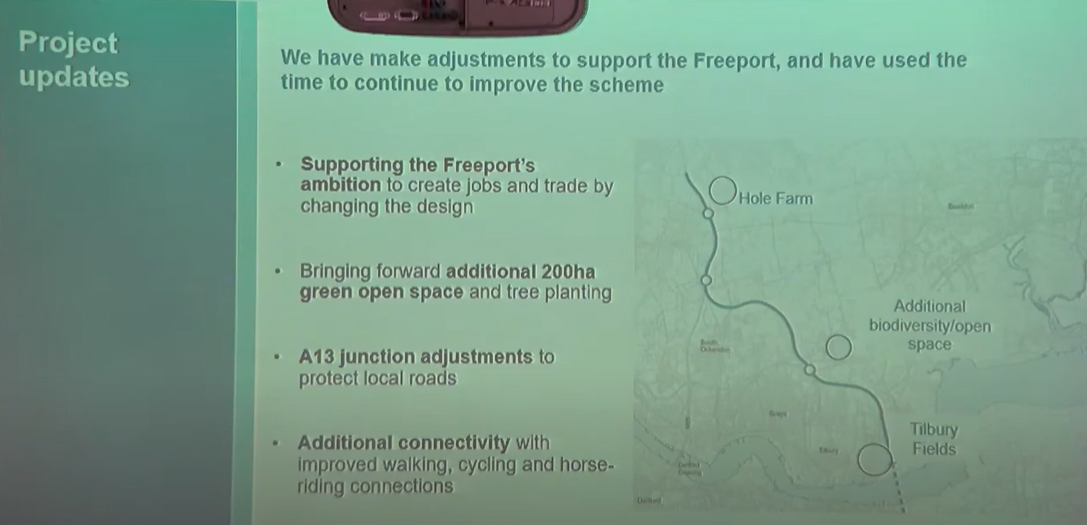 He also tried to portray the LTC project as having "an awful lot of active travel type stuff"!  Firstly, doesn't this just show how much interest they really have in active travel when it is referred to as "type stuff", especially when presenting to a group of local government officials.  Secondly, the propaganda about walking, cycling, and horse riding routes as part of the LTC project is unbelievable.  Plenty of what they are portraying as being new routes are actually existing routes that walkers, cyclists, and horse riders are currently using now.
He spoke about economic growth/benefit, but yet again (and has been the case for years now) there was no figure quoted or evidence to back up the claim.  He also spoke about short term jobs during construction, if LTC goes ahead.
On the topic of biodiversity he spoke about mitigation such as 'green' bridges.  On sustainability he mentioned that over 500 hectares (over 1235 acres) of arable land would be converted to semi-natural habitats, which of course equals further loss of agricultural land.  He also made comparisons between HS2 and LTC biodiversity and how with LTC it was easier to have biodiversity net gain because LTC "is going through brownfield down by the Thames". We're not sure how he comes to that conclusion, maybe he needs to take a look at the greenbelt map!
He mentioned about carbon reduction, which was all based on what might happen in the future.  The current estimate is that the proposed LTC would emit over 5 million tonnes of carbon.  NH do a lot of talking about reducing carbon emissions, but never have the evidence to back up their claims.
He gave a big push of trying to sell electric vehicles as the solution, even going as far as saying they will clean up the air quality.  A questionable statement which ignores how deadly PM2.5 (tiny particles of things like brake dust, tyre and road wear so small they get into our blood stream) pollution is, and how EVs can emit more PM2.5 than fossil fuel vehicles due to the heavier batteries etc. And as we all know EVs are not the panacea some like to portray.  Not to mention that EVs will still create congestion, which then of course see the vicious circle of the 'need' to build more roads, induced demand, and a hugely destructive and unacceptable way of working.
He went on to plug the LTC Road to Net Zero industry summit as the way they would deal with carbon emissions during construction.  Those that have read our update on that will know how little confidence we have with that claim.
In response to one question raised during the meeting, Matt commented that NH are in talks with Thurrock Council about NH adopting the A13, which means they would take responsibility over.  Currently NH are responsible for the A13 from the M25 through to the A1089 and it then becomes Thurrock Council's responsibility through to the border to the east of the borough.  This is also known as trunking roads, which is a way of putting roads that connect ports in the country as part of a strategic road network.  As well as the A13, the adoption/trunking of Manorway is also being discussed due to the ports.
Another questions asked about whether the trees planted would be whips (small baby trees).  Matt's response was that they wanted to get Hole Farm so they can plant trees now and then transfer them along the LTC route (if it goes ahead) once it has been constructed.  So using Hole Farm as a nursery to grow trees for the LTC project.  Which he admits is about reducing the cost of trees to the project.  We wonder if the people near Hole Farm that are being sold on an idea that they are getting a new community woodland realise this?!
He then started talking about air quality and how according to him/NH the pollution from the exhaust pipe travels less than 200m!  We're not sure where he thinks it disappears to, must be some kind of NH magic.  Especially when you consider the recent sand that arrived in the area all the way from the Sahara!
He even went as far as to claim again that once tail pipe emissions go as people move to electric vehicles the emissions completely disappear, as though all air pollution will disappear, with again no regard for the deadly PM2.5 pollution.
Lynn Carpenter Chief Exec of Thurrock Council raised a few points, one being about the importance of fixing the problems around J30/31 of the M25. Another being that they want the Tilbury Link Road to be built at the same time as LTC, and that Thurrock and ASELA have committed significant funding to make the Tilbury Link Road happen, they will find the funding for it and just need NH to deliver it. We will be emailing to ask where they propose this funding would come from.
Over all it is impossible to tell whether NH really don't understand the issues and concerns with LTC, or whether they are simply conveniently overlooking them to suit their own and large businesses wants and needs.  We think maybe a bit of both.  The fight continues!