Latest LTC site works announcements
Find out more about the latest LTC site works announcements (Latest update 24th June 2020):
Please remember these works are all investigative works and not the start of construction. Highways England cannot legally start any construction work until they have been granted a Development Consent Order (DCO), and to date they haven't even submitted a DCO application, let alone been granted one.  These works are standard proceedure in preparation for their DCO application, and soil should be put back after works are completed.
Current Investigative Works
The latest details of current works on the proposed Lower Thames Crossing taken from Highways England official Lower Thames Crossing website. It is worth noting that not all LTC related investigative works will be listed on the HE website, some sites that are on private land will not be listed.
You can also view this map and find out more at https://highwaysengland.co.uk/lower-thames-crossing-communities.
More details about the Archaeological Trial Trenching surveys
In November 2019 HE announced the first phase of Archaeological Trial Trenching surveys which began in Thurrock.
Today, Fri 17th April 2020 they have announced that they will be shortly commencing ATT surveys in Kent.
What are they doing?
They are digging shallow trenches to assess the archaeological features of a site.
Before they dig the trenches, they will undertake non-intrusive electromagnetic surveys to detect any sub-surface anomalies such as utilities, waste and unexploded ordnance. This is a standard health and safety requirement.
What is involved?
Mechanical excavators will be used to dig shallow trenches approximately 30 metres long and 2 metres wide.
Before digging the trenches, a magnetometer (detector) attached to an all-terrain utility vehicle will be used to scan the area.
They will be excavating the soil to look for archaeological features and they will replace the soil once the excavations are completed.
Noise level will be comparable to that of farm machinery, such as a tractor.
HE state that no more than 3 or 4 teams are likely to be at work at any one time.
We also know from when similar works have been carried out to the North of the river that they usually have security on sites, including super bright security lighting rigs that initially caused serious issues for road users and residents.  If you wish to contact HE about any issues/concerns on any LTC related works sites email ltc@highwaysengland.co.uk feel free to copy TCAG in too if you wish admin@thamescrossingactiongroup.com. 
Where will the investigations take place?
The locations for the trial trenches will mainly be on private farm land on or near the proposed route.
The work may be visible from nearby roads and properties.
Access to public footpaths should not be affected.
The map/detail that HE are showing on their website is the map below highlighting areas off of Thong Lane and Chalk marked in the purply/pink colour below. (please note that HE have added locations to this map and changed the colour they are highlighting them in since they emailed us earlier today, so it may change again, who knows with HE)
The map above is embedded from the official HE website and is interactive.
If you click the little icon in the top left corner of the map above

it will open a submenu which will provide more info. You can click on each of the listed sites and it will provide another level of info including where the site is, how the workers will access the site, when the works will be taking place, how many teams will likely be working on the site etc.
We've highlighted the site locations in orange in the map below for you, so you can see at a quick glance where they will be working, as the map above doesn't show this very clearly at first glance you have to click and select options from the submenu to discover the true picture which includes a site to the north of the A226 (Rochester/Gravesend Rd).  What else would you expect from HE?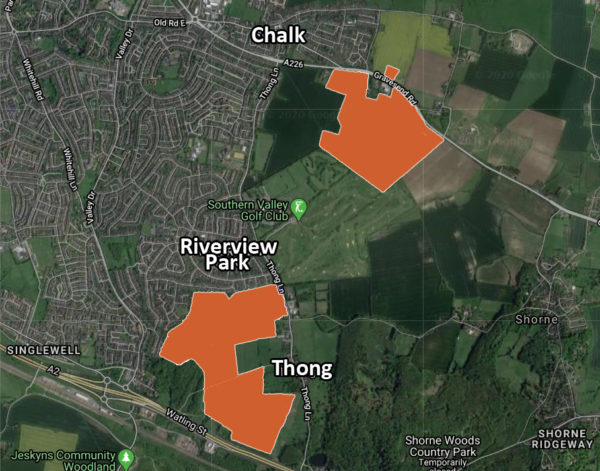 When will the work take place?
The second phase of these surveys will start in April 2020 and continue until October 2020
Site preparations will likely start week commencing 20th April 2020 with work likely to actually start from 27th April 2020.
Most of the work will take place Monday to Friday 8am – 6pm with the possibility of some weekends.
Worth noting when you click through the submenus it states they could actually be on site from 7am-7pm including an hour each end of work hours to open and close the sites. 
Highways England should also be sending letters to residents who live in the close vicinity of the works with information.
To find out more on Archaeological Trial Trenching survey works from HE visit https://highwaysengland.co.uk/archaeological-trial-trenching-and-surveys-on-the-lower-thames-crossing.
Ground Investigations Surveys
HE also announced today (17th April 2020) that they will also be commencing their next phase of ground investigation surveys which will mainly involve cable percussion boreholes and requires a 7m tall frame lowering drilling tools up to 60m.
To find out more on Ground Investigation techniques you can visit https://highwaysengland.co.uk/lower-thames-crossing-ground-investigations/
COVID-19 working
Thames Crossing Action Group remain strongly and completely opposed to ANY works being carried out in relation to the proposed LTC during the current global COVID-19 pandemic crisis, and in no way consider any part of LTC to be essential work at this time. We consider these works to be irresponsible, unethical, and immoral on the basis that the health and lives of the workers, and everyone else and the NHS is being put at risk.
You can read more about this in our previous updates that are referenced below in the 'Related Updates' section of this page.
Highways England have today (17th April 2020) also made the following statement:
"Please note Highways England takes the health and wellbeing of the public and our staff extremely seriously. We are fully supporting the Government's response to the Covid-19 pandemic in following their policy that construction activity should continue where it can be undertaken in accordance with the Public Health England and Industry guidance.
Highways England has reviewed our site works on the Lower Thames Crossing project and has considerably reduced current works to essential survey and investigation work only.  A number of our activities across the route have been postponed whilst we undertake reviews on how they can be carried out in full compliance with the guidance and recommendation available. Some work , such as Archaeological Trial Trenching is continuing in accordance with method statements that are in full compliance with all current guidance.
We are aware that this is a rapidly changing picture and we will continue to follow and implement Government guidance as and when it is updated."
Related bodies
From what we have been told the two bodies that HE state their site works should be undertaken in accordance with are:
Public Health England – www.gov.uk/government/publications/full-guidance-on-staying-at-home-and-away-from-others/full-guidance-on-staying-at-home-and-away-from-others
Construction Leadership Council – www.constructionleadershipcouncil.co.uk/news/site-operating-procedures-version-3-published/
NB. These are the most up to date versions/links available on 17th April 2020 and are subject to change as things get updated
Enforcement
The Health and Safety Executive (HSE) is the relevant enforcing authority for PHE guidelines. If a site is not consistently implementing the measures set out by Public Health England (PHE), it may be subject to enforcement action.
Concerns can be reported to the HSE via www.hse.gov.uk/contact/concerns.htm
If you wish to contact HE about any issues/concerns on any LTC related works sites email ltc@highwaysengland.co.uk.
If you wish to keep TCAG in the loop about an concerns with regards to these works our email address is admin@thamescrossingactiongroup.com.  Any photo/video evidence you wish to send us is always helpful, but please remember safety comes first. Please practice social distancing and do not put yourself at any risk to get photos/videos.  Please remember to tell us exactly where and when you witnessed your concerns, and confirm if you are happy for us to use/share the info with others or not.  Together we are stronger.
Related updates
All LTC works should be halted NOW (March 2020)
COVID-19 Updates (March 2020)
Utility Trial Trenching Survey works announced (March 2020)
TCAG Ground Investigate Site Visit (Dec 2019)
Archaeological Trial Trenching Survey works announced (Nov 2019)
Ground Investigation works announced (July 2019)