All LTC work should be halted NOW
We have already commented about how the Lower Thames Crossing Supplementary Consultation should be postponed until after the Coronavirus crisis has passed.  But we are also calling for all LTC work to be halted immediately too.
On the evening of March 23rd our Prime Minister put our country on lockdown. Only critical essential workers that couldn't work from home should be going to work. He clearly stated as have many other officials that we all need to #StayHomeSaveLives.  He has said it is vital that those that do have to go to work should be following Public Health England  rules on social distancing and "ensure" the necessary protection.
So why on March 24th are we seeing LTC workers on sites, carrying on working as though it is business as usual?  Just to be completely clear here, we the admin team have not been out ourselves, the info comes to us from concerned residents who can see the sites from their homes/gardens.
Also to be clear we are under the impression that some of these workers do not seem at all happy about being made to work with things as they stand.  Remember they may be in a postion where they feel the don't have any other option. It is Highways England and the companies they have contracted to carry out these survey works that should be closing down the sites at this time.
Orsett area
We know from previous communications with Highways England that the Ground Investigations and Archaeological Trial Trenching works being carried out in this area, off Stifford Clays Rd, and Green Lane is being carried out by Balfour Beatty.
We have also previously been advised that they are using the compound near Sainsburys, Chafford Hundred, near Lakeside (the old Lakeside coach park for those that remember it) for the staff to meet, and then they are taken by minibus to the site locations.
Here is an example of what has been witnessed on 25th March 2020, taken by a local resident from the safety of their own property.  Clearly these staff are not following the social distancing rules of having 2m between them, and this is just one of the photos taken.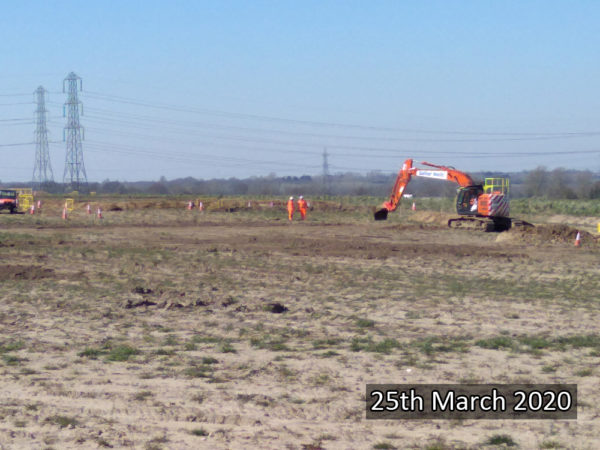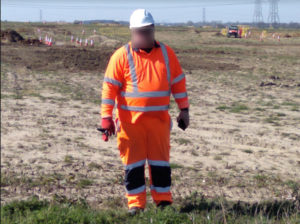 At one point of of the workers actually approached the resident, thankfully there is a ditch between the field and his property which forced a safe distance. The resident was told him he was not allowed to film.  Bearing in mind he was on his own property and very concerned at what he has been seeing.  Makes you wonder what HE have to hide?!
Face blurred for privacy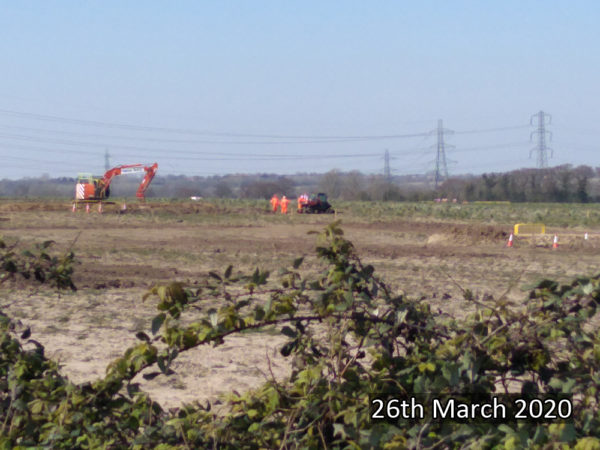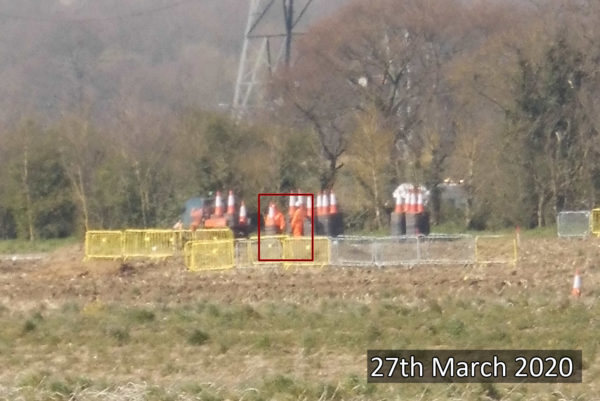 Still breaking 2m social distancing rule on 26th March 2020.
These images taken on 27th March 2020 were taken at a distance so apologies for the quality. It seems HE are now trying to keep the workers as far away from the residents property to lessen the chances of them being captured breaking the social distancing rules.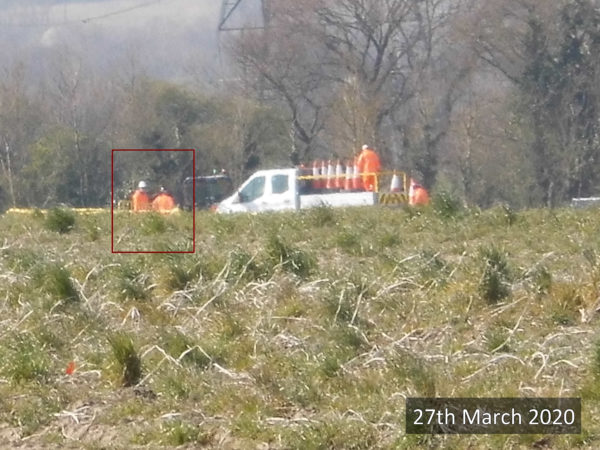 As well as the two workers in the red box who are clearly close togther, take a look at the two on and at the rear of the truck.
They appear to be either loading or unloading the cones to or from the truck, which clearly involves close interaction and both operatives handling the cones between each other.
So again not following the social distancing rules of keeping 2m between them.
Baker St, Orsett site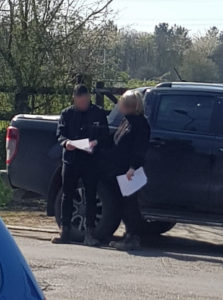 Also in Orsett along Baker Street this was witnessed on 26th March 2020, by a resident from the safety of their own home. Faces have be blurred for privacy.
The resident shouted across the road to them asking "which bit of "distancing " did they not understand … and why are they at work anyway".
This residents daughter is one of our amazing and brave NHS nurses currently risking her life on a daily basis to try and save others.
Of course we at TCAG respect and thank all the amazing critical keyworkers in our country, How disgraceful that Highways England it seems do not respect and value them, and their own staff, and all the rest of our lives.
Gravesend area
Another resident who lives in very close proximity to Southern Valley Golf Course in Gravesend, Kent got these images on March 25th 2020, and from a long distance had a quick chat with the workers, they confirmed they were LTC staff, and the resident got the impression the staff didn't want to be there working any more than we want them there working, they would rather #StayHomeSaveLives.
As you can see in the first photo below zoomed in they are clearly not working to 2m social distancing rules.
Anyone else wondering how they got that tank equipment off the back of the HGV to unload it on site without having some manpower, most likely working closer than 2m social distancing rules.  There were two of these HGVs recorded on site, which can be seen in the insert image which was captured from a video that was taken.
What do TCAG say?
HE needs to remember they do not even have permission for LTC, and stop acting like they do.  Not that even then it would be acceptable. But the way they are commenting as those this is critical for the countries recovery after the crisis has passed is diabolical and certainly not critical.  The one thing that is definite and critical at the moment is that the Coronavirus is real and is here now, and lives being lost and are at risk.  This pandemic and the way we all react right now is what is critical, and that means we all need to stay at home, and save lives and protect our NHS so it can protect and save us.  We need to respect ourselves and each other and do our bit. We need to respect our NHS services and awesome staff who are giving their all to save our lives. We need to respect all the real keyworkers, and not have non-essential workers lives that are being put at risk, along with others, because HE clearly don't have any respect, ethics or morals.  HE need to close all LTC related works immediately.
What do Highways England have to say for themselves?
We have emailed HE about various things in relation to the Coronavirus crisis, from the need to postpone the consultation to our serious concerns about works still happening on sites.  We sent many of these to HE CEO Jim O'Sullivan and officials, but it seems Mr O'Sullivan doesn't seem to believe our emails deserve a response from him directly instead passing them on to Chris Taylor, Director Complex Infrastructure Programme for Highways England to reply.  He clearly prefers to avoid taking responsibility for Highways England's atrocious behaviour in relation to this.
In the letter below to TCAG you can see that Mr Taylor states:
"As the Lower Thames Crossing is one of the Government's key Nationally Significant Infrastructure Projects, our staff have key worker status, and in addition to the Government's social distancing protocols we are adhering to guidance from the Construction Leadership Council: http://www.constructionleadershipcouncil.co.uk/news/site-operatingprocedures-during-covid-19/".
This document in the link clearly states that "It is also vital that the health and safety requirements of any construction activity must not be compromised at this time. If an activity cannot be undertaken safely due to a lack of suitably qualified personnel being available, or social distancing being implemented, it should not take place."  A point we will be raising in our response to Mr Taylor.
Chris Taylor Letter 26 March 2020

HE CEO Jim O'Sullivan's letter to resident
The resident who took the photos and video of the Stifford Clays Rd/Green Lane site also emailed Highways England CEO Jim O'Sullivan and other officials, and copied us in on 26th March 2020 to express his concerns.  He actually got some responses directly from Mr O'Sullivan.
The first response he got from Mr O'Sullivan was:
"Thank you for advising us of this. We are reminding all of our contractors of the need to comply with the Governments requirements and your note will be helpful to us in doing that."
The resident's response was:
"Why on earth do they need reminding? Are the rules not clear enough? Has the message not got through to them already?  Was the Prime Minister not clear enough in Monday's speech? The fact that they need reminding is ridiculous. They are putting lives at risk.
This is not a brief, accidental violation, but rather continued work carried out in direct contradiction of the government's social distancing rules that has been ongoing for the last 3 days. Your contractors are demonstrably incapable of working according the government's guidelines. Highways England should cease all non-essential work on site immediately. The Corona rules are clearly being broken and endangering lives."
To which Mr O'Sullivan replied:
"Thank you for your further note. This is a very challenging situation for all of us and I am sure that our contractors are not alone in having difficulty adapting to the current situation and the new rulesThe working habits of years do not change easily, particularly for people working on isolated sites who do not have much contact with the public.
I appreciate the extra effort you have taken in writing this second note so I am forwarding it to our LTC team who I am sure will be able to provide you with more specific information."
The resident responded again, only to be told this time by Mr O'Sullivan that he was busy dealing with the crisis and that the resident would need to wait for the LTC team to respond to him.
Today the resident emailed Mr O'Sullivan again:
"I realise you're busy so please do not feel obliged to respond.
I just wanted to inform that is seems your 'reminders' are not getting through to your contractors. 2m distancing rules are still being repeatedly ignored.  Please see attached photos from today (Friday 27th March)*.
This site needs to be closed immediately. Lives are at risk.
When this crisis is over and many thousands are dead, the reckoning will surely come. Individuals and organisations will be judged on how they acted in this crisis. How will your inaction be judged Mr O'Sullivan?"
*the photos that were attached are the ones dated 27th March above
We couldn't have said it better.
Other Goverment Company sites
As we all know Highways England is a Government company, and so too is HS2. This is an article that The Express have published about the workers on HS2 sites not following social distancing rules – www.express.co.uk/news/uk/1260676/hs2-coronavirus-workers-social-distancing-safe-infection-covid19-spread-spt.
Have your say
Please be sure to have your say on this when you send your consultation response in. If you've already sent your response you can still send another about this if you want, you are not limited to one.
You may also wish to email Highways England – info@lowerthamescrossing.co.uk and ltc@highwaysengland.co.uk, and copy in the Planning Inspectorate – LowerThamesCrossing@planninginspectorate.gov.uk and if a resident in Thurrock Council would also like to be copied in so please also cc – LTCAdmin@thurrock.gov.uk, those outside of Thurrock may also wish to copy in their local authority or MP.