Investigative works in North Road
HE/LTC are currently beginning investigative works, Archaeological Trial Trenching surveys to be precise, in North Road, South Ockendon, amongst many locations along the proposed route where investigative works are being completed.
Today, on Back British Farming Day (Sept 9th 2020) we bring you details on how HE/LTC staff/contractors have been behaving in this location which is Grade 1 agricultural land, since beginning these survey works yesterday.
This is how the land looked prior to HE/LTC starting their investigative works.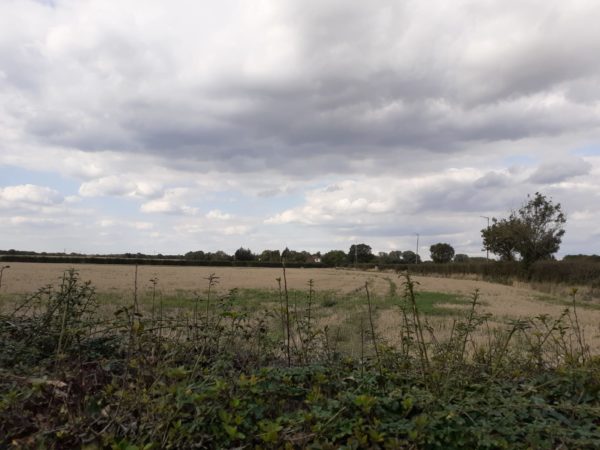 We have had reports from residents who have witnessed the workers urinating in the field. Remember these workers are in bright orange high viz PPE, in an area that is adjacent to the very busy North Rd. It's not been just a one off, and residents have been witnessing this whilst looking out across the fields from their kitchen window.  Workers have been asked if they have toilet facility, and have avoided answering when questioned, other than gesturing they do and pointing down the road towards South Ockendon. We assume they could be referring to the LTC compound in Pilgrims Lane (down near Sainsburys), which is around 2.5-3 miles away. You may remember that compound as the one that has two outstanding retrospective planning applications.  HE/LTC workers are literally taking the piss, and it's not acceptable.
In addition to the above, local residents have also witnessed that LTC workers have created a new entrance onto the field.  At this stage we are not aware if or what agreement has been made with the farmer, but we believe they had pointed out that this was not a good idea.
We have also brought this matter to the attention of Thurrock Council who we understand are sending someone from the Highways Dept down to have a look.  The location that HE/LTC have chosen to create this new site entrance is on an accident hot spot bend, where over the years there have been fatalities.
We have already previously had reports of an accident on Ockendon Rd whereby HE/LTC workers were using Stop/Go signs to control the traffic while their vehicles accessed an investigative site in that location, which resulted in an accident because they were evidently only using one Stop/Go operative and they were positioned in a blind spot near the bridge that goes over the railway there.
This is since works started yesterday
Anyone who travels along the stretch of North Rd, coming out of South Ockendon towards North Ockendon will be aware there is hedgerow along much of the road, and we are aware that the farmer has been doing their best to try and fill in gaps in the hedgerow with new planting.  At this stage we are not aware of any environmental surveys that HE/LTC carried out before creating this new entrance onto the field.
In addition drainage that runs along the western side of the North Rd, which is obviously there to take water off the road and fields has now been filled for a section by HE/LTC workers to allow access into the field at this new entrance they have created.
As we mentioned earlier in this update the farm land here is Grade 1 agricultural land, of which there is only 5% left in the country. HE/LTC workers have been seen filling this drainage with material which contained plastic bags and waste, meaning it has now contaminated Grade 1 agricultural land. The contaminated material has been covered with some kind of matting.
The filling, even if they had used top quality soil, will of course mean that the drainage will not be able to now run freely, so what is already an accident hot spot could now have the additional risk of flooding/surface water, and the field could suffer too, as water on both road and field won't drain away as easily since it has been filled.
As you can see from the photos above, which can be clicked to enlarge, this new entrance also means general access to the field has been opened up, which increases the risk of unwanted visitors/fly tipping etc on the grade 1 agricultural land.  We would add that HE/LTC workers are of course also considered unwanted visitors, but sadly the farmer had no option but to let them onto the land, due to the threat of legal action to gain access.
Considering all of the above we also have questions and concerns about HE/LTC workers digging trenches in this location since it is known to be a site that was bombed during the war, due to its proximity to Hornchurch airfield.  It is known that there are unexploded bombs (UXO) including a doodlebug, which we and residents in the area have been told by a local historian.
If we can't trust HE/LTC workers because of all the above reasons, then we certainly need to know more about what precautions are going to be taken before digging on this site begins with the potential of UXO's  in the vicinity.
We have contacted HE/LTC regarding all of this, and as yet have had no response. We will update as we gain any further info.
If you witness anything concerning at any of the LTC investigative work sites please do speak up.  We would recommend emailing info@lowerthamescrossing.co.uk and copying in your local authority, councillors, MP, and us admin@thamescrossingactiongroup.com.  We are doing our best to keep a log of all incidents and inadequacies etc, which we will present to the relevant local authorities with a request that they raise them at Development Consent Order (DCO) stage of the process.
For the latest also read – www.thamescrossingactiongroup.com/investigative-works-in-south-and-north-ockendon-update/
Related
Thurrock Nub News Article – https://thurrock.nub.news/n/anger-over-urinating-workers-road-safety-and-rubbish-filled-ditches-as-highways-england-press-on-with-crossing-investigation-work 
LTC impacts on farming – https://www.thamescrossingactiongroup.com/ltc-impacts-on-farming/