Something many are wondering is whether the proposed Lower Thames Crossing would be a Smart Motorway.  Not that there is anything smart about Smart Motorways.  Ongoing mainstream media coverage has brought to the forefront just how dangerous they are.
Who could fail to acknowledge just how dangerous they are, after watching programmes like 'Panorama – Britain's Killer Motorways', and seeing and hearing all the reports about way too many deaths and serious injuries on so called Smart Motorways.
The dangers of Smart Motorways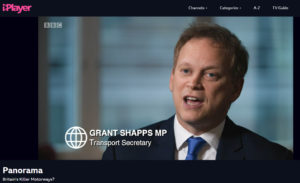 In the 'Panorama' programme, the Secretary of State for Transport, Grant Shapps MP, who is at this time the person who would be responsible for deciding whether to grant the LTC Development Consent Order or not said "We absolutely have to have these as safe or safer than regular motorways or we shouldn't have them at all." He stated that the Government are investigating the matter.
Sir Mike Penning MP, who was the Transport Minister who signed off on the expansion of the smart motorway network was also interviewed.  He stated that what he signed off on was not delivered, and that what was delivered was dangerous.
Smart motorway networks are considered so dangerous AA breakdown crews are not allowed to stop on the roads to help stricken motorists. Instead they are instructed to drive to a safer location and wait for a car to be towed by Highways England crews according to a former staff member. Edmund King, President of the AA stated on Panorama that Smart Motorways are dangerous and are not fit for purpose.
It can take around 17 minutes for a control room to identify a stopped vehicle, then a further 3 minutes to close the lane and reduce the speed limit.  Then a further 17 minutes for breakdown assistance to arrive.  That's an average of 37 minutes of sitting in a live lane on the motorway.
In this BBC report (https://www.bbc.co.uk/news/uk-50169527) from Oct 2019, then Highways England CEO, Jim O'Sullivan is stated as saying he did not think he would build any more dynamic smart motorways because too many motorists do not understand them.
What information do we have about LTC being a smart motorway?
Well initially the proposed LTC was always referred to as a motorway.  We were told there wouldn't be hard shoulders.  We were told it would have "technology providing lane control and variable speed limits up to 70mph".  Sounds like a Smart Motorways to us.
However, as soon as we started questioning National Highways (or Highways England as they were back then) about our concerns and the risks of deadly Smart Motorways there seemed to be a distinct move away from referring to it as a motorway, and instead the term 'all-purpose trunk road' came into use instead.
We then asked HE (now NH) more questions on the 'Smart' aspect of LTC, and questions relating to safety, Emergency Refuge Areas or Emergency Areas as they are evidently sometimes also known now, including distances between the ERA/EAs and lengths of connecting roads (as some are very long) and whether they will have ERA/EAs,  and also about Emergency Vehicle access to LTC.
In March 2020 we received this response:
"We are designing the Lower Thames Crossing to the highest safety standards and in accordance with Government safety design regulations. The LTC is not currently designed as a motorway, but as an All Purpose Trunk Road such as an A Road. It will however be designed to Smart Motorway standards including the provision of emergency refuge areas a minimum of 1.6km apart and lane detection technology. The design also provides Stopped Vehicle Detection systems, incident detection and automatic signals, in line with Government regulations. 

The route will not have a hard shoulder along the majority of the route. Should a vehicle need to stop before it reaches a refuge area, technology used along the route will detect the stopped vehicle and change the over-lane signals to indicate that the affected lane is closed to traffic. 

The hard shoulder that was proposed along the A2 eastbound connector road has been replaced with a hard strip, to reduce impact on the AONB. The change to the design of the junction, with the inclusion of lane control through the use of smart motorway technology, means that road users will see clear signage on the approach to the junction and means that safety levels are maintained even without a hard shoulder.  On all one lane slip roads hard shoulders are provided, for example on the Brewers Rd eastbound slip. 

As regards Brentwood Road, emergency access will be provided from Brentwood Road on to the LTC northbound and southbound to improve response times for emergency services from Orsett and Grays. This location was chosen due to the proximity to the Stanford Road Fire station following engagement with the emergency services. We will continue to work with them as we develop detailed plans for the crossing."
NH/HE also advised us in June 2020 that Shaun Pidcock had joined the LTC project team as Project Director, coming from Highways England Smart Motorway Programme having led it for four years.  They even had the nerve to say he had left the Smart Motorway Programme in good shape.  
What else has been happening in regard to Smart Motorways
In 2021 the Government held a public inquiry on Smart Motorways, which TCAG responded to.
The amazing Claire Mercer of SmartMotorwaysKill and others have been continuing to campaign against Smart Motorways. More evidence and reports have been presented to Government along with a legal challenge over safety of Smart Motorways.  SMK legal action also includes the aspect of disability discrimination since Smart Motorways do not allow immobile people to reach a place of safety.
More and more evidence has been surfacing about the dangers, and how even when the technology that is supposed to be in place on these so called Smart Motorways is there, it is not being monitored, and that's if it's even working.
Coroners have ruled Smart Motorways present risk of future deaths.  They have also referred Highways England to the Crown Prosecution Service (CPS) to consider whether corporate manslaughter charges are appropriate.
There is evidence that death rates are higher on Smart Motorways compared to hard shoulder roads.
Fire services are facing considerable delays on emergency callouts due to Smart Motorways.  South Yorks Police and Crime Commissioner has called for Smart Motorways to be scrapped. National Chair of the Police Federation of England and Wales has said that even police don't feel safe on Smart Motorways.
The AA have advised drivers it is safer to drive with a burst tyre or smoking engine than to stop on a Smart Motorway. Even if there are emergency refuge areas it is questionable as to whether they are large enough and safe enough.
Concerns have been raised over Electric Vehicles and Autonomous (self driving) vehicles raising risks on Smart Motorways.
NH/HE admit that around 15% of vehicles were not identified by smart technology (also see here).
We have learnt that the Office of Rail & Road who monitor National Highways performance do not have a single member of staff who's job is focused purely on road safety.  In Nov 2021 National Highways appointed a prominent Smart Motorways advocate as their chief road safety adviser.
UPDATE – Jan 2022
On the 12th January the UK Government announced that the roll out of Smart Motorways had been paused, following recommendations from the Transport Select Committee, whilst 5 years of safety data is collected and analysed.
Taking all the evidence into account, TCAG have emailed the Secretary of State for Transport, Grant Shapps, National Highways Chief Executive, Nick Harris, the Transport Select Committee, the Office of Rail & Road, and various other Department for Transport staff calling for the proposed LTC to be paused due to the fact it is being designed to Smart Motorway Standards.
Stephen Metcalfe MP has acknowledged our email and said he is writing to the Secretary of State for Transport to ask him to address the very valid point we have raised. (17 Jan 2022)
Jackie Doyle-Price MP has acknowledge our email, said the contents have been noted and hopes we get a reply soon. (18 Jan 2022)
Nick Harris, Chief Exec National Highways has had the Development Director – Lower Thames Crossing respond on his behalf (20 Jan 2022):
Thank you for your email of 13 January to Nick Harris, Chief Executive of National
Highways, regarding the above scheme. As the Lower Thames Crossing falls within my
area of responsibility, Nick has asked me to reply to you personally on this matter.
I note your comments regarding the Government's decisions following the Transport
Select Committee's recommendations.

I would like to assure you that safety remains our highest priority. The new crossing will be
an all-purpose trunk road, similar to the A13 and other A-roads in the region that are used
by tens of thousands of people every day. The Lower Thames Crossing is being designed
to the highest standards recommended today, but we will continue to adapt our plans to
incorporate advances in safety design and technology that will come forward in the years
ahead. While the crossing is designated as an A road we will of course be reviewing the
Government's announcement and considering any changes we may need to make.
You can read more about how our calls for 'Smart' LTC to be paused in line with the pause of smart motorways here.
Thurrock Nub News (Jan 2022) – Action group call for pause from minister as he considers smart motorways
Kent Online (Jan 2022) – LTC campaigners call for transport secretary to extend smart motorway pause to tunnel linking Kent and Essex
Planet Radio (Jan 2022) – Essex Campaign Group: Lower Thames Crossing is "smart motorway by stealth"
Related
LTC – 'Smart' Motorway by stealth – click here
LTC Road Safety – www.thamescrossingactiongroup.com/smart-ltc-aspects-of-safety/
Smart Motorways Kill – https://smartmotorwayskill.co.uk/
Daily Mail (Oct 2021) – 'We want answers': Families of victims killed on smart motorways demand MPs grill road chiefs over expose of system's shortfalls
The Telegraph (Aug 2021) – Smart motorways systems dubbed 'Die Now' crashed three times in just four days
TCAG 'Smart' Motorways public inquiry response (Apr 2021) – click here