Something we are all wondering is whether the proposed Lower Thames Crossing will be a Smart Motorway.  Not that there is anything smart about Smart Motorways.  Recent mainstream media coverage has brought to the forefront just how dangerous they are.
Who could fail to acknowledge just how dangerous they are, after watching the recent Panorama – Britain's Killer Motorways.
What is a Smart Motorway?
A smart motorway is a motorway that uses different methods to manage the flow of traffic.
Smart motorways don't have a hard shoulder or only have a hard shoulder at certain times.
They use
CCTV, radar and sensors to keep an eye on traffic.
speed restrictions and lanes closures if there's an incident or congestion.
traffic calming measures like variable speed limits (of 40, 50 or 60mph), red 'X' lanes or driving on the hard shoulder.
overhead signs and large roadside information signs to warn you about queues, speed limits, closed lanes and diversions.
What information do we have about LTC being a smart motorway?
Whilst there is no mention of the word smart motorway in any of the official documentation, there is wording that gives the impression it could be a possibility.
Page 6 of the Supplementary Consultation Guide states that "the Lower Thames Crosing proposals will include technology providing lane control and variable speed limits up to 70mph".
Page 19 of same Guide states " The hard shoulder has also been removed from the eastbound link road along the A2. To mitigate this it has been replaced with a hard strip and if an incident occurs we will use technology to control the traffic to prevent the link road backing up into the tunnel".
There also appears to be a distinct lack of hard shoulder along the LTC.
We have emailed HE asking for detailed info about the technology they refer to, hard shoulders, Emergency Refuge Areas, and emergency vehicle access amongst other things, and are waiting a response.
Certainly suggests smart motorway to us.
What do Highways England say?
When we raised the matter at the recent LTC Task Force meeting on 10th Feb 2020 Highways England Development Manager, David Manning told us that it was still being discussed with the Government.  Ultimately it will evidently be up to the Department for Transport to decide how the road will be categorised.  From what Mr Manning said on Monday evening it sounds likely to be considered an all purpose trunk road.  Whatever that means!
Regardless of what they call it, it still sounds dangerously like smart motorway conditions to us I'm afraid.
The dangers of Smart Motorways
You may wish to watch Panorama – Britain's Killer Motorways, which is available to watch again on BBC iPlayer – https://www.bbc.co.uk/programmes/m000dtqv.  The programme clearly shows the lethal dangers, including recordings and footage of accidents and very near misses.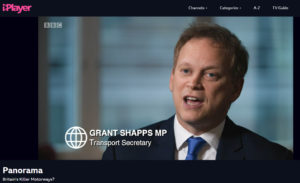 Also in the programme, the Sectretary of State for Transport, Grant Shapps MP, who is at this time the person who would be responsible for deciding whether to grant the LTC Development Consent Order or not said "We absolutely have to have these as safe or safer than regular motorways or we shouldn't have them at all." He stated that the Government are investigating the matter.
Sir Mike Penning MP, who was the Transport Minister who signed off on the expansion of the smart motorway network was also interviewed.  He stated that what he signed off on was not delivered, and that what was delivered was dangerous.
Smart motorway networks are considered so dangerous AA breakdown crews are not allowed to stop on the roads to help stricken motorists. Instead they are instructed to drive to a safer location and wait for a car to be towed by Highways England crews according to a former staff member. Edmund King, President of the AA stated on Panorama that Smart Motorways are dangerous and are not fit for purpose.
In this BBC report (https://www.bbc.co.uk/news/uk-50169527) from Oct 2019, Highways England CEO, Jim O'Sullivan is stated as saying he did not think he would build any more dynamic smart motorways because too many motorists do not understand them.  Maybe we all need to contact Mr O'Sullivan and remind him of this!
What else can I do?
You may wish to show your concerns over Smart Motorways by considering signing a petition like this one that the Transport Action Network have been discussing on social media just today! (https://www.change.org/p/scrap-dangerous-smart-motorways)
Contact the Secretary of State for Transport, Grant Shapps MP – The Transport for Secretary, Grant Shapps MP, Department for Transport, Great Minster House, 33 Horseferry Road, London, SW1P 4DR or email: grant.shapps@dft.gsi.gov.uk or Twitter: @grantshapps
Or contact Jim O'Sullivan,CEO Highways England – Bridge House, 1 Walnut Tree Close, Guildford, Surrey, GU1 4LZ or email: Jim.OSullivan@highways.gsi.gov.uk.
You may also wish to check out a website that we came across whilst reseaching the dangers of Smart Motorways for this update – https://smartmotorwayskill.co.uk/.
UPDATE 11th March 2020
We have ask HE more questions on the 'Smart' aspect of LTC, and questions relating to safety, Emergency Refuge Areas or Emergency Areas as they are evidently sometimes also known now, including distances between the ERA/EAs and lengths of connecting roads (as some are very long) and whether they will have ERA/EAs,  and also about Emergency Vehicle access to LTC.
This is their response:
"We are designing the Lower Thames Crossing to the highest safety standards and in accordance with Government safety design regulations. The LTC is not currently designed as a motorway, but as an All Purpose Trunk Road such as an A Road. It will however be designed to Smart Motorway standards including the provision of emergency refuge areas a minimum of 1.6km apart and lane detection technology. The design also provides Stopped Vehicle Detection systems, incident detection and automatic signals, in line with Government regulations. The route will not have a hard shoulder along the majority of the route. Should a vehicle need to stop before it reaches a refuge area, technology used along the route will detect the stopped vehicle and change the over-lane signals to indicate that the affected lane is closed to traffic.The hard shoulder that was proposed along the A2 eastbound connector road has been replaced with a hard strip, to reduce impact on the AONB. The change to the design of the junction, with the inclusion of lane control through the use of smart motorway technology, means that road users will see clear signage on the approach to the junction and means that safety levels are maintained even without a hard shoulder.  On all one lane slip roads hard shoulders are provided, for example on the Brewers Rd eastbound slip.As regards Brentwood Road, emergency access will be provided from Brentwood Road on to the LTC northbound and southbound to improve response times for emergency services from Orsett and Grays. This location was chosen due to the proximity to the Stanford Road Fire station following engagement with the emergency services. We will continue to work with them as we develop detailed plans for the crossing."
Please also read – www.thamescrossingactiongroup.com/smart-ltc-aspects-of-safety/