Investigative works in South and North Ockendon update
You may remember we posted previously about concerns at an LTC site off North Rd. Now we bring you an update on investigative works in South and North Ockendon.
North Road, South Ockendon site
Welfare facilities for workers
In response to our reporting of LTC workers urinating in public on the site off North Rd, in full view of someone's kitchen window, Highways England have confirmed that welfare vans are on site for the workers which include toilet facilities.
We have been told that the welfare van was not on the actual site, when photos were taken, but was evidently within walking distance for the workers.  This was evidently due to access to the site needing to be created first. They have also reiterated to staff the need to maintain standards of public decency and hygiene at all times.
We asked what the toilet facilities look like as residents had not seen any sign of any portaloos.
HE said, "Porta-loos are not used on site as they do not meet our minimum standards and would be used as a last resort if no other facilities were available. Please note that when the site is fully operational container units will be made available which will provide better welfare facilities. The welfare van is only being used during initial set up."
So portaloos don't meet their minimum standards, but urinating in public seems to be deemed acceptable by their workers!
Creation of site entrance (North Rd)
Serious concerns were expressed to HE about their chosen location for a new entrance onto the site in North Rd.
HE responded, "As regards the site entrance, several site visits took place to assess the best location before putting the access point into the field. The site entrance is situated away from the bend and precautionary measures have been put in place when accessing and exiting the field which is by means of left turn only. Once operational, site entrance signs will be placed on the approach to the access point and we will be liaising with the network management team from Thurrock Council in this respect."
With LTC workers not allowed to turn right into the site, we have since had reports from South Ockendon residents about the fact that LTC workers vehicles are now constantly using Cheelson Rd as a turning point.  These concerns have been brought to HE's attention, and we are still waiting on a response on that aspect.
We are also waiting on a response from HE in relation to noise, bleeping sounds from vehicles to be precise, which has been reported as early as 6.45-7am.  Whilst residents have been informed that works will begin at 8am it has been with the proviso that the site will be opened at 7am in preparation of works beginning at 8am. It is not clear if the beeping vehicles are coming directly from the site, or whilst they are reversing/turning in Cheelson Rd as outlined above.
Road safety concerns
The location of the new entrance is of serious concern, due to it's close proximity to an accident hot spot.
We were already aware from reports to us from locals that there had been an accident along Ockendon Road, whilst HE workers were using stop/go sign to control traffic so their vehicles could enter/exit their site on another blind spot, by the peak of the hill where the road goes over the railway.
Now there has been at least one near miss that we are aware of on North Rd. On the occasion we know of an LTC vehicle was stopped in the road chatting to other LTC workers, near the site entrance. A worker used a stop/go sign to signal to traffic to start coming through despite the fact that someone was already driving through in the opposite direction as they hadn't been stopped by anyone.
We brought this to HE's attention, and were told "As regards the site entrance, we have taken precautionary measures to make this as safe as possible and will be implementing additional signage on the approach."
You may think that additional signage on the approach would be a good thing. However, take a look at where the additional signage was placed. In the road right on the blind bend.  Seriously, you couldn't make it up. Traffic would need to move towards the middle of the road on a blind bend to avoid hitting the sign.  Again we have reported it, and it has been noted that the sign is no longer there, but we have not had any confirmation from HE to acknowledge this was clearly dangerous positioning, or that they have removed the sign.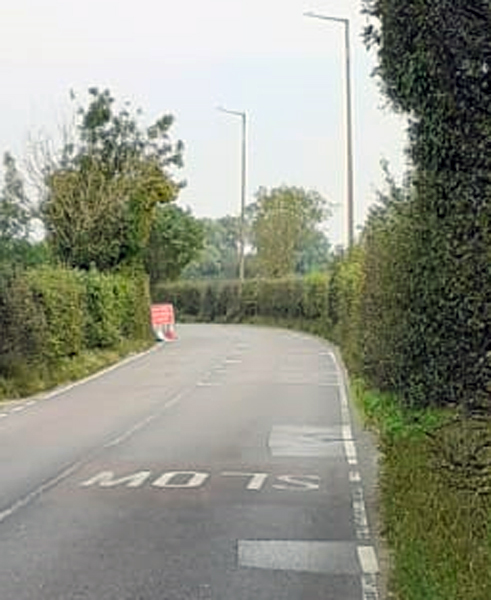 Site security
We also raised concerns about security on the site, especially in light of the new entrance.  HE responded, "Regarding the security, as you know the site is currently being prepared in advance of the works. As soon as the track matting is placed down there will be a security presence on site."
Whilst there are barriers across the entrance it does seem to be a case of HE only bothering with security to safeguard their interests once they have their equipment on site, but not being bothered about the landowner and residents concerns prior to that.  For clarity people wearing LTC branded PPE have now been seen on site through the night, which we assume will be security.
TCAG, Thurrock Council, and HE are all still in discussions regarding this site off North Road.
On another site in the South Ockendon area
Wildlife Crime
We have also heard from another resident that under duress they have had to give HE access to their land, and that they had forewarned HE that there was a spot on their private driveway that snakes (protected species) liked to bask in the sun, and specifically asked them to take extra special care since this was during the heatwave, so the snakes basking was a common occurence.
The residents were disgusted and very upset to find that one of the snakes had been run over and killed.  The tyre marks on the creature indicated that it appeared to have been run over more than once too.  This is on a private driveway that nobody other than the residents and LTC workers had used.
Church Lane, North Ockendon
Residents in Church Lane, North Ockendon have also been expressing their own concerns about the use of the lane for access by LTC workers/vehicles.
Church Lane is in a conservation area with a Grade 1 listed Church and grounds, along with a fishery and a mediaeval well.  It is a narrow lane, and not suitable for large and heavy vehicles such as those being used for the LTC site.
Residents have previously shown concern and questioned HE about the possible use of Church Lane in relation to LTC works. However misleading info has been floating about between HE and concerned residents. This is because when residents have questioned HE about it at consultation events and over the phone HE staff have always stated that Church Lane would not be used. However, it appears to be that whilst during construction, if LTC goes ahead, Church Lane would not be used, during the current investigative works it is a different story and HE will be using Church Lane.  A fact HE neglected to tell residents when they had been asking about access previously.  Residents also did not receive any letters informing them that HE would be using the lane as access prior to the works starting.
Residents have reported damage to the road and also trees along the road, as well as the speed that some of the vehicles were travelling.  HE have responded by saying that a 5mph limit has been imposed on their workers, yet the only evidence we and residents have seen is a 5mph sign in the actual field they are working in, which does nothing to deal with the concerns of speed on the actual road.  Large vehicles have also been witnessed reversing along Church Lane, which cannot be considered good when it is such a narrow road and after so many residents have expressed serious concerns about the risks to HE. There has been an increase in HE traffic and noise pollution as works continue.
Unexploded Ordnance (UXO) 
Many local residents are aware that there are unexploded ordnance (bombs) in the area, especially due to the close proximity to Hornchurch Airfield which was of course in the front line of the country's defence in WW2.
He have responded to concerns over UXO, especially in relation to investigative works in the South and North Ockendon area, "Regarding preparatory surveys in relation to unexploded bombs, our unexploded ordnance (UXO) team have carried out desktop studies of all the relevant land parcels within the route. This includes looking at all the historic bomb site records which are very well documented in this area. The desktop study highlights areas of high to low risk and in areas where high to medium risk is identified, non-intrusive electromagnetic surveys are carried out to detect any sub-surface anomalies such as unexploded ordnance. From the results of these surveys we can then work in safe areas or have the correct controls in place."
This response was not deemed satisfactory, so was followed up on, and a further response from HE told us "In regard to UXO surveys, this site has been identified as low risk by our UXO survey teams and we are not undertaking additional electromagnetic surveys." For clarity this is purely in relation to the site off North Rd, although we have expressed concerns about both sites.
We are shocked by this response, since our own research using the Zetica UXO (the company HE told us they used) has shown that both sites they are working in (off North Rd, South Ockendon, and in fields to the south of Church Lane, North Ockendon) rate as being moderate to high risk for UXO.
Here is a screen capture taken of the results from https://zeticauxo.com/downloads-and-resources/risk-maps/
HE have only ever provided extremely limited info in regard to UXO in consultation materials.  They have also refused to date to confirm for us whether the info that has been shared in consultation materials is purely a free preliminary desk study result which is an option on the Zetica website.
Have a look at the only info on UXOs that has been provided as part of consultation materials back in the 2018 consultation, and ask yourself if you think this level of info could have been paid for or if it appears to be a free preliminary study?!  Either way it's not good, because HE have either wasted money on such poor quality data, since you can't even see the areas clearly and data is very limited. Or they have only bothered to use a free preliminary study for something as serious as UXO.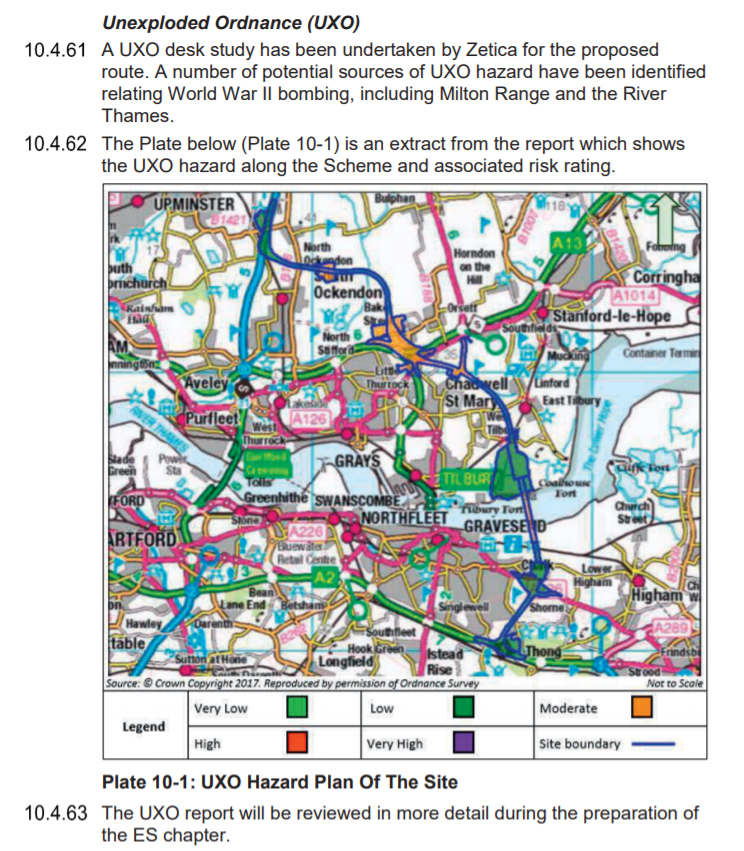 We have of course followed up on this further, and are still awaiting HE's response.  We are particularly concerned since we are all familiar with how slow HE are at communicating, that the works are continuing despite us raising these serious concerns that the sites are moderate to high risk for UXO.  Also because the same staff that we are supposed to have trust and faith in with regard to working on sites that are deemed moderate to high risk for UXO consider it acceptable to urinate in public on the site.
Related
Unexploded Ordnance concerns – www.thamescrossingactiongroup.com/unexploded-ordnance-concerns/
Investigative works in North Road – www.thamescrossingactiongroup.com/investigative-works-in-north-road/
Zetica UXO – https://zeticauxo.com/downloads-and-resources/risk-maps/
Just this evening (20 Sept) Gravesham Councillor Jordan Meade tweeted the following – https://twitter.com/MeadeJordan/status/1307727109394227201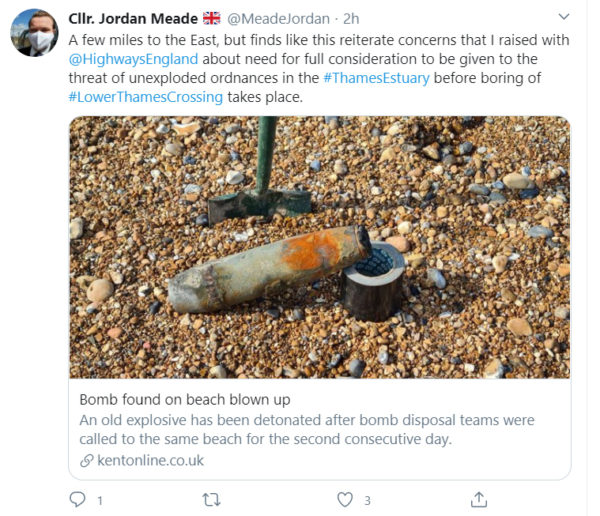 The article can be read at www.kentonline.co.uk/sandwich/news/bomb-found-on-beach-blown-up-234106/