LTC impacts to solar farms
Some of the LTC impacts to solar farms we have identified include not only delays and questions over the future of a new proposed solar farm, but also the demolition of an existing solar farm.
You may remember during the Supplementary Consultation earlier this year we asked everyone to consider the following:
If any of the proposed Solar Farms in South Ockendon are still able to go ahead, do you have any concerns about glare from the solar panels dazzling drivers at certain times of the day at certain times of the year? Is the way the route bends around and changes elevation  in locations near to the proposed Solar Farms add to the risk of glare from solar panels at all?  Since the Solar Farms are generating electricity and would be so close to the road which will create flood concerns, does this bring extra risk and concern?
In this update we bring you additional info and things to consider about the proposed and existing solar farms, both of which are potentially at risk if LTC goes ahead, when responding to the current LTC Design Refinement Consultation.
Proposed Solar Farms
As mentioned above we have previously outlined the factor of the LTC impacts on solar farms, be they proposed or existing before.  Thurrock Nub News recently covered this issue too, about the impacts LTC is having on the proposed solar farms in South Ockendon:
PLANS for a solar power generation station on a former landfill site close to South Ockendon have been put in limbo because of the impact of a revised route for the proposed Lower Thames Crossing through Thurrock.

Planning consent was granted to REG Solarpower Ltd and Veolia ES by Thurrock Council ) for the building of the solar development at Ockenden Landfill Site close to Mollands Lane, Buckles Lane and Medebridge Road in January 2016.

The plans were further revised in 2018 to increase the site's operating life from 27 to 40 years and preparatory construction works commenced in January last year. However, no solar arrays or associated generating infrastructure have been installed on site to date.

The company says this is because of continued uncertainty over the detailed alignment and land take of the proposed crossing route where it would pass through the area of the consented solar farm.

So a revised plan has been put to the council to develop part of the site and the company will wait and see what happens with the crossing route before building out the rest of the site.

Full details can be found here.
The proposed solar farms in question are the ones shown in the consultation guide map on pages 71, 73 and 74

Exisiting Solar Farm in Cranham
We have given this the subtitle of Existing Solar Farm because unlike HE/LTC we have done our research!  In the consultation guide map on pages 70 and 72 the 'Key' lists the solar farm as proposed.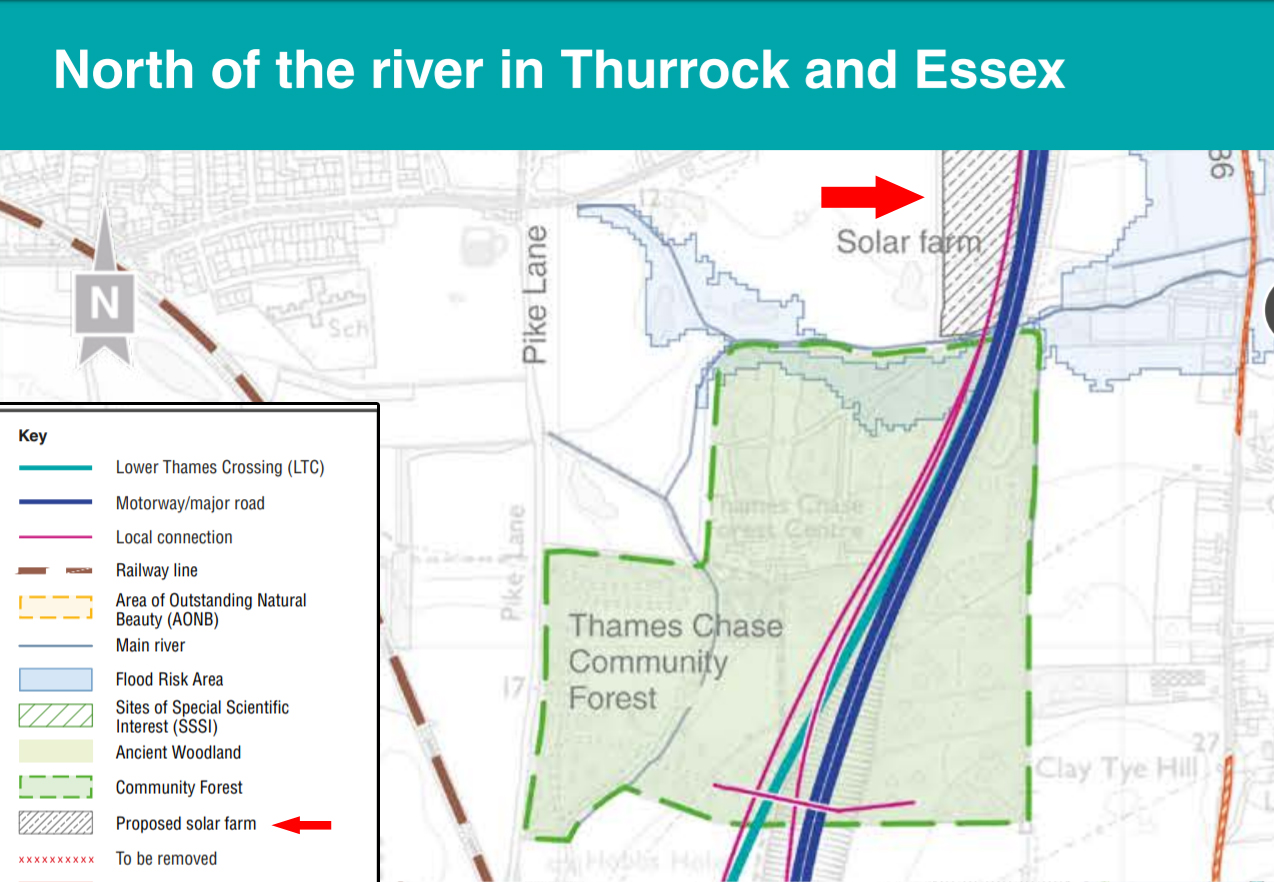 However, we are very aware that the Cranham Solar Farm lies between the Cranham Golf Course and the M25.  It is made up of over  11,000 solar panels laid out in 44 rows within an area of 5.5 hectares (13.6 acres). In 2020 Cranham Solar Farm created enough solar energy to power 992 homes for the year.  Considering this would have been  We shouldn't really be surprised that HE are still listing it as 'proposed' rather than identifying it is existing, after all it has only been operational since December 2016!!
As can be seen in the image below which is a satellite view from Google Maps, which clearly shows the solar farm exists.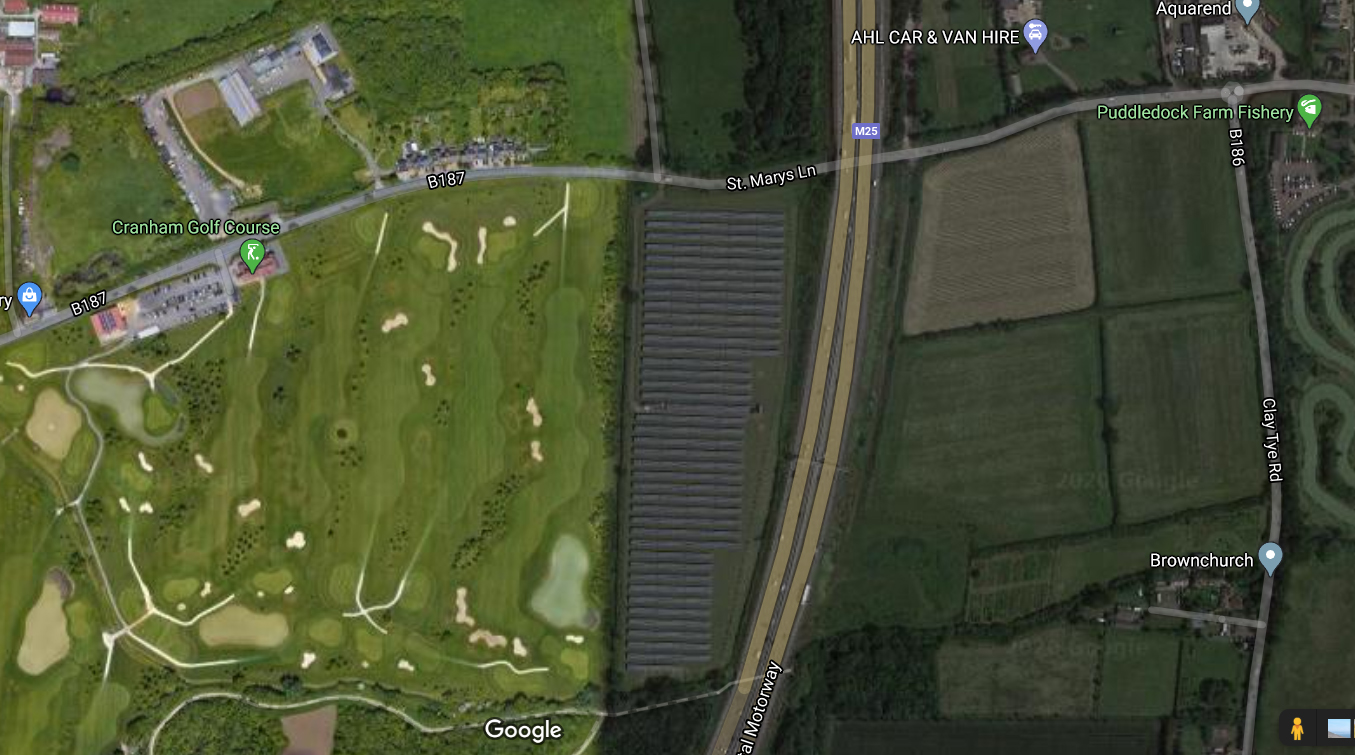 or the street views from Google Maps which again show the Cranham Solar farm from the M25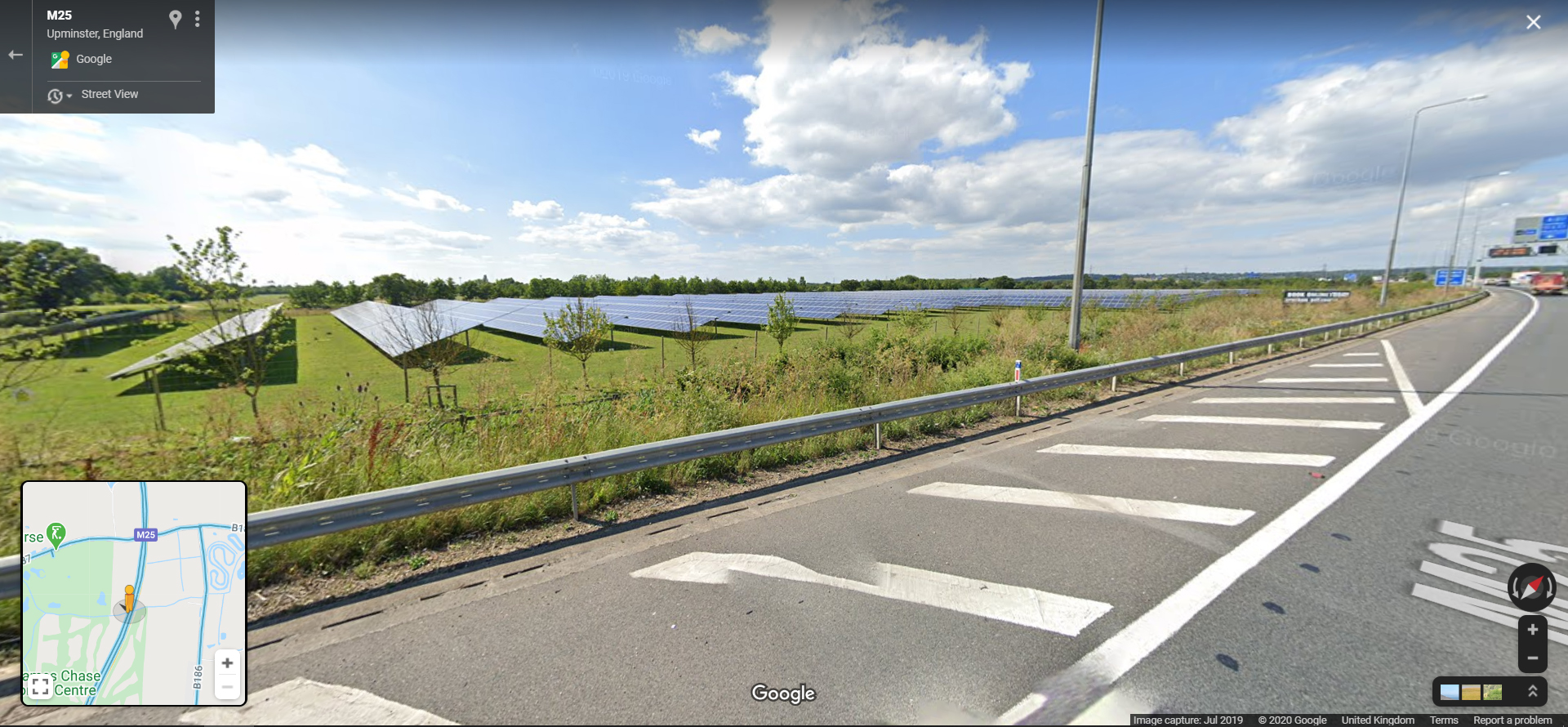 and again from St Mary's Lane (B187)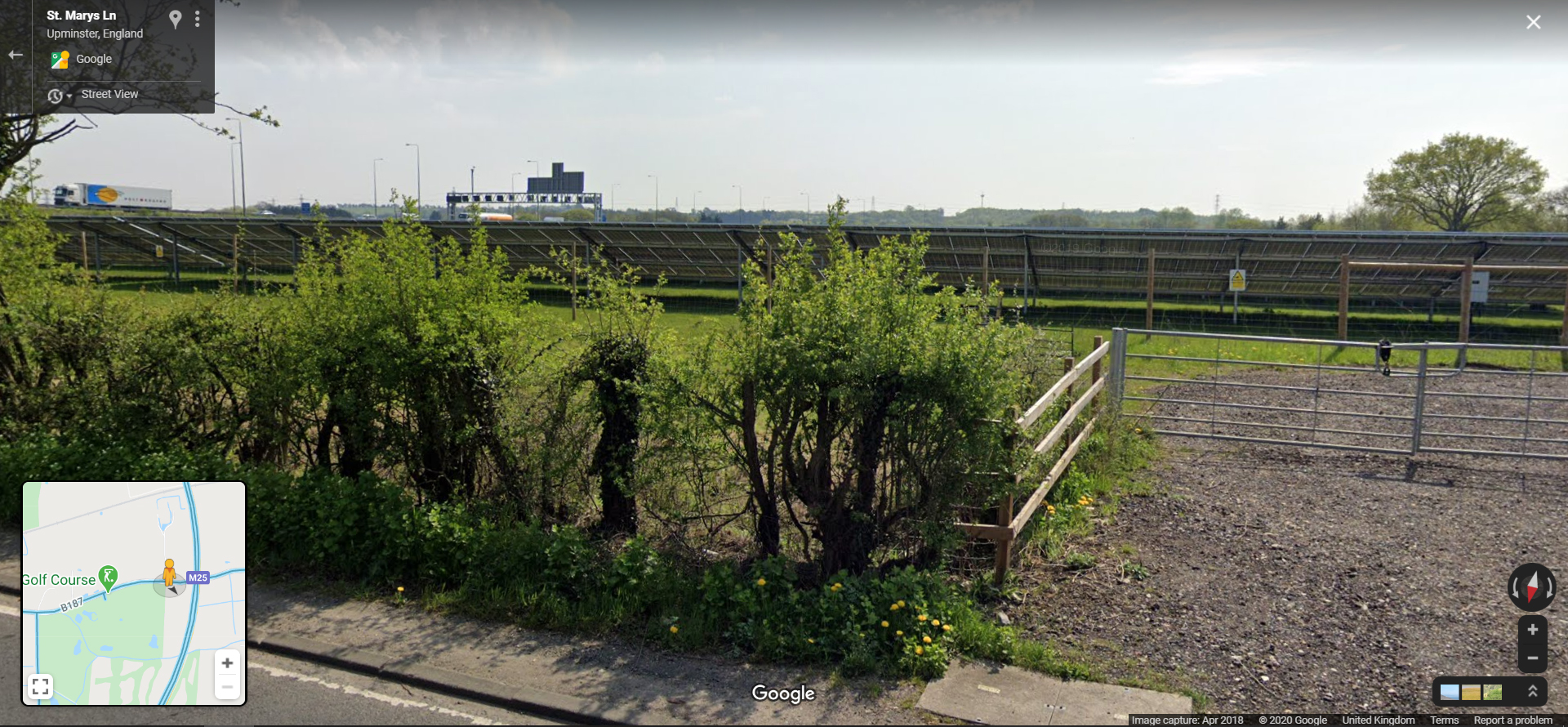 The only references of the Cranham Solar Farm being proposed to be demolished as part of the official LTC consultation materials is hidden away in the Land Use Maps – see page 52/59 in Map Book 2 – Land Use.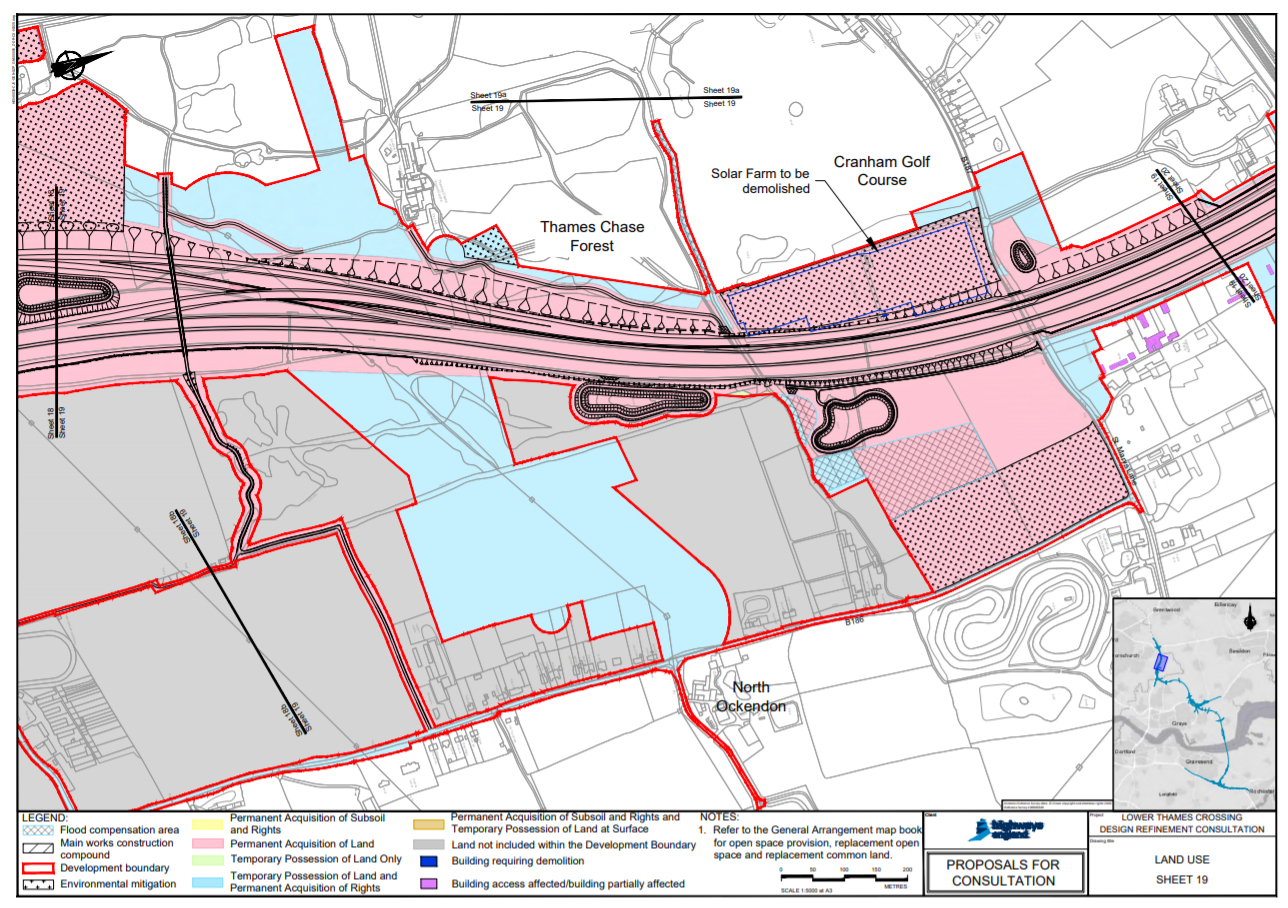 Notice how they also try to represent it as permanently acquired land for Environemtnal mitigation!  How can destroying a solar farm be considered envrionmental mitigation?  What mitigation is being provided for the loss of the solar farm?  We haven't managed to find that out yet!
Also bear in mind that if you are referring simply to the maps provided as part of the consultation pack sent out to those not online by HE the maps do not disclose the proposed demolition of the solar farm, but simply show it as environmental mitigation land. As highlighted by the yellow arrow that we've added to the map below.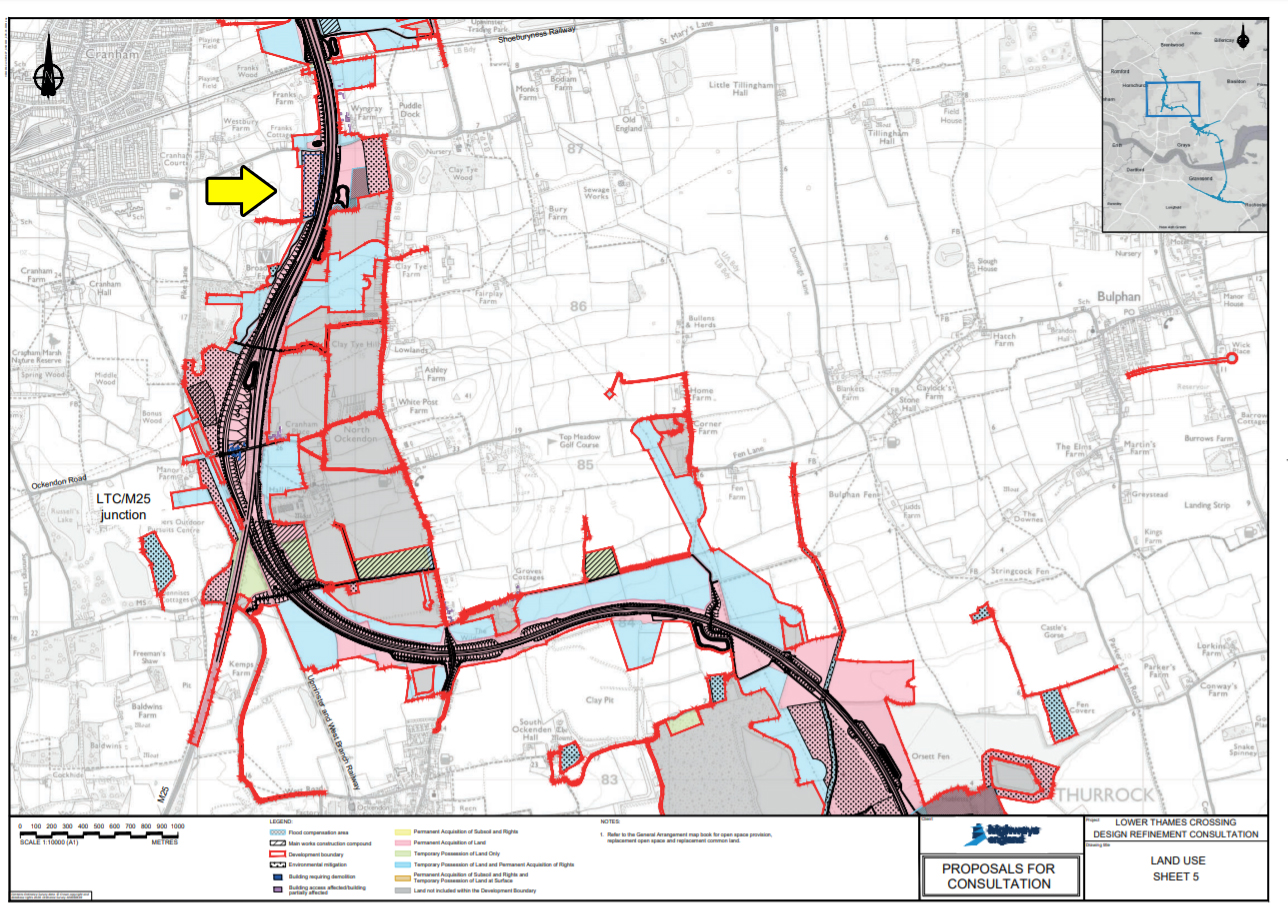 Or if you get a magnifying glass and play spot the difference on the images on pages 78 and 79 in the consultation guide.

Hardly clear and informative consultation is it?
UPDATE August 2021
We have learnt that in 2020 Cranham Solar Farm generated enough solar energy to power 922 homes for a year.
TCAG's opinion in short
Clearly yet again HE/LTC are not even capable of correctly labelling a map, so how can we possibly trust them to build an £8.2bn project?
We want to know how demolition of a solar farm can be considered environmental mitigation?!
We also object to the way that yet again HE have hidden away important information.
The LTC impacts to solar farms is totally unacceptable.  At a time when we need to be taking care of and protecting our environment, and looking to more sustainable ways to live our lives Highways England, a Government company, want to destroy one solar farm and potentially stop another two being built.  And for what?  A road that will cost tax payers £8.2bn that is not fit for purpose, creates a toxic triangle, is highly destructive, and will still leave the Dartford Crossing over capacity.
Related
Just in case anyone is reading this and is still unaware of how the LTC/M25/A127 junctions are supposed to operate have a look at this update we published in March 2020 which will hopefully help explain – www.thamescrossingactiongroup.com/ltc-m25-a127-j29-junction/