Lower Thames Crossing PM2.5
PM2.5 (Particulate Matter 2.5) is something many are very concerned about when it comes to the proposed Lower Thames Crossing, and rightly so.
What is PM2.5 or Particulate Matter 2.5?
The air around us is made up of lots of different types and sizes of particles, these are particulate matter. These particulates are measured in micrometres in diameter. To put that into perspective the average human hair measures around 50-75 micrometres in diameter, and the particulate matter we're talking about measures 2.5 micrometres in diameter.  Now we get an idea of just how tiny these particulate are!
When we are referring to PM2.5 in regard to LTC in general we are talking about tiny particles that come from things like brake dust, tyre wear, road wear etc.
What's the problem with PM2.5?
PM2.5 are particles so tiny (take a look at the image below for size comparisons) they can get into your lungs and then into your bloodstream and are very dangerous.  Exposure to PM2.5 can cause illnesses like asthma, COPD, coronary heart disease, stroke, and lung cancer. There is also evidence that links PM2.5 to low birth weight, diabetes and diseases such as Alzheimer's and Parkinson's.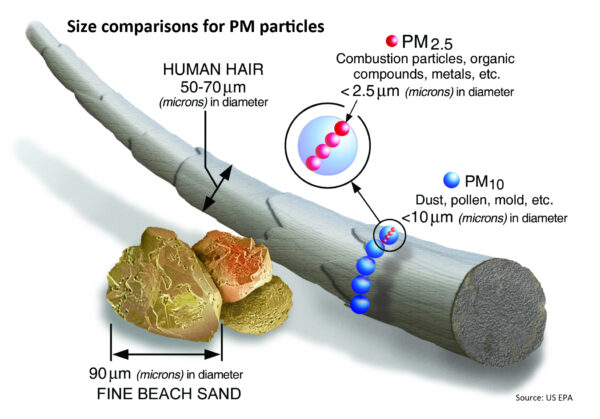 According to figures published by NHS England, an average of 5% of deaths in those aged over 30 can be attributed to PM2.5 air pollution. That's 1 in every 20 deaths. Sadly, you will probably also be familiar with the fact that a coroner ruled that air pollution contributed to the death of 9 year old Ella Kissi-Debrah in London in Feb 2013.
PM2.5 is also very harmful to the environment and gets into the water supply.
What are the limits for PM2.5?
Updated 24/09/2021
The World Health Organization updated their PM2.5 guidelines on 22nd Sept 2021).  British legal limits for PM2.5 and nitrogen dioxide were now four times higher than the new World Health Organization (WHO) guidelines. That said, there's no safe level of air pollution. Even the WHO's recommended limit does not guarantee you suffer no harm.
What is PM2.5 like in our area?
In 2018, 115 out of 317 local authorities (36%) had unsafe levels of PM2.5 that were over the annual level recommended by the WHO. This is obviously prior to WHO's latest update to their guidelines in Sept 2021, so these figures are likely to been even worse now.
According to the British Lung Foundation Task Force for Lung Health – Thurrock, Gravesham, Havering, Dartford and the surrounding areas all had PM2.5 levels that breach WHO limits (again prior to the latest update from WHO).
The Mayor of London has committed London to comply with WHO standards for PM2.5 by 2030.  Remember the northern section of the proposed LTC route falls within the London Borough of Havering.
What about PM2.5 limits in regard to LTC?
As per our previous update on LTC – the toxic triangle  professor Karen Lucas publicly stated, whilst working for HE (as an independent advisor to the community impacts workstream for LTC) that the whole proposed LTC route would fail against WHO limits.  However, WHO standards on PM2.5 are not enshrined in UK law.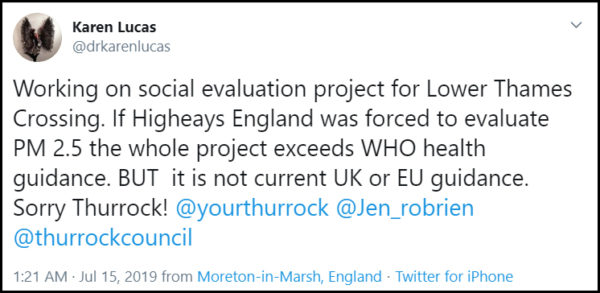 How can we get WHO standards on PM2.5 into UK law?
For some time we and many other campaigners have been pushing for WHO standards for PM2.5 to be enshrined into UK law, and the route to do that is by getting it into the Government's Environment Bill.
Frustratingly, the Government kept delaying this bill.  Environment Minister Rebecca Pow pledged in January 2021 that "…we will achieve Royal Assent before COP26". Her Lords counterpart Lord Goldsmith reiterated this welcome commitment in June, reassuring peers that "it is absolutely our intention that the Bill be passed before COP26". He went so far as to stress that missing this deadline would "weaken our hand in these extraordinarily important climate and environment negotiations".
There was good news on 6th Sept 2021 when the Lords voted for the Environment Bill to include WHO standards for PM2.5 to be met by 2030.
However, it then went back to the Commons for MPs to vote on the Lords amendment on the 20th October 2021, when MPs voted on a motion to disagree with the Lords Amendment 3 in the Environment Bill.
This amendment by the Lords is as follows:
Page 2, line 21, leave out subsection (2) and insert—

"(2) The PM2.5 air quality target must—
(a) be less than or equal to 10µg/m3,
(b) so far as practicable, follow World Health Organization guidelines,
and
(c) have an attainment deadline on or before 1 January 2030."
This was the amendment that we need to see in the Environment Bill.
Air pollution is obviously a huge concern, especially when it comes to LTC.  Our MPs say they are concerned about air pollution, but how did our local MPs in the LTC impacted areas vote when it came to the amendment?
In favour of the Lords amendment to include WHO guidelines in the Environment Bill
South Basildon Thurrock East MP, Stephen Metcalfe
Against the Lords amendment to include WHO guidelines in the Environment Bill
Thurrock MP – Jackie Doyle Price
No comment as yet
Hornchurch and Upminster MP – Julia Lopez
"The Lords amendment to the Environment Bill was overturned because the government is setting up a public consultation on how best to set a target to reduce air pollution ahead of a legally binding limit being introduced into legislation next year. The Environment Minister, Rebecca Pow, explained that we need to understand first what the right target and limit should be using independent expert advice and analysis on a range of factors. 
In short, there is not a disagreement on the principle of setting a target and it is something that has been committed to." 
Dartford MP – Gareth Johnson
No comment as yet
No vote recorded for the Lords amendment to include WHO guidelines in the Environment Bill
Gravesham MP – Adam Holloway
No comment as yet
We have emailed these MPs for further comment, and to thank Stephen Metcalfe for his support, and ask why there was no vote recorded for Adam Holloway. We will share any responses as we get any.
Because the majority of MPs voted against the Lords amendment to include WHO guidelines on PM2.5 to the Environment Bill, the game of ping pong between the Lords and MPs continued.  Sadly, whilst the Environment Bill has now gained Royal Assent and becomes the Environment Act 2021 in UK law, it did not end up including WHO standards for PM2.5.
What next?
Please take part in the Government Environmental Targets consultation and demand WHO-10 standards for PM2.5 by at least 2030.  We need and deserve better legislation on air pollution, and these new targets will be bought into law at the end of Oct 2022.  Find out more and read our response to the consultation here.  Together we are stronger!
Related
British Lung Foundation PM2.5 Info – click here
Green Alliance blog on Environment Bill delay – click here
TCAG letter to Mayor of London about LTC PM2.5 – click here
What can I do? – click here
BBC News – Air pollution: Even worse than we thought – WHO (Sept 2021) – click here
Evening Standard – Global recommended limits for air pollution tightened to combat health threats – click here
Client Earth – Why tighter air pollution guidelines should trigger immediate action from governments – click here