Design Consultation materials inadequacies
The words 'Highways England' and 'Inadequacies' side by side seem to be such a common occurrence in our experience.  Let's take a look at some of the LTC Design Consultation materials inadequacies that we've identified.  So we're talking just about the inadequacies of the consultation materials (documents/maps etc).  We will cover the inadequacies of the actual consultation being held during the COVID-19 crisis in a separate update!
To begin with let's just take a moment to remember that Highways England have a duty to consult us with clear and informative materials.  Unfortunately, it seems the bar is set very low about the standards that cover this kind of thing.  That said when you start to look at the ever growing list across all the consultations, a bigger picture comes that we feel really should add up to serious questions needing to be asked as to whether the LTC consultation process has been adequate.
When HE submit their Development Consent Order application, the Planning Inspectorate who examine the application before making their recommendation to the Secretary of State for Transport (currently Grant Shapps MP), will to begin with have to decide whether to accept the application or not.  We're not talking about whether to grant the DCO or not that takes much longer. We're talking about whether they will actually accept the DCO application for examination.  As part of the process impacted Local Authorities will report any inadequacies of the consultation process to the Planning Inspectorate.  This is why it is important that they (the local authorities), and we (the public) log all the things we consider to be inadequacies of consultation, and ensure our local authorities have all the evidence needed to present to the Planning Inspectorate, who have the power to force HE to go away and re-run the consultation adequately.
We have been logging inadequacies as best we can along the way through all the consultations, and would welcome and appreciate everyone else doing the same, and sending your concerns and evidence to your local authority asking them to report it to the Planning Inspectorate at DCO stage.
In Thurrock please email: LTCAdmin@thurrock.gov.uk  or write to: LTC Admin, Thurrock Council, Civic Offices, New Road, Grays, RM17 6SL
In Gravesham please email: major.projects@gravesham.gov.uk  or write to: Major Projects, Gravesham Borough Council Civic Centre, Windmill Street, Gravesend, Kent, DA12 1AU
In Havering please email: daniel.douglas@havering.gov.uk or write to: Daniel Douglas, London Borough of Havering, Town Hall, Main Road, Romford, RM1 3BB
Please feel free to also copy us in using admin@thamescrossingactiongroup.com if you wish!
So what are some of the inadequacies in the consultation?
Well there's even one that HE are admitting to themselves!
Map Book 3 error
If you look at any of the main LTC Map Books on the consultation website you can see they are admitting that Map Book 3 has incorrect information in it during the Supplementary Consulation earlier this year. (Circled in red below)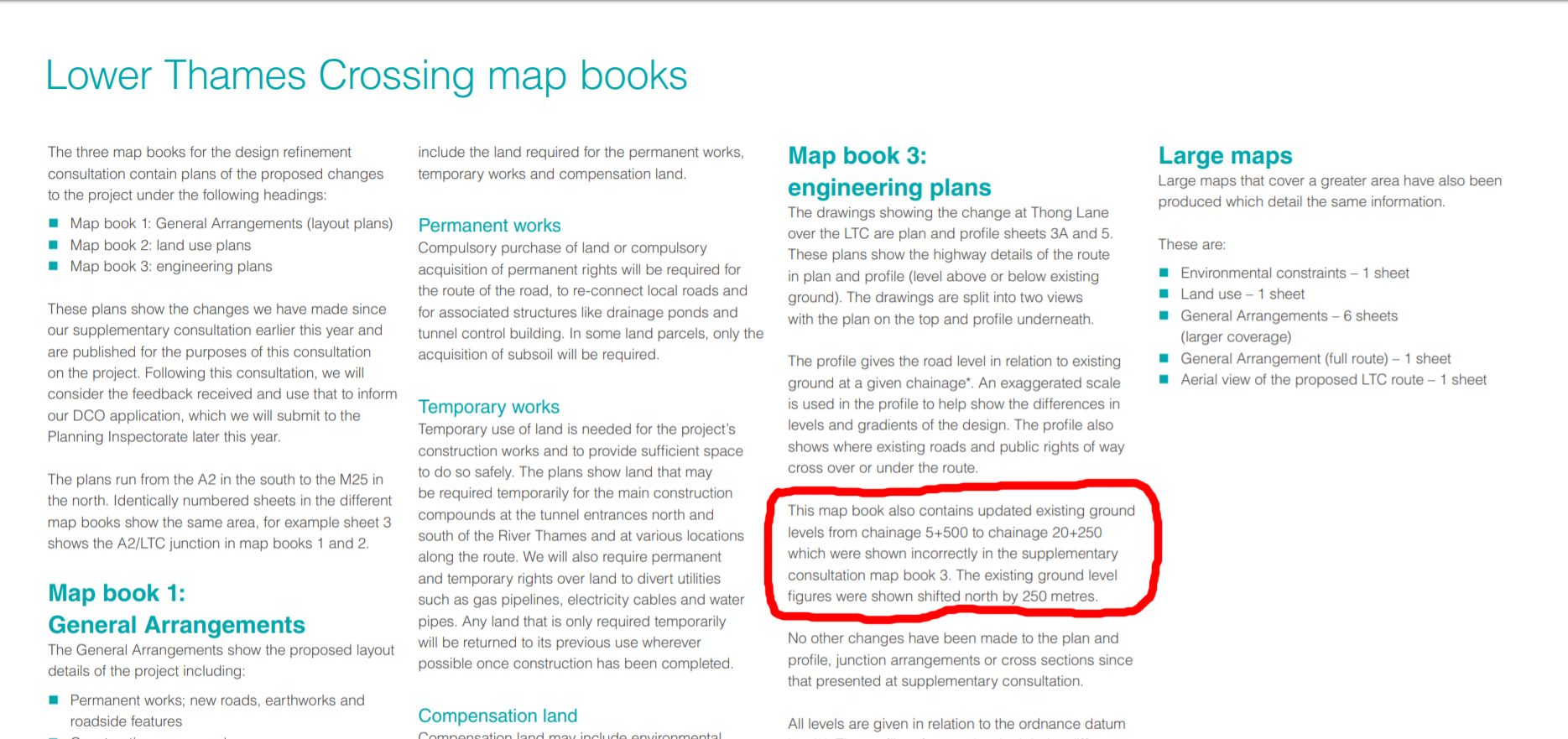 Another thing that we have noticed between Supplementary Consultation and this consultation in regard to the Map Books.
Map Book 2
Supplementary Consultation introduced the extension of the LTC development boundary all the way up the M25 to Junction 28. However, in Map Book 2 during Supplementary Consultation Sheet 21a which should have covered this section was not included in the map book, as shown in the image below.  This has been corrected in this Design Consulation, but no reference to the omission of it in the last consultation from HE.  We are unaware of any actual reference to this extension in the development boundary in the consultation guide, and the consultation guides never show the route going that far north in any maps or descriptions.  You can see examples of the fact they don't include this part of the development boundary in various images throughout the guides, where the development boundary is always shown as ending where the M25 and Warley Rd cross, rather than further north at J28.  We have submitted a question to HE asking what this extension of the development boundary is for, but as yet we have not had a response.  Read our update on this here.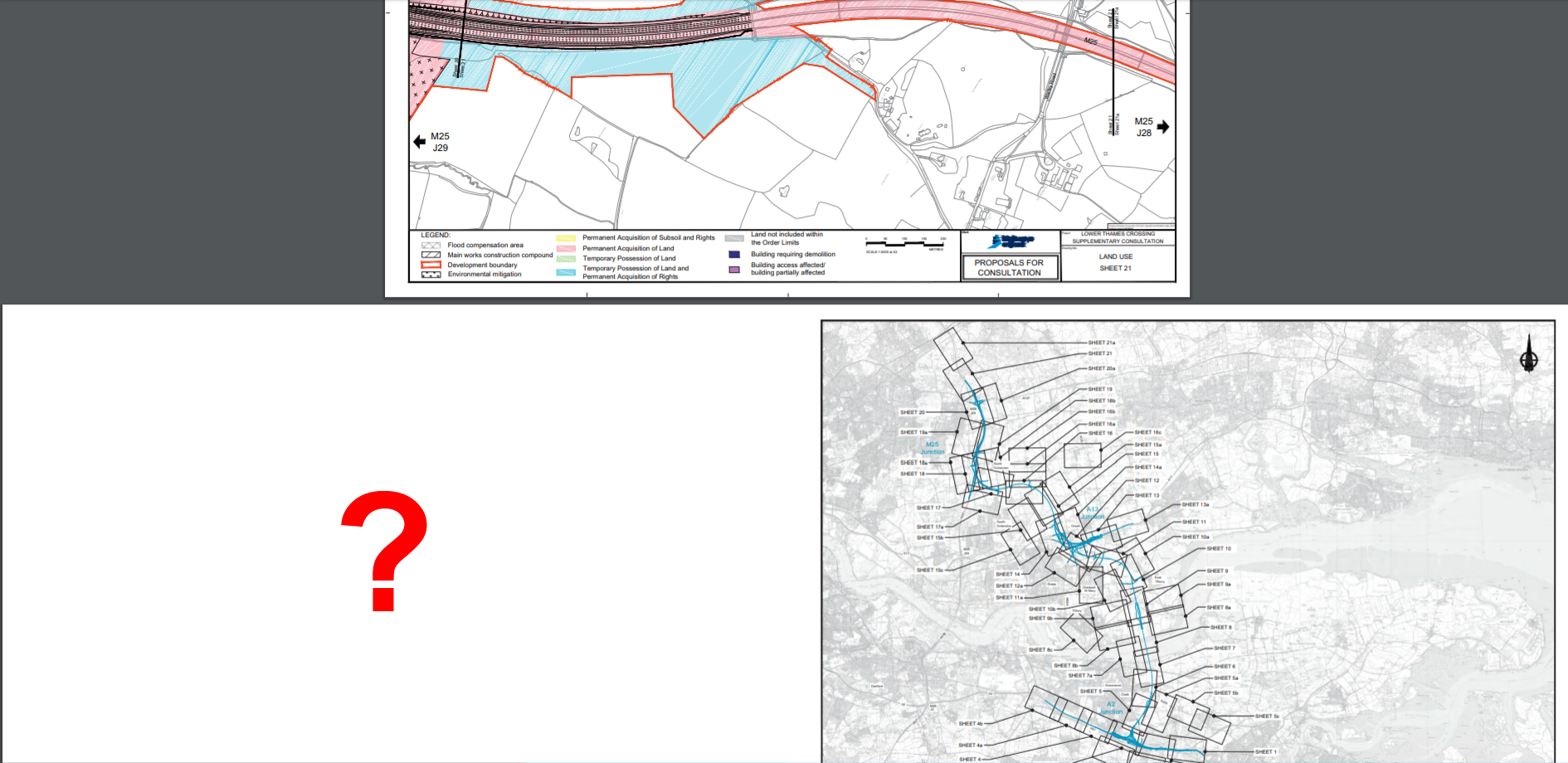 Place name errors in Map Books
Again the map books take a look at certain Sheets and there are more errors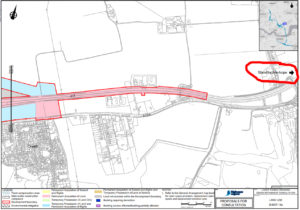 Sheet 13a (page 34/58) in Map Book 2 – Stanford-le-hope seems to have obtained an extra 'd' in the middle of Stanford, circled in red in image to the left.
Click on the map to enlarge.
Same thing on pages 34 and 35/58 in Map Book 1
Standford-le-hope????
Click on the maps to enlarge.
Who would struggle to identify where this was in the maps below, with Stifford Clays being labelled as Little Thurrock?! Click on the maps to englarge.  (Circled in red in images below) The maps are confusing enough as it is with the North point changing between every map, without places not being labelled correctly.  If you were looking through trying to see how it would impact Stifford Clays you would not be looking for it to be labelled Little Thurrock! Taken fromMap Book 2 – page 42/59 – Sheet 15c and Map Book 1 – page 42/58 – Sheet 15c
And what about trying to work out where this is?! Taken fromMap Book 2 – page 41/59 – Sheet 15b and Map Book 1 – page 41/58 – Sheet 15b. Click to enlarge maps. How confusing when the only text labels are with arrows pointing towards South Ockendon, Orsett, and again Little Thurrock, which should be labelled Stifford Clays!

Tilbury Power Station
Surely since Tilbury Power Station was closed in 2013 and demolished between 2016-19 why are they still showing it on the maps?  From what we can tell Map Book 2 is even still showing the footprint of the power station!  There also appears to be a lack of reference to the footprint of the new Tilbury 2 which is under construction. Click on images to enlarge.
Removal of False Cutting
Take a look at page 52 in the consultation guide (page 27/53 if viewing guide online) As you can see it states that the false cutting between Brentwood Rd and Hoford Rd would be removed.  There's also a map showing the same on page 57 in the guide (page 29/53 online guide). We've highlighted this point with the red arrows! Click on images above to englarge.
Now take a look at the engineering plans – Map Book 3 that are supposed to show us things on a more technical level about heights etc. In the image below you can see the section that refers to the area where the false cutting is being removed. The top plan shows how it looked during Supplementary Consultation in early 2020 (page 15/37). The lower plan shows how it looks now during Design Consultation (page 9/18).
We have marked Brentwood Rd and Hoford Rd labelling (underlined with green), and also circled the mentions of false cuttings between those two points (circled in blue), for ease of reference.  We admit these Engineering Plans can be confusing but to us it appears the false cuttings appear in the same positions in both plans, when surely one should have been removed?! Click on the image to enlarge.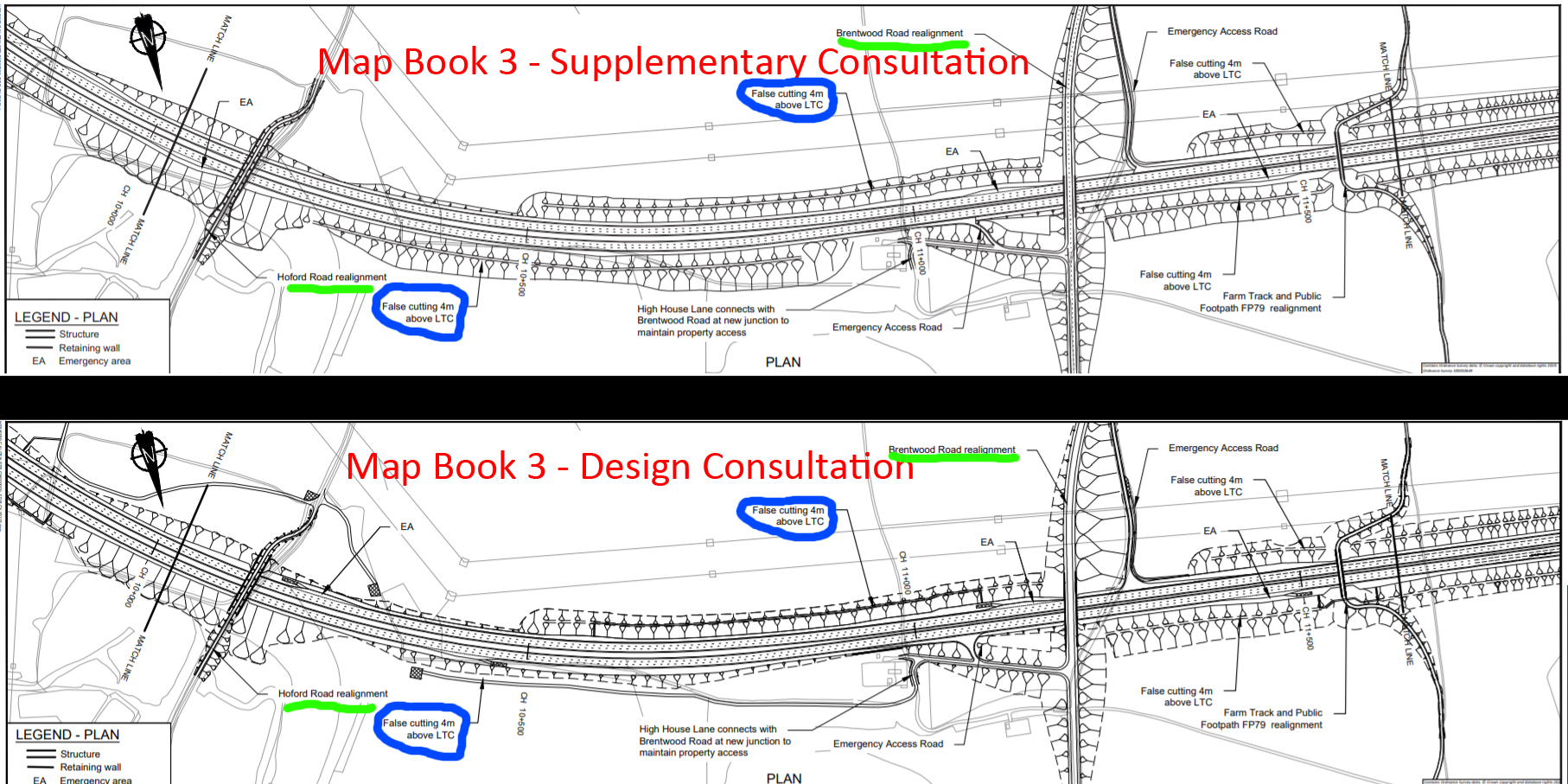 Interactive map issues
We have said all along how confusing the Map Books are, and this consultation as part of the digital exhibition HE/LTC have introduced  interactive maps for people to use. However, we and a growing number of others we have heard from are experiencing issues and errors with the interactive maps.  Sometimes the maps won't load at all. Other times the baseline map loads, but not the overlay detail or legend for LTC. Sometimes you get error messages. The issues seem to vary and there is no apparent explanation, as various people are using various browsers, internet providers. It's not because of slow internet speeds because other sites load perfectly, it is specific to the LTC interactive maps.  We are beginning to wonder if maybe it is related to how many people trying to view the maps at the same time.  We have emailed HE/LTC to ask what the problem is!  Here's a couple of screen shots of just a couple of instances! The first clearly shows an error message. the second shows a map and legend only partly loading.  Click on the images to enlarge.
The consultation guide states there are 17 noise barriers, but when we went through to do our update on nosie barriers it appeared to us there might be 19.  We questioned HE/LTC and they have come back to us to say there are only 17 because:
"Two of the barriers (11 & 12) on the map on page 58 (top left) are repeated on the map on page 73 (13 & 14, bottom right)"
What do you think? Had you managed to work that out? Or like us do you find it hard to tell they are the same barriers?
Click on the image to enlarge.
There is also a distinct lack of information in general about these proposed noise barriers, like what they will look like visually, what they will be made of etc.  The lengths of these barriers is listed as less than (insert measurement here).  This means that when they state that for example a noise barrier length will be less than 1500m long, could this mean it could be anywhere from 1m to 1499m?!  There is no real detail or commitment given in these measurements. Certainly not clear or informative!
When we enquired we have been told that the data which the decisions that the locations for these noise barriers has been based upon will be included in the Environmental Statement, which yet again will not be available until DCO stage.
Lack of info about gas pipeline compound and electricity switching station
Again a distinct lack of info on these things.  No HE we are not all experts in utility compounds and stations, and this consultation is about you providing us with clear and informative materials. So if you are going to add a gas pipeline compound, and an electricty switching station then you need to provide us with some kind of detail about what exactly these are, including visuals or an adequate description about what it will look like visually.
Demolition of solar farm hidden away
As outlined in our update, HE appear to be trying to hide away the fact they would be demolishing Cranham Solar Farm if LTC goes ahead.  At a time when we need to be doing all we can for the environment, the demolition of a solar farm hardly seems right, but what's more to be hiding this fact away is even worse.
We can see no reference in the consultation guides to bring this demolition to people's attention. In fact the only reference we can see to the demolition is in the Map Book. Even in the maps in the guide it is listed as a proposed solar farm, despite the fact is has been operational since Dec 2016!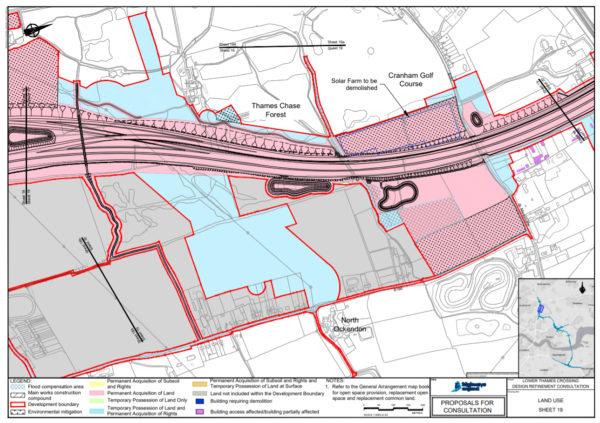 We're pretty sure this is not the sum total of inadequacies in this consultation, but with time so limited these are the ones we can highlight at this time!
Oh and as a slight aside, the physical consultation guide is inadequate too, as they seem to literally be falling apart this consultation too!  We know we are not alone, and we have reported this to HE!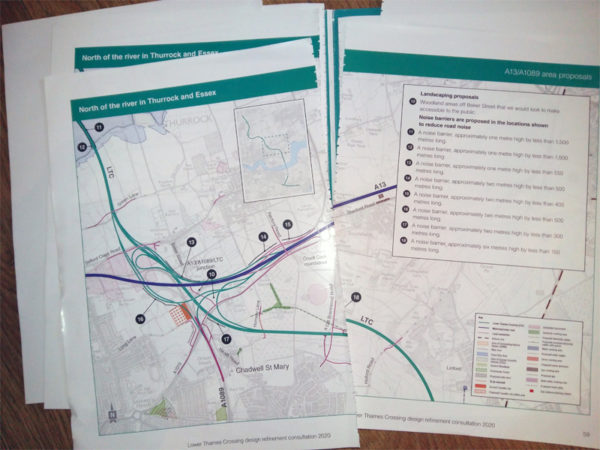 TCAG's opinion
HE have a legal obligation to ensure that we are all consulted in an adequate manner, which includes a need for them to provide clear and informative materials.  Clearly the examples above give a clear indication that this is not the case, and that the Design Consultation simply adds to the ever growing list of inadequacies about the LTC consultation as a whole.  We will be logging all the inadequacies and including them in our consultation response, as well as reporting them to the local authorities so they can report to the Planning Inspectorate at DCO stage.
Have your say
Obviously we are all entitled to have our own say on the inadequacies of the consultation materials too!  Please do use the section in the official response form (or in your own words in your response letter or email) to have your say on the consultation materials.  Tell them about your concerns giving as much detail as possible about any and all issues you wish!