'no to toxic triangle'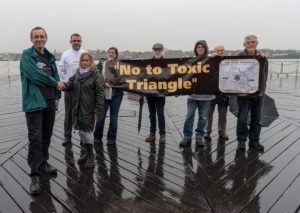 Mere weather can't stop Leigh from the Thames Crossing Action Group, join up with fellow campaigners from Dartford and Gravesend in a joint Essex-Kent protest about the potential of a toxic triangle.
Their aim was simple, to highlight the potential of a highly toxic triangle of air pollution with the construction of Option 3 route C, outlined in the image below.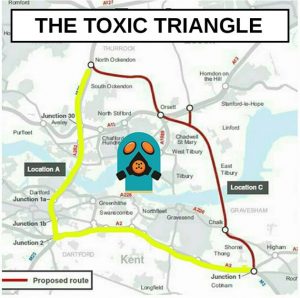 toxic triangle protest
Campaigners are calling for cleaner air and better public transport over the Thames braved downpours to make their voices heard on Thursday.
As it stands, just one per cent of traffic at the Dartford Crossing is public transport, but 30 percent is made up of local motorists.
Speakers
Dartford and Gravesham member of the Campaign for Rural England, Alex Hills said: "Right now cars are the easy option for people, CPRE recently published its 'Road to Nowhere' report which showed building new roads does not help reduce congestion.
"Take a look at the Dartford Crossing, it was originally built as a relief road for the Blackwall Tunnel, then they built a bridge, and now there's a Lower Thames Crossing on the way.
Tram
Last week we revealed plans from a campaign group to connect Kent and Essex via a £600million tram network.
If built, one line would connect Grays to Greenhithe – stationed at Bluewater, including multiple stops within Ebbsfleet Garden City.
Another line would go from Grays to the proposed London Paramount resort at Swanscombe, and a final line connecting the theme park and its car park.
further information
To read this report in full by The Reporter.
Also, read about Option A route 14