Proposed Construction hours/routes
As part of the Supplementary Consultation Highways England provided more details on the proposed construction hours/routes for the Lower Thames Crossing, if it goes ahead, and it's not good.
To begin with it is important to stress that construction work cannot legally begin until such time that Highways England are granted a Development Consent Order for the Lower Thames Crossing, which they haven't even applied for yet.
Please be aware there is a newer update on the newly proposed 24/7 construction hours in new areas all along the route, not just the tunnels – https://www.thamescrossingactiongroup.com/new-24-7-construction-hours/ 
Proposed Construction Hours
Let's start by stating that they are predicting that construction of the whole route will take around 6 years. If they run to schedule, we all know how these projects overrun!

Tunneling would be 24 hours 7 days per week for around 4.5 to 5 years.
Along the rest of the route they are proposing work hours to fit in with available daylight. This would mean the length of their working day will change as the daylight hours change through the seasons.
They are planning to carry out most of the work between:
7am – 7pm and when daylight allows 7am and 10pm Mon-Fri (exc Bank Holidays) 
7am-4pm on Saturdays
From time to time they may have to carry out maintenance work on Sundays
However, they also state that crews may work for up to 1 hour before and after to prepare and close the site.

This means we could have people working on construction sites from 6am-11pm Mon – Fri and 6am-5pm Saturdays, and some work on Sundays.
They comment that with a project of this scale, some work would have to take place at night and on weekends.
Details about Construction start on page 100 in the Supplementary Consultation Guide.
Proposed Construction Routes
HE are predicting that they would have an average of 13,300 HGV movements per month during construction.  Please note this states HGV and may not represent all LTC associated vehicles, we have emailed HE for further clarification.
Click on the maps (opens in new window/tab) to the left to view the proposed Routes to service construction areas A and B South, B North, C, and D.
(Taken from pages 108, 109,110,111 in the  Supplementary Consultation Guide)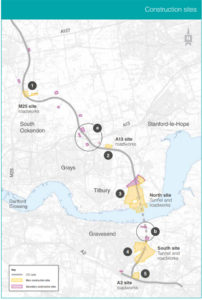 Construction Sites
Click on the image to the right to see a map of proposed construction sites (opens in new window).
A map showing the construction sites can also be found on page 119 in the Supplementary Consultation Guide
Construction impacts on local roads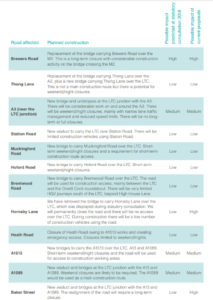 HE have detailed local roads that would be impacted by LTC during construction, they are rated between low and high impact.
Roads that are affected would be Brewers Rd, Thong Lane, A2(near the LTC junction), Station Rd, Muckingford Rd, Hoford Rd, Brentwood Rd, Hornsby Lane, Heath Rd, A1013 (old A13), A1089, Baker Street, A13, Rectory Rd (Orsett), Stifford Clays Rd, Green Lane, B186 Warley Street, Clay Tye & North Rd, M25 (at the LTC junction), Ockendon Rd, St Mary's Lane, M25 junction 29, A127.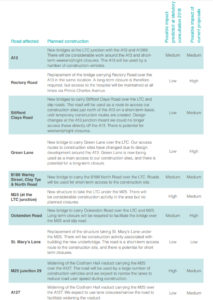 If you live on or near, and use any of the roads affected you will want to click on the images to the left to view more detail (opens in new window) or  check pages 114 and 115 in the Supplementary Consultation Guide.
NB. This list of roads does not include roads impacted by Utilities works which could also experience diversions, closures, restrictions.
Related
LTC Spoil – Rivenhall?  It has been brought to our attention that a planning application for a site in Rivenhall, Essex (near Witham) mentions potential disposal of LTC spoil – click here