DCO – Registering as an Interested Party
The Planning Inspectorate (PINS) have now launched the period to register as an Interested Party for the Lower Thames Crossing Development Consent Order (DCO) process/examination.
If you wish to participate in the LTC DCO process and continue to have your say then it is essential that you register as an Interested Party between Mon 9th January 2023 and the deadline of 23:59 on Friday 24th February 2023.
It is important to keep in mind that if you register as an Interested Party you are not obliged to do anything, but if you do not register you will not be able to take part.
We therefore recommend that if there is even a tiny chance you may wish to take part, get registered as an Interested Party by the deadline (23:59 Fri 24th Feb 2023).
NB. PINS are able to send out a hard copy of the registration form to those that may need it, for more info and to request this please call 0303 444 5000 or email LowerThamesCrossing@planninginspectorate.gov.uk.
How to register
From Monday 9th January 2023 visit the LTC project page on the PINS website HERE
Near the top of the page you will see an info box, as shown in the image below, stating that you can now register as an Interested Party

Click on the box ' Register online' and a new page should load, the top banner box with the register online button stays at the top of the page, but scroll down to see further info on what you need to do to register and submit your registration.
If you are registering yourself as an individual you will need your full name, address, email address and phone number.
You will also need to submit your comments about what you consider to be the main issues. This is limited to 500 words, but don't worry you get plenty of opportunities to go into more detail once registered and the process begins.
You must register by the deadline of 23:59 on Fri 24th Feb 2023.  If you do not register you will not be able to take part in the DCO process.
Step by Step of the registration form
Read the info on the registration page.
Since most will be registering as individuals (over 18) this step by step will focus on that option, but the other options will be similar.  If you need any assistance with registering please email the LTC PINS team
Select 'I am completing this form for myself to give my own personal views.' (if registering as an individual) – the relevant form will open below
Enter your full name
Enter your address
Enter your email (twice)
Enter your phone number
Read the registration information and if click in the box to say you confirm you have read it, if you agree with everything
Enter a summary on what your main concerns and issues about the proposed LTC are (maximum of 500 words), see some suggestions below to give you an idea of things you may wish to comment on. Please note that a lack of reasonable comment, such as just entering one word or character etc, can result in registration not being accepted, so please do provide a sensible and relevant comment.
Click the captcha to say you are not a robot!
Have a quick double check to make sure all the info in the form is correct!
Click 'Send Form'
You should see confirmation that your registration is complete, along with your Interested Party reference number. A copy should also be emailed to you.
That's it!  You will now be registered to participate in the DCO process, and receive emails with further details as things progress.
NB. If you do not receive a confirmation email then please check your Junk Email/Spam folder or contact the Planning Inspectorate giving your name, your postcode and the name of the project.
Please note some people are experiencing issues when attempting to register.  Please do let PINS know if you experience any issues registering, so they can investigate and ensure that everyone who wants to can register.  To report any issues to the Planning Inspectorate please send polite email to – LowerThamesCrossing@planninginspectorate.gov.uk
Suggestions on points you may like to include:
Would not solve the problems suffered due to the Dartford Crossing
Induced demand – increase in cross river traffic (around 50%)
Lack of adequate connections, especially when there are incidents
Safety concerns since the proposed LTC would be a 'Smart' Motorway by stealth
Increase in carbon emissions (around 6.6 million tonnes)
Waste of over £10bn+, not value for money, false economy as other spending would be needed as direct result
Loss and impact to thousands of acres of farmland threatening food security
Destroy and impact woodland (inc ancient woodland), trees (inc ancient/veteran), hedgerows, greenbelt
Devastating impact on wildlife and habitat, inc protected species
Increase in air and noise pollution, whole route fails on WHO-10 levels for PM2.5
No provision for cross river active travel, not viable for public transport due to lack of adequate connections
Destruction and impacts to homes and communities
Concerns about construction impacts
Doesn't meet scheme objectives
And/or anything else that you have concerns about!
Remember, you must provide an outline of the main points you intend to make in relation to the LTC.  The Planning Inspectorate can then use everyone's main points to help identify the main issues that will need to be included in the timetable for the Examination.  You will then have the opportunity to go into more detail at the appropriate time.
Please do register, it will help the Planning Inspectorate identify the main issues and the level of concern about the proposed LTC.  Together we are stronger!
TCAG representation
Here is what we submitted in our registration representation.  Please do not copy it for your own representation, it needs to be your own comments in your own words!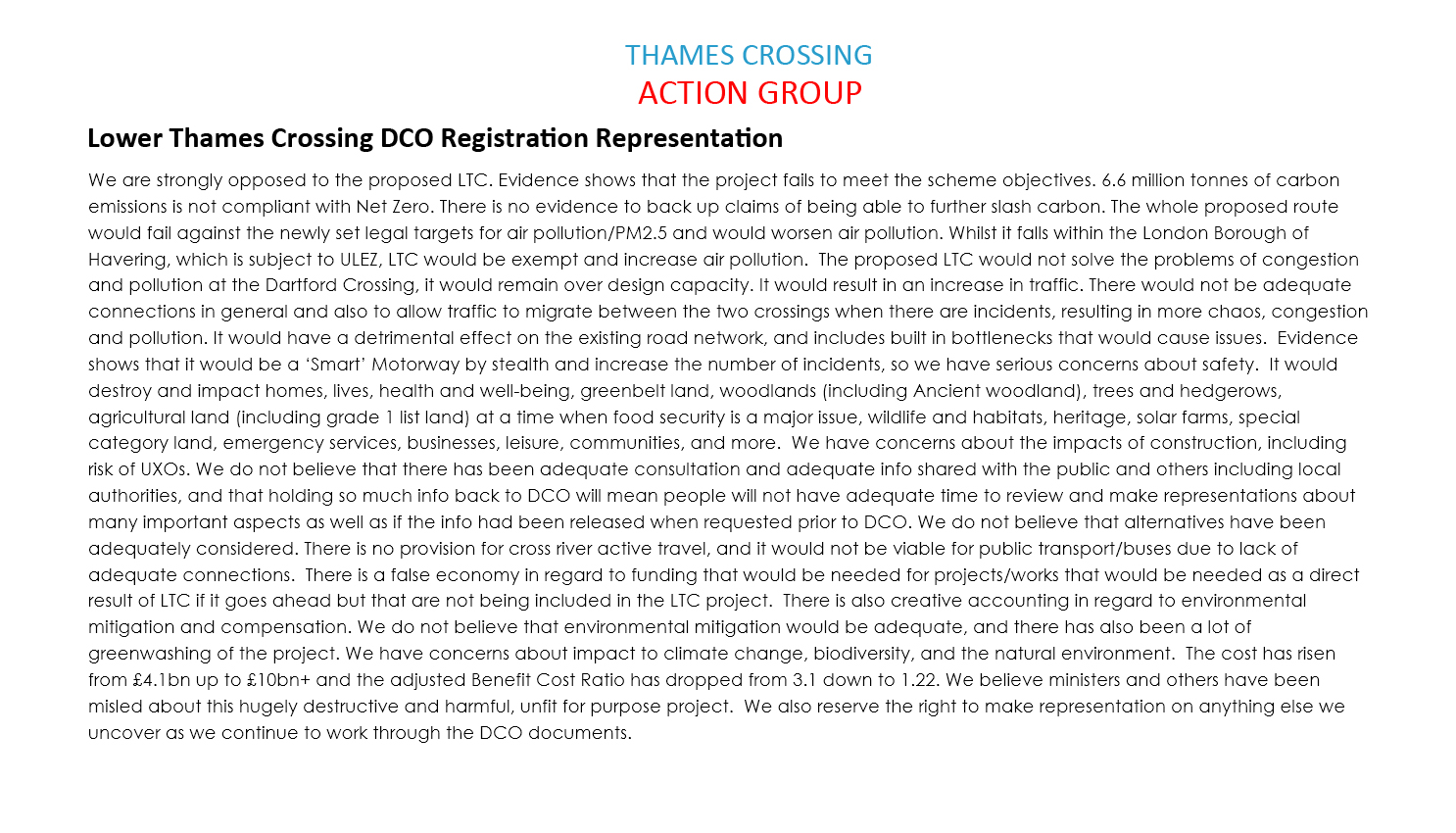 What will happen after I register?
Please take some time to view some of the application documents that are relevant to the aspects you have concerns about so that you are a bit more prepared when it comes to making further representations as things progress.  Remember there is a lot of info in the application documents that has not been previously released to us because NH withheld so much information during the pre-DCO stage.
We will do our best to bring you more info as things progress, but just to explain, for those who register there will be opportunities to make further representations both at meetings (hybrid – in person and online), and/or in writing if you need/wish.
Because of the strict 6 month time frame for Examination the examination timetable will be planned in a Pre-Examination stage which we will also be invited to be a part of to help ensure the Examination is planned as best it can be to ensure the best Examination possible.
We would also recommend that you sign up for the PINS LTC DCO email updates so you don't miss any of the official PINS updates. (just pop your email address in the 'email updates' form that can be found in the right hand column here.
If you get an email/letter from PINS about your registration not being accepted
The Development Consent Order (DCO) process have strict rules on how everything has to happen.  Part of that, is that certain info has to be provided by those registering to take part in the process.  If the Planning Inspectorate (PINS) send you an email or letter to advise your registration has not been accepted it will likely be because something wasn't quite right on your registration representation.
You still have until the deadline of 23:59 Fri 24th Feb 2023 to resubmit the necessary info and register.  More details will be provided in the letter from PINS.  We hope that the info above should help you with submitting an registration representation that will be accepted though!