More HE letters causing stress to residents
You may remember at the start of the Supplementary Consulation we shared details of how HE had sent erroneous letters to some residents – www.thamescrossingactiongroup.com/highways-england-have-sent-more-letters-with-errors/.
We were also made aware of additional letters that were received by residents around Feb 21st. At that time some received letters telling them their properties were now within the development boundary. We have asked HE for an explanation as to why these residents who have lived in their homes for years only received the letters at this time and had not received them at the start of consultation, we are still waiting for an explanation. Other letters that were received around that time were letting residents know that mistakes had been made in the letters they had received at the start of consultation, so these later letters corrected those mistakes!  Again we question why HE appear to make so many mistakes with their letters to residents about land and property, and why they don't seem to comprehend the true impacts this has on people's lives.
What's happening now then?
Back to the past few days, when we have yet again been made aware that HE have apparently sent out more letters causing further stress to residents.
As you will know or read in the article linked above some of those residents are in their 80s and 90s, not that it isn't stressful for anyone receiving such letters.  Well now it has been brought to our attention that some of those same residents, as well as additional residents, have now received letters from HE with Land Interest Questionnaires.
Yes that's right at a time when we are all facing and trying to deal with a worldwide pandemic due to the Coronavirus, and we are being told to take particular care and caution with regard to older members of our families and communities, as well as others who are considered vulnerable right now due to these unprecendented and uncertain times, Highways England have decided to start sending residents letters and Land Interest Questionnaires, including residents who they have previously been made aware are older members of our communities, and have previously been on the receiving end of confusing HE letters that contained serious errors.
The letters state: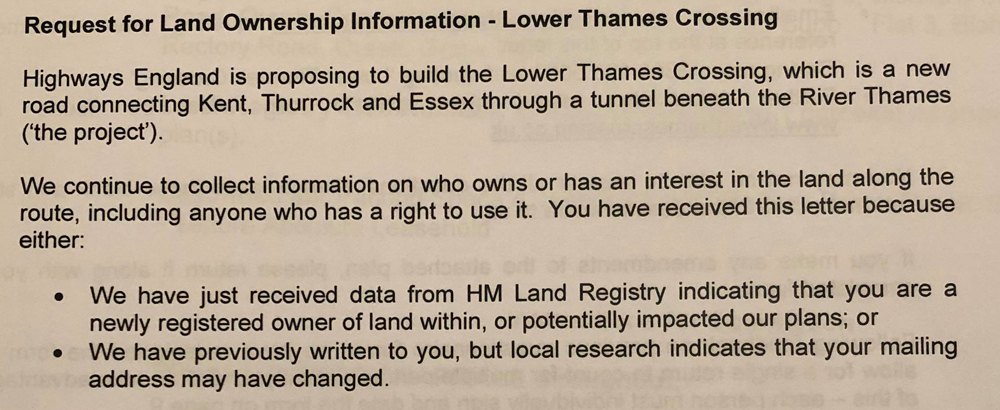 Not a single person who has contacted us has had any change in land/property ownership (having owned and lived at their properties for years), nor have any of them had any change to their mailing address.
Whilst we understand that in certain circumstances Highways England may have legal obligations to contact certain residents with regard to their property/land, there is a way to do that, whilst also taking into account the impact any letter will have on the recipient.
The way these letters are worded is so impersonal and confusing. Just standard template letters that often don't even seem to relate to the actual circumstances for which they state they are being sent.
On top of that with things as they currently are, did these letters really have to be sent right now?  People are sick, caring for others, self-isolating, concerned, scared, worrying about how they might be able to get food/supplies, adapting to working from home, have children at home full time unexpectedly due to school closures, people are trying to figure out how to operate their businesses amongst the changes and chaos, we have critical key workers doing their best to keep things running and save lives,  and everyone is generally doing their best to deal with the Coronavirus pandemic crisis.
We are specifically being asked by the Government to be aware of and take care of the elderly and vulnerable in our lives and communities.
Most companies are sending out letters and emails to people to express their concern over the impacts Coronavirus is having on us all, and explaining what they are doing to help and safeguard in the current situation.
But no not HE, they choose to carry on as if nothing is happening, sending stressful and confusing letters to everyone at a time when stress levels and concerns are already understandably elevated, including sending letters to residents who they are already aware are in their 80s and 90s, who they have already sent erroneous letters to and are more than aware of the distress they have previously caused them.
The Land Interest Questionnaires are 12 pages long, and residents are being sent a questionnaire for each of their land registry titles. We have been made aware of one lady in her 90s receiving a 2 page letter, plans, and the 12 page questionnaires to complete for her flat and each of her two parking spaces.  That is a considerable amount of paperwork to be sending anyone at the best of times, let alone under current circumstances, especially to someone in their 90s, someone who HE has had to write to previously to explain the mistakes in their previous letters and apologise for the distress caused.
To be clear it is not just older members of our communities who have received these letters and contacted us worried and shocked to be receiving letters like this on top of everything else that is going on, we have heard from others.  One told us she tried to contact HE using the phone number provided on the letter, amongst trying to work from home with her 3 children around, but after letting it ring a short while with no answer turned to us to see what info/help we could offer.
We're not sure how or why HE think that people are going to be well placed to complete these questionnaires right now with everything else that is going on.  Especially older and more vulnerable members of our communities who may quite rightly want a family member or someone to assist them, as it can be quite intimidating. Many of us are having to limit contact with loved ones right now for everyone's safety, so this is not the right time for them to be sending these letters.
Not even a covering letter to say that they understand that it is currently a stressful time,  and give any extra guidance or understanding of how these letters will impact people's lives especially with everything else that is going on.  No indication as to whether people can hold off on replying until things settle down and are a bit easier, until maybe older people can safely get assistance from family mements or others.
It's simply not acceptable and the whole process needs to be put on hold for now. Same as with regard to the consultation, but that's a whole other update!
What can be done?
We are in touch with the residents who have reached out to us  and shared with MP (Stephen Metcalfe), and between us have contacted HE about this, and are doing all we can.
Please be aware that these letters/questionnaires have recently been sent out. Whilst we of course know and understand that social distancing is advised and essential at this time, please do try to help spread the word in any way you can safely. We are concerned that there could be other residents receiving these letters/questionnaires who will be in a more isolated position than normal and not knowing what to do or where to turn.
Thurrock Council also offer some advice, particularly on Land Interest Questionnaires if you read and scroll down – www.thurrock.gov.uk/thames-crossing/lower-thames-crossing-%E2%80%93-if-youre-directly-affected.
We have to stress, as we always do, whilst we are happy to try and offer info and help when and where we can, we are fellow residents just like you, and are in no way legally qualified to advise or represent you.  Please do try contacting Highways England using the contact details on any letters if you can.  You may also wish to consider seeking legal advice, and may be entitled to free legal advice under your home insurance (depending on your policy type).
We know it can be easier said than done, but please try not to get stressed over the Land Interest Questionnaires, they don't always neccessarily mean that HE are saying your property/land is now within the development boundary.
Please take care of yourselves and each other, and stay safe.
Have your say
If you wish to add any comments on any aspects of this, you may wish to add them to your consultation response. We all deserve better, and in our opinion HE are clearly not taking adequate steps to ensure these issues are not being dealt with to the best of their abilities, or taking the impacts these letters have on people's lives into account and seriously enough.
We fully appreciate how distressing some circumstances can be, and the impact it can have on people's mental health and well-being, and therefore also share The Samaritans phone number – 116 123(free anytime from any phone) for those who may feel the need.  Please do reach out to someone if you need to.