The Wilderness has been a part of Ockendon for at least 400 years.
It is home to many varieties of trees, plants, and wildlife, including mature elms, and at least 8 bat species, some of which are rare.
It is now under threat from the proposed Lower Thames Crossing.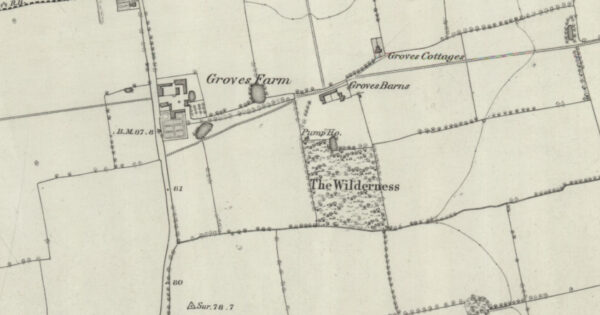 The map above dates back to 1865, one of the first Ordnance Survey maps for the area.
And The Wilderness is still here today………
Thanks to the person who provided the video footage of the Wilderness, used with permission.  The Wilderness is privately owned, please be respectful and do not attempt to visit without permission. Thanks
The importance of Ancient Woodland
Ancient woodlands are areas of woodland that have persisted since 1600 in England and Wales, and 1750 in Scotland.  They are rich and complex habitats created over centuries where old wood has decayed and soils have been left undisturbed.  They are home to more threatened species than any other.
Just 2.5% of the UK land is covered in ancient woodland.  They are irreplaceable, once it's gone it's gone for good, which is why it is so important that we do all we can to save and protect The Wilderness and other ancient woodlands that are under threat from the proposed Lower Thames Crossing.
More info on ancient woodland is available from The Woodland Trust – https://www.woodlandtrust.org.uk/trees-woods-and-wildlife/habitats/ancient-woodland/.
The Wilderness related history
The Wilderness falls within the old Groves Manor estate, which was lived in by Sir Richard Saltonstall and his family in the 1500s.
A former gateway of the estate can also be found nearby and is listed as a Grade 2 listed building dating back to the 16th century, so around the time that Sir Richard was alive and living there.
Sir Richard was Lord Mayor of London in 1597-98.
He died in South Ockendon in 1601, and is interred at St Nicholas of Myra, South Ockendon. There is a monument to Sir Richard by his wife Suzanna, located on the north wall of the chapel. The monument is built of variegated marble. Between the columns are two arches forming alcoves for the principal figures of Sir Richard and his wife. Sir Richard can be seen wearing the insignia of the Lord Mayor of London. In the plinth are the figures of their sixteen children.
What on earth would Sir Richard have made of the proposed LTC?
Related
You may also remember we shared this other video back in 2018 showing some of the other beautiful areas that are at threat to the north of the River Thames along the LTC route.