The Heathrow run way effect
You may have heard the recent news about the Court of Appeal ruling blocking the Heathrow expansion on environmental grounds.  You may have seen articles like this https://news.sky.com/story/heathrow-airport-plans-for-third-runway-plans-in-tatters-after-legal-defeat-11944267,
Opponents of the runway had argued that former Transport Secretary Chris Grayling ignored factors such as air quality, noise pollution and traffic congestion when he gave the expansion the go ahead.
It is important to realise that the court have not decided, and could not decide, that there will be no third runway at Heathrow.  The judge Lord Justice Lindblom ruled that:
The then Secretary of State for Transport, Chris Grayling acted unlawfully in failing to take into account the Paris Agreement on Climate Change when he decided to designate the airport's National Policy Statement in support of the expansion of Heathrow.
The airport National Policy Statement is of no legal effect unless or until the Secretary of State had undertaken a review of it, in accordance with the relevant provisions of the Planning Act 2008.
The Government has stated that they won't appeal the ruling, but Heathrow Airport has said it will appeal.
Reactions
According to some, the Appeal Court justices have not just lifted the immediate threat of demolition from homes in the path of the third runway.  By finding against the Government on environmental grounds they have raised the bar for all infrastructure projects, public and private, and prioritised consideration of the impact of carbon emissions.
Until now pledges to cut carbon emissions, including the Government's target of hitting net-zero by 2050, have been theoretical, more easily said than done. This judgement turns the rhetoric into concrete, practical case law.
The UK Government passed laws to end its contribution to global warming by 2050 on 27th June 2019 – www.gov.uk/government/news/uk-becomes-first-major-economy-to-pass-net-zero-emissions-law.  The target will require the UK to bring all greenhouse gas emissions to net zero by 2050.
The current Transport Secretary, Grant Shapps MP, who is currently in the position to decide whether to grant a Development Consent Order (DCO) for LTC, has been quoted as saying:
"This government is absolutely committed [from] the Prime Minister down to airport expansion, but, we want to make sure that expansion is environmentally friendly"
Let's hope he has the same views when it comes to road projects too, including of course LTC!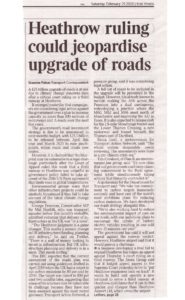 There is an interesting read in The Times if you wish to click the image to the left to read it.
In addition, Friends of the Earth, one of the environmental groups who brought the case has reported the outcome on their website –
https://friendsoftheearth.uk/climate-change/friends-earth-wins-campaign-protect-climate-heathrow-third-runway
The Government's decision to expand Heathrow Airport has been ruled "unlawful" by the Court of Appeal, on climate change grounds, in one of the most important environmental law cases in this country for over a generation. This follows a successful legal challenge by environmental organisation Friends of the Earth, represented by Leigh Day, in a victory for local campaigners who have been battling against the third runway for years.
NB. You may remember Leigh Day were the company that Dr Emma Tristram used for the Judicial Review for the A27 Arundel Bypass. 
Will Rundle, head of legal at Friends of the Earth, said "This ruling is an absolutely ground-breaking result for climate justice. We were fighting a project that would have had dire implications for present and future generations."
Jenny Bates, climate campaigner at Friends of the Earth, said:
"The UK government must take this ruling as an opportunity to play its full part in fixing the international climate crisis, especially in the year that it hosts crucial climate talks in Glasgow. This means finally moving on from the climate-wrecking Heathrow third runway project and ensuring the UK aviation sector actually cuts its climate emissions, rather than adding to them.
The Court has specifically recognised how the climate crisis needs to be at the heart of major infrastructure decisions. It's time that the government catches up with this fact and stops pursuing its outdated climate-wrecking transport projects, such as major new roads and airport expansion at Heathrow or elsewhere, and instead gives us the clean transport network we need."
How could this affect roads, and more particularly LTC?
You may remember that it was Chris Grayling MP who decided the LTC preferred route, C3, back when he was Secretary of State for Transport.  We need to research and see if there is any evidence we can find of anything he may have ignored when he made the decision on LTC preferred route.  The very fact he made the decision and how many other decision he made in his time as Secretary of State for Transport does make you wonder if there should be further official investigation into all his decisions.
Articles like this www.bbc.co.uk/news/business-51665682 comments that plans for a £28.8bn roads programme could be challenged in the courts for breaching the UK's laws on climate change.
Whilst this news may be encouraging, and we appreciate all the enthusiasm in response to what has happened, we really do need to focus our time and energies right now on getting our heads around the current consultation changes, and responding to the consultation. Let's not get distracted by this right now, we can research further and check for comparisons, and any possible avenues we may be able to consider moving forward after we get consultation out of the way.
As Rebecca Lush of the Transport Action Network commented recently on our facebook group, and in BBC interviews like the one linked above, they have already been genuinely investigating legal action (and were prior to the Heathrow decision!). The National Networks National Policy Statement (NPS) is woefully out of date and not fit for purpose.
"The equivalent National Policy Statement for roads (the National Networks NPS) preceded the Paris Agreement, so wouldn't have had to take it into account, like the aviation NPS. Apparently the NN NPS did have a Strategic Environmental Assessment (SEA) unlike the aviation NPS. However there's potentially grounds to argue the NN NPS is out of date and not fit for purpose as it was written pre Paris and pre net zero."
She also did a live interview for BBC News 24 and managed to mention the LTC and the waste of £6.8 billion which should be invested in sustainable alternatives. She urged the Government to walk the walk on climate change by scrapping big roads schemes (like LTC) in the imminent Budget (11 March).
Transport Action Network are a great organisation, and we are pleased to be in touch with them, and part of their network.  We had the pleasure of being invited and attending one of their network meetings late last year.
There are a lot of ideas and things that are being researched and worked on behind the scenes, that will all come to light at the best time! It's not that we are keeping things from you, it's just that there are only so many hours in the day, we have to prioritise the consultation right now, and when we get to stages where we have reached a point that other info is ready to be shared more widely members of TCAG will be amongst the first to know! Don't forget many Government committees and things are still be formed following on from the General Election.  As things progress along those lines it will open up other opportunities and ideas that we have to share with you as soon as the time is right!
What do Highways England say with regard to CO2 levels for LTC?
We emailed HE to ask them if they could kindly provide us with details of  what the predicted CO2 increases would be for LTC, including embedded CO2 during construction phase, and also if there was an Appraisal Summary Table for the scheme.
The reply we had from HE was:
"Thank you for your email which has been forwarded to me. The information you have requested is being developed as part of our Development Consent Order (DCO) application and will be based on the scheme we take to DCO. As we are continuing to develop the design we have not yet completed our assessments, which will be included in Environmental Statement (ES).
The ES is a written document that sets out the findings of the Environmental Impact Assessment process, and particularly a description of the likely significant effects of the proposed development on the environment and a description of any measures envisaged in order to avoid, prevent or reduce and, if possible, offset likely significant adverse effects on the environment. The ES will include a chapter on Climate. A separate Carbon and Energy Report will also support the DCO application."
They admit in the consultation materials that the changes in this consultation and other things that have changed since the PEIR (Preliminary Environmental Impact Report) was published in 2018. They ask us to give our opinions on the changes made in this consultation in our responses. Yet they are failing in the consultation materials to provide us with the data and info that illustrates the changes and impacts.
Considering they are meant to be providing us with clear and informative material for the consultation it certainly feels like they are trying to wriggle out of giving us much of the info we would like and need to be able to give educated responses to their changes in this consultation.
Have your say
For now please do focus on the best way we have to fight LTC right now which is by all becoming as aware as poss of all the consultation info, and taking part and encouraging everyone else you can to take part in this Supplementary Consultation. we can't stress enough how important that is, and that it needs to be our priority right now. Once consultation is out of the way, we will continue to work on all the other things together!
Question 4 in the consultation response form is where you can tell HE your concerns and provide them with evidence as to why the LTC is not fit for purpose on an Environmental level. 
Don't forget, if you don't feel that the consultation material is clear and informative you should also comment to that effect in Question 9 on the response form.