TCAG Media Coverage – Week beginning 15th Oct 2018
There's been lots more media regarding TCAG and the proposed Lower Thames Crossing again this week.
Essex Live
On Monday night we met Essex Live reporter Lottie O'Neill at the LTC Task Force Meeting, this is her latest report on LTC.
ITV News Meridian
Tuesday 16th October saw the first Highways England Information Event at Orsett Hall.  ITV News Meridian came down to cover the event and chat to TCAG and some of the affected residents. (we will share a copy of the report as soon as we have a copy).
Gateway 97.8FM
Tuesday also saw Gateway 97.8 FM covering the LTC again, using some of last weeks interview that Roger and Laura did with Ros Connors, and this time Drivetime's Ros Connors was getting reaction from Stephen Metcalfe MP.  Listen in below, if you don't want to hear the recap from last week's interview with Laura jump to around 6mins 30secs in the video to hear Stephen!
ITV News London
Thursday saw ITV News London back in the area, chatting to TCAG and more local residents who are greatly impacted by LTC.
One of the interviews is with a family who would be stranded within the M25/LTC junction, but no longer have the CPO intention letter, as in the past week they have been told their home is not going to be destroyed.  The distance from their side boundary to the edge of the motorway was given to them by HE on Tuesday last week and is 17.5M. The embankment is planned to start at their boundary.
Highways England didn't even have the nerve to show these families homes stranded amongst the destructive route in their fly through video presentation (circled in red below), instead showing the area as a lovely wooded area.  If they are hiding this on their video, what else are they hiding from us?
This family now have to decide what to do.  When they asked at least 5 different members of HE staff if they would want to live there, they all said no.  Tune in to see this and another family's interviews with ITV at 6pm on Mon 22 Oct – not Friday 19th Oct as originally scheduled.
Massive thanks to Matt Jackson for creating this interactive image (above) for us to show before and after.  Use the arrow sliders (click and drag) to slide across the page and reveal the before and after view of this junction.  It really brings home the differences.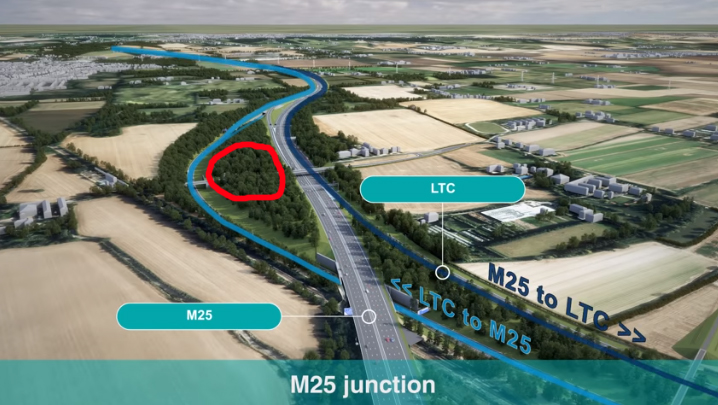 The other family moved to their home so they, their two young children, and mother who suffers with a severe lung condition had a healthier life, and now find themselves with the threat of the proposed LTC coming so close to their property, bringing with it increased pollution levels.  They are not even sure if it goes ahead that their mother will be able to continue living with them, or if they will have to move too, due to the impact LTC would have on their health and lives.
You can read and watch the ITV News report about the impact of the proposed Lower Thames Crossing on these families here
Gateway 97.8FM
Big thanks for Ros on the Gateway 97.8FM Drivetime show for squeezing us into her show today to give listeners an update on how traffic will have to go eastbound down the A13 from LTC to the Stanford Interchange and come back westbound to access A1089 etc.
Imagine the impact this will have on the A13, and how that will also impact the ambulances in and out of Basildon Hospital for example.
The Yellow Advertiser front page that she refers to in the show can be found online – Yellow Advertiser 18 Oct 2018.
Thurrock Independent
Nice center page spread on LTC thanks to the Thurrock Independent, covering the affects on Thurrock Council's local plan, the impact on the Orsett Showground, the toxic triangle, and local reaction to the Highways England info event at Orsett Hall on Tuesday.
Have a read on pages 18/19 – Thurrock Independent 18 Oct 2018
Thurrock Gazette
LTC reports on Page 16 of the Thurrock Gazette too – Thurrock Gazette 18 Oct 2018
The fight continues….