If the proposed Lower Thames Crossing goes ahead there would be many different road closures, lane closures and traffic management such as temporary traffic lights etc.
We know that there is a lot of info in the Community Impacts Consultation, and much of it is contradictory and confusing.  So we've tried to highlight some of the longer road closures that would be experienced if LTC goes ahead to help everyone out.  There are other road and lane closures being proposed, this is just a few of the highlights (or lowlights).
Ockendon Road
Looking west bound along Ockendon Road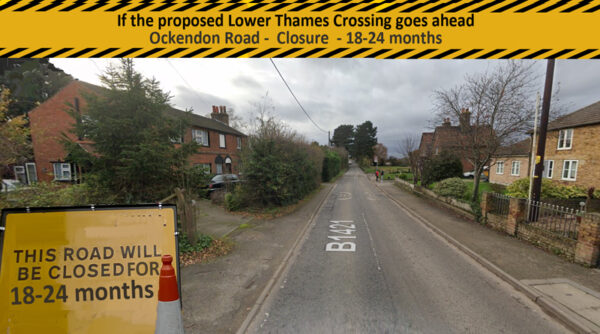 Looking eastbound along Ockendon Road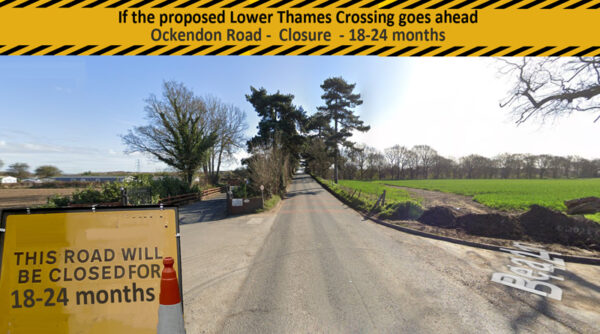 Page 33 of the Ward Impacts Summary – North Part 2 states, "the closure would affect local communities, including bus routes, and a suggested diversion is shown below via Dennis Road. Diverted traffic using Dennis Lane or St Mary's Lane to cross the M25 would experience an increase in journey length of around 10km."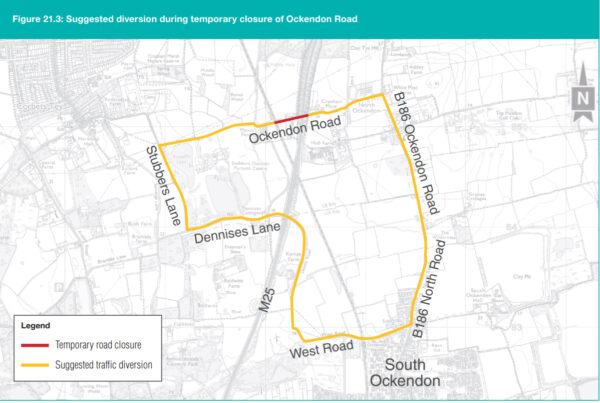 This would impact the A370 bus route which would need to be diverted.  Remember too that the diversion would likely mean the loss of access to some residents.  Detail of diversion has not yet been disclosed, but for instance looking at the suggested detour above, the bus would not be able to go down to Ockendon Road and then turn around to come back and follow the suggested diversion, it would be very likely that people in some areas would see a loss of access to the bus route unless they are able to walk further to different bus stops.
The road closure would also impact the route to the Crematorium, as well as homes and businesses.
Rectory Road, Orsett
It's not completely clear whether Rectory Road in Orsett is being proposed to be closed for 7 months or 1 year.
Page 317 in the Ward Impact Summary says Rectory Road closure to allow for bridge works would be for  7 months between September 2027 and March 2028.
Yet on page 305 in the Ward Impact Summary it says the bridge carrying Rectory Road over the A13 would need to be replaced, requiring the existing crossing to be closed for one year.
We have asked HE to clarify, and will update as and when we receive any clarification.
RectoryRoad – Northbound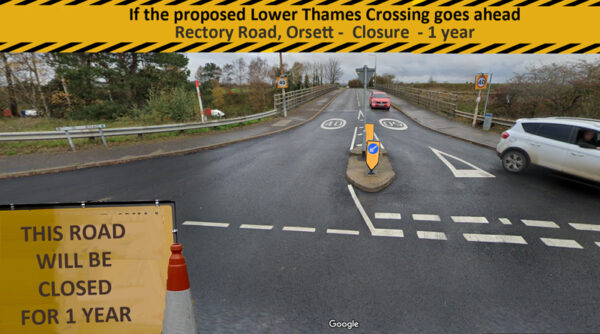 Rectory Road – Southbound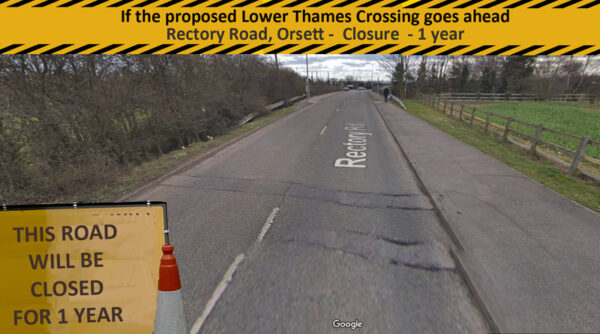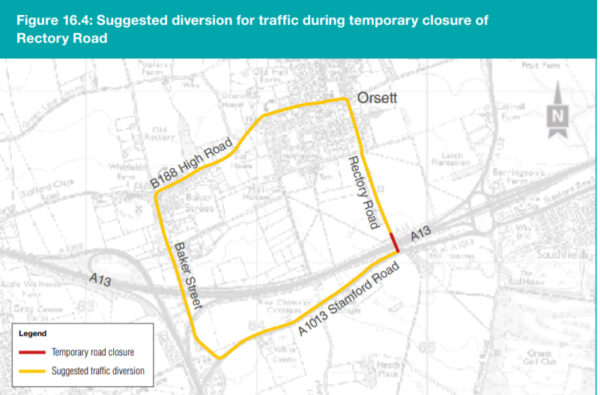 Note how Stanford Road is spelt incorrectly
Again access to bus stop on the Old A13 (Stanford Rd/A1013) would be lost during this road closure.  It would also obviously cut off access to the village for those that usually use it coming to and from Bonners on foot/cycling via Rectory Rd.
Baker Street, Orsett
Another road that would see long road closures is Baker Street in Orsett, if the LTC goes ahead.
Baker Street northbound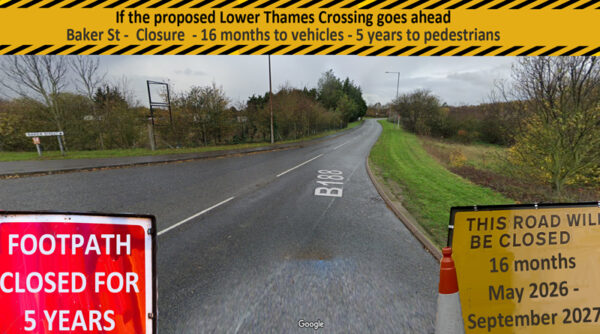 Baker Street southbound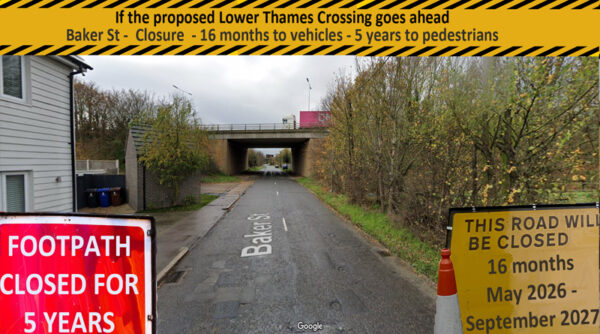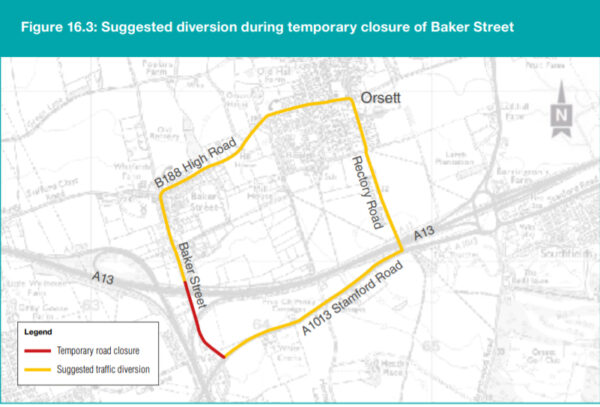 Note how Stanford Road is spelt incorrectly
Again access to the bus stop on the Old A13 (Stanford Rd/A1013) would be lost during this closure.
There was some confusion as to how long Baker Street would see a closure as in the consultation materials both 16 months and 5 years are mentioned, but without proper and clear clarification.
We put the question to Highways England at the August LTC Task Force meeting and their response was:
The realigned Baker Street passes through our construction area for the duration of the construction period, and during the construction phase will be used by both public traffic and construction traffic. As such, we cannot be sure that we can keep this route safely open for more vulnerable users, and so have reported closure of this PRoW route for the duration of construction in this area. The 16 months for closure of this stretch of Baker Street, and the 5 years for the PRoW overlap, so the total duration would be 5 years, not 5 years plus 16 months.
The diversion route during this period would be via High Road, Rectory Road and A1013. In the case of pedestrians we are looking at use of local footpaths to see if we can shorten this diversion.
NB. PRoW stands for Public Rights of Way, which means footpath, cycle path, bridleways.
Brewers Road Bridge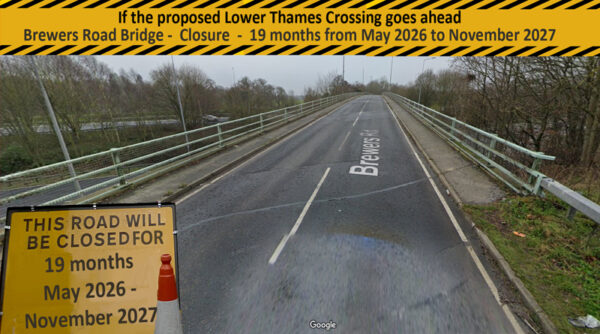 Henhurst Road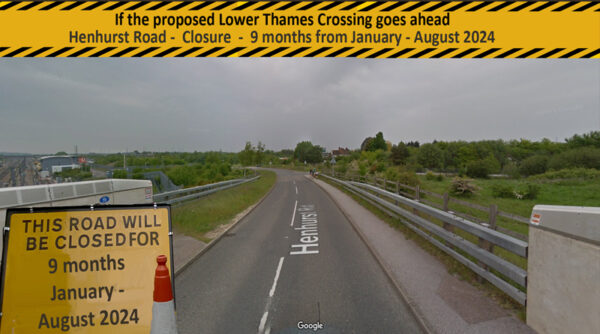 Other roads
There would of course be lots of other roads that would be impacted by road and lane closures, including traffic management like temporary traffic lights at times.  More can be found out in the various consultation documents, and we will endeavour to highlight more detail as soon as we are able, but we wanted to highlight the above for now, to help raise awareness.
Permanent road closure
If the LTC goes ahead then we would see the permanent closure of Hornsby Lane, in Orsett Heath.