London Resort (theme park) and LTC
Some may be wondering why we are publishing an update about info about the London Resort (theme park).  Well it's because, amongst other things, London Resort (theme park) and Lower Thames Crossing (LTC) would both create more traffic issues both sides of the River Thames.
What are the issues
We already know that the proposed LTC would still leave the Dartford Crossing over capacity. Plus we know that National Highways (NH) are not considering how traffic would migrate between the two crossings when there are incidents, if the LTC goes ahead, and that there aren't adequate connections, which would lead to more chaos, congestion, and pollution.
Whacking a great big theme park in between it all just seems ridiculous, in areas that are already suffering with serious congestion and pollution issues.  To make it even worse NH have not even been taking London Resort into account with their traffic modelling data for LTC, because it doesn't yet have permission.  Whether or not that changes now that the London Resort has progressed to Development Consent Order (DCO) stage, with the application being accepted for Examination remains to be seen.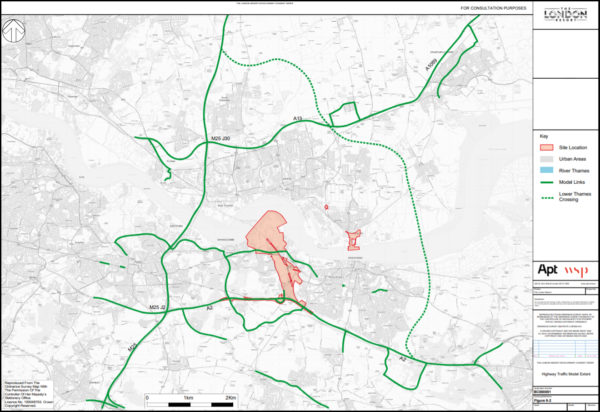 As can be seen above London Resort does refer to LTC in it's consultation materials and says it is taking it into account in it's planning.  Why one will take the other into account but not the other way around it beyond us!  We'd also say that whilst London Resort say they are taking LTC into account in their plans, clearly they are not knowledgeable enough on the topic to realise the issues.  Maybe they have just trusted what NH have told them rather than actually research it fully as we do, because there would be issues!
The map above also highlights the toxic triangle that LTC would create, with the A2/M2 running along the bottom, the M25 up the left hand side, and the LTC completing the right hand side of the toxic triangle.
The idea of a theme park on the Swanscombe Peninsula, Kent has been spoken of from some years now.  Many will remember it originally as Paramount Pictures, and is now London Resort.
Back when the LTC route options were being first discussed there were numerous locations, and at each location many variants of crossings that were considered.  Location B would have seen the potential new crossing in the vicinity of the proposed theme park, many believe this is why possible crossings at that location were quickly ruled out.
Things went a bit quiet for a little while and then they had another consultation, with the addition of a parking facility north of the river as well as parking at the theme park.  They are proposing a 29.9 hectares  site including up to 3 multi storey car parking buildings for 2500 car spaces and 55 coach spaces, as well a facilities such as retail and catering amenities to the east of Tilbury .  So those arriving in cars and coaches etc will be able to park their vehicles at the car park facility north of the river and use a boat service across the river to the theme park in Kent, which they refer to as Park and Glide.
The access to the London Resort car parking facility would be via the A1089 southbound.  Oh but wait there is no direct access from the LTC onto the A1089 southbound!  Traffic wanting to access the A1089 southbound from the LTC has to use the Stanford Detour.
And whilst traffic could come off the M25 at the A13 and exit directly onto the A1089 southbound at the existing exit, it will mean bringing more traffic into the vicinity of junction 30 and the Dartford Crossing.  We have not come across info on how the cost of parking either south or north of the river compares.  We would hope that the cost will be comparable, despite the fact those using the car park to the north of the river will need to use a boat service to get across the river, otherwise people arriving on the M25 south will just continue over the bridge to use the car park closer to the theme park.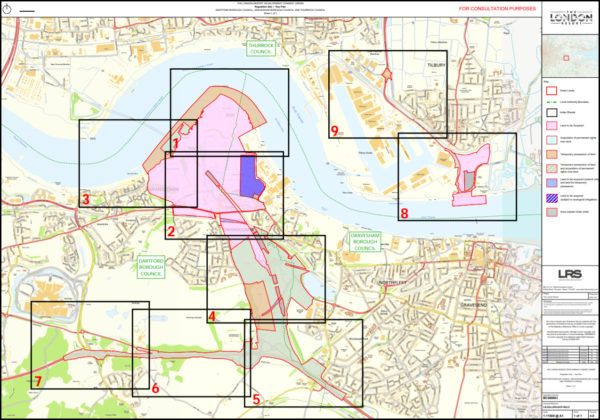 And that's just the parking north of the river, south of the river would see 7500 parking spaces, in total there are around 10,000 parking spaces. Imagine all those extra vehicles movements, and deliveries etc on top of the customers arriving and leaving.
South of the river would also be impacted by traffic issues, as any time there was an incident at the Dartford Crossing for example, traffic would come off the M25 at the A2 and head coastbound to get onto the LTC, but there is just one single lane from the A2 coastbound onto the LTC.  It would be bad enough regardless, but now consider all the theme park traffic too.
There are of course the obvious issues and impacts, especially those you would expect for a theme park project of this size, such as the increase in traffic, the land take, impact on the environment, impacts on businesses/jobs etc. There are around 2000 jobs locally which would be lost if the proposed theme park goes ahead, and people are currently in an awful stressful state of limbo as London Resort continue to play their games and delay the process further.
Depending on timing of both project, since they are both facing delays, there could also be a clash in timing of construction with development boundary and construction routes overlapping.
As the end of the day, neither project is a good idea in our opinion, and both would be a serious concern that would cause.
What's been happening since consultation
September 21st 2020 – London Resort ended (Read our response here)
December 2020 – London Resort submitted their Development Consent Order (DCO) application in Dec 2020. It was accepted for Examination by the Planning Inspectorate (PINS) in Jan 2021.
Natural England recognised the area, where the theme park is proposed (the Swanscombe Peninsula), as a nationally important wildlife haven by designating it as a Site of Special Scientific Interest (SSSI) after some great campaigning from various organisations.  Whilst this is great news, unfortunately it doesn't automatically mean that the theme park plans are cancelled, and the DCO process will still continue.
TCAG have registered as an Interest Party to reserve our right to make representations moving forward, whether it be written or verbal representations.
May 2021 – PINS announced there would be a delay to the start of the Examination as requested by London Resort in response to the SSSI status update.  Usually PINS only allow a maximum of 3 month delay, but gave special allowance for a 4 month delay with conditions that London Resort give regular updates on their progress.  It has since come to light that London Resort have shown a complete lack of respect for PINS and the democratic DCO process and failed to deliver the requested updates.
December 2021 – PINS asked for feedback from Interested Parties on a series of questions about whether the allowance of further delays could still be justified in the public interest.  Serious concerns and factors have been raised by those who are impacted by the London Resort proposal due to the ongoing delays.
TCAG responded to this latest request from PINS Examining Authority (ExA) with the following:
"We do not believe that the continued delay and lack of respect from London Resort by their non-compliance in providing updates to the ExA as requested can still be justified in the public interest.  London Resort clearly have no intention on complying with the requests and conditions put on their request for delay.  If the acceptance of the DCO application and delay was subject to their compliance and they are not complying then we would respectfully suggest that the ExA request permission from Government to refuse the application, or proceed in whichever way is legally allowed and withdraw any allowances that have been granted to London Resort to date, as London Resort are showing no respect to the ExA and democratic process, by not complying with the procedures and deadlines.

These delays are clearly putting unnecessary and extra stress on those impacted by the proposed London Resort and this should be taken into account, and actions taken to ensure the matter is rectified as quickly and efficiently as possible for all concerned."
February 2022 – PINS announced their intentions to progress with the Pre-examination stage of the DCO process.
It has also been reported that BBC and ITV have both backed out of plans to be involved in the theme park, due to a backlash from nature lovers over the environmental impact of the theme park.  The London Resort was due to feature rides inspired by hit BBC shows such as Doctor Who, Top Gear and Sherlock as well as ITV's Thunderbirds.  But with this latest news it seems to just add yet more issues to the ever growing list of problems London Resort are facing, and another step in the right direction for those fighting the theme park.
March 2022 Update
The Preliminary Hearing for the London Resort DCO was due to start on 29th March 2022. The first decision to be made was whether to delay the Examination until June/July, or whether to proceed with Examination immediately.
PINS want London Resort to commit to being ready for Examination in June/July for them to be granted a further extension.  However, evidence suggests that London Resort have said they will need until Sept, much later than June/July, which should mean that the Examination would have started straight after the Preliminary Hearing with no further delay.
However, at the last minute London Resort have withdrawn their application, saying they aim to resubmit it later in the year.
PY Gerbeau said: "In the best interests of the London Resort, we are withdrawing the current application; as a result of the classification of Tilbury as a Freeport which has meant revisions are required in moving the ferry terminal from Tilbury to Grays. We are working closely and collaborating with Thurrock Council on that matter.

"This issue, combined with the decision by Natural England to designate a brownfield contaminated site as a SSSI has impacted the project. We in turn have acquired significant land holdings as part of our mitigation strategy combined with our commitment to spend £150m on environmental improvements on the peninsula. These changes are considered material and as such require withdrawal and resubmission.

"We have repeatedly petitioned for latitude, extensions of time and of course understanding from the Examining Authority and the Planning Inspectorate. Their teams have been extremely supportive, but we recognise that the best route for the Project is through withdrawal and resubmission of a fresh DCO application within this calendar year.

"We will continue our engagement with the local community, statutory bodies, landowners and others to make sure we can reach as many agreements as possible before resubmission. Make no mistake we are still 100% committed to this amazing project and we will resubmit before the end of 2022 and look forward to delivering a world class entertainment resort – the UK deserves better and we will make it happen!"
We like many have had serious concerns over the proposed London Resort. There was no way we could have supported London Resort whilst opposing the LTC, it would have just been too hypocritical.
The reasons to object to both projects are just too similar, including how hugely destructive and harmful they would be, the traffic/congestion and pollution issues they would inflict, and the negative impacts to businesses, communities, and people's lives, health and well-being.
Huge thanks and well done to
Save Swanscombe Peninsula SSSI
and everyone else who has been fighting so hard! Together we are stronger!
We have also emailed Thurrock Council for comment on this, asking them what they are considering/proposing in response to the LR statement about moving the ferry terminal.  We will update as we receive response.
Great to hear Gareth Johnson MP for Dartford speaking out against London Resort and in support of Swanscombe Peninsula SSI too!
Details of the DCO process and progress can be found at  https://infrastructure.planninginspectorate.gov.uk/projects/south-east/the-london-resort/
Related
TCAG response to London Resort Consultation and Inadequacies of London Resort Consultation representation – click here
BBC reports on Swanscombe Peninsula SSSI status – click here
Kent Wildlife Trust info on Swanscombe Peninsula – click here and here
Buglife Save Swanscombe Peninsula campaign – click here
Joint letter from various organisations calling for urgent SSSI designation for Swanscombe Peninsula – click here
Save Swanscombe Peninsula SSSI on Facebook – click here
ITV News – London Resort: First stumbling block for Kent project as planning objections revealed – click here
The London Resort website
London Resort Consultation – https://consultation.londonresort.info/surveys/50
London Resort Consultation Guide – https://londonresort.info/media/1103/london-resort-guide-to-consultation.pdf
London Resort Land Plan Maps – https://londonresort.info/media/1105/land-plans.pdf