London Resort (theme park) and LTC
London Resort (theme park) and Lower Thames Crossing (LTC) would both create more traffic issues both sides of the River Thames.  We already know that the proposed LTC would still leave the Dartford Crossing over capacity. Plus we know that Highways England (HE) are not considering how traffic would migrate between the two crossings when there are incidents, if the LTC goes ahead, and that there aren't adequate connections.
Whacking a great big theme park in between it all just seems ridiculous, in areas that are already suffering with serious congestion and pollution issues.  To make it even worse HE have not even been taking London Resort into account with their traffic modelling data for LTC, because it doesn't yet have permission.  Whether or not that changes now that the London Resort has progressed to Development Consent Order (DCO) stage, with the application being accepted for Examination remains to be seen.
The idea of a theme park on the Swanscombe Peninsula, Kent has been spoken of from some years now.  Many will remember it originally as Paramount Pictures, and is now London Resort.
Back when the LTC route options were being first discussed there were numerous locations, and at each location many variants of crossings that were considered.  Location B would have seen the potential new crossing in the vicinity of the proposed theme park, many believe this is why possible crossings at that location were quickly ruled out.
Things went a bit quiet for a little while and then last year they had another consultation, with the addition of a parking facility north of the river in the Tilbury area.  Yet another aspect of the proposed theme park to take into account in regard to the proposed Lower Thames Crossing, as well as what we were already aware of, and our own personal opinions of the theme park, but on here we have done our best to keep discussion purely on the connection and issues between the theme park and LTC.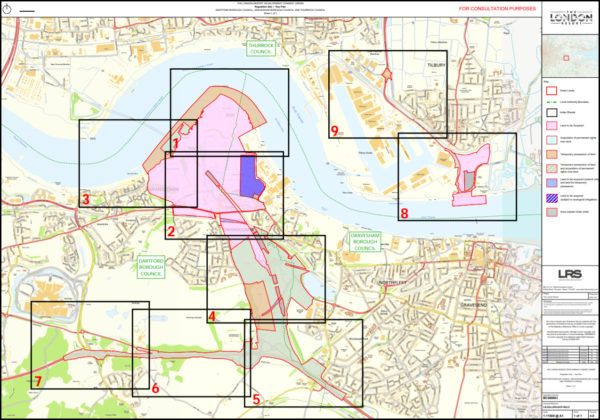 You can read our previous updates relating to the London Resort (theme park) and LTC here with some initial reactions, and here is our update including our official response to the London Resort consultation in 2020.
Since then
Well since we submitted our response to the London Resort Consultation they have submitted their Development Consent Order (DCO) application and it was accepted by the Planning Inspectorate (PINS) and now moves to a Pre-Examination and Examination period of the DCO process.  All the supporting DCO documentation can be viewed on the London Resort page on the Planning Inspectorate's website.
Natural England recognised the area, where the theme park is proposed (the Swanscombe Peninsula), as a nationally important wildlife haven by designating it as a Site of Special Scientific Interest (SSSI) after some great campaigning from various organisations.
Whilst this is great news, unfortunately it doesn't automatically mean that the theme park plans are cancelled, and the DCO process will still continue.
TCAG have registered as an Interest Party to reserve our right to make representations moving forward, whether it be written or verbal representations.
In May 2021 The Planning Inspectorate announced there would be a delay to the start of the Examination as requested by London Resort in response to the SSSI status update.  Usually PINS only allow a maximum of 3 month delay, but gave special allowance for a 4 month delay with conditions that London Resort give regular updates on their progress.  It has since come to light that London Resort have shown a complete lack of respect for PINS and the democratic DCO process and failed to deliver the requested updates.
December 2021 Update
PINS have now given those registered as Interested Parties the opportunity to respond to a series of questions they have set as to whether the allowance of further delay in the process should still be deemed in the public interest.  Serious concerns and factors have been raised by those who are impacted by the London Resort proposal due to the ongoing delays.
TCAG responded to this latest request from PINS Examining Authority (ExA) with the following:
"We do not believe that the continued delay and lack of respect from London Resort by their non-compliance in providing updates to the ExA as requested can still be justified in the public interest.  London Resort clearly have no intention on complying with the requests and conditions put on their request for delay.  If the acceptance of the DCO application and delay was subject to their compliance and they are not complying then we would respectfully suggest that the ExA request permission from Government to refuse the application, or proceed in whichever way is legally allowed and withdraw any allowances that have been granted to London Resort to date, as London Resort are showing no respect to the ExA and democratic process, by not complying with the procedures and deadlines.
These delays are clearly putting unnecessary and extra stress on those impacted by the proposed London Resort and this should be taken into account, and actions taken to ensure the matter is rectified as quickly and efficiently as possible for all concerned."
Details of the DCO process and progress can be found at  https://infrastructure.planninginspectorate.gov.uk/projects/south-east/the-london-resort/
Related
BBC reports on Swanscombe Peninsula SSSI status – click here
Kent Wildlife Trust info on Swanscombe Peninsula – click here and here
Buglife Save Swanscombe Peninsula campaign – click here
Joint letter from various organisations calling for urgent SSSI designation for Swanscombe Peninsula – click here
Save Swanscombe Peninsula SSSI on Facebook – click here
ITV News – London Resort: First stumbling block for Kent project as planning objections revealed – click here
The London Resort website