Lower Thames Crossing – The Process
Lower Thames Crossing – The Process that Highways England have to go through to try to get permission, because contrary to what some believe they don't yet have permission!
If you are interested in the history of how we got to this point please click here and read our History of the proposed LTC update.
What happens next?
As you will see in the video below, once all consultations are completed and Highways England have considered all the responses, they can then put in their Development Consent Order Application.  The current expectation is that they will submit this on Friday 23rd October 2020.  It has been pushed back by over a year now due to things like the huge amount of responses to the Statutory Consultation!
Once the DCO application is submitted the Planning Inspectorate has 28 days to decide if the application meets the required standards to proceed, including whether the consultation has been adequate.
If accepted it then goes into a Pre-Examination period where any member of the public can then register with the Planning Inspectorate to become an Interested Party by making a Relevant Representation.  A Relevant Representation is a summary of a person's views on an application, made in writing.  An Examining Authority is also appointed at this stage, and all Interested Parties will be invited to attend a Preliminary Meeting, run and chaired by the Examining Authority.
We will of course do our best to keep everyone up to date as things progress, but we would also suggest that people sign up for the Planning Inspectorate's email updates specifically for the LTC here.  This should also ensure that you are alerted as soon as the registration for Interested Parties begins, so you can ensure that you can continue to be involved and have your say!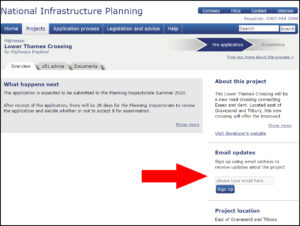 It then goes to Examination stage.  Following which the Planning Inspectorate then have 3 months to make a recommendation to the Sectretary of State for Transport, currently Grant Shapps MP.  He then has a further 3 months to make a decision as to whether the DCO is granted or not.
Once a decision has been issued there is a six week period in which the decision may be challenged in the High Court. This process of legal challenge is known as Judicial Review.
If ultimately the DCO is granted construction can start soon after. HE currently predict that if granted a DCO the LTC would open in 2027/28.
But please be aware that until this all happens, they do not have permission and the fight continues!
Related
Watch the video below and visit https://infrastructure.planninginspectorate.gov.uk/application-process/the-process/ for more info.
Details of 'How to register to take part in the examination' can be found here.
Highways England also have more info on their LTC website here.