Lower Thames Crossing Supplementary Consultation Events 2020
Highways England will be holding public and mobile Information Events in Kent, Thurrock, and Essex as part of their Lower Thames Crossing Supplementary Consultation, which runs from Weds 29th January 2020 through to Weds 25th March 2020 inclusive.
Due to the Coronavirus Highways England have today (March 19th 2020) announced that the consultation will be extended by 1 week and will not end at 23:59 on Thursday 2nd April 2020.  More details of this can be found on their website – https://highwaysengland.co.uk/lower-thames-crossing-supplementary-consultation-extended.
NB. Details of exactly what we will be consulted on will be released on Weds 29th Jan 2020.
Below is a list of the Lower Thames Crossing Supplementary Consultation public and mobile information events:
Events marked with a * are Mobile Events, these events may have less staff and information than the full info events.
Fri 21 Feb –  2pm-8pm – Civic Hall, Blackshots Lane, Grays, RM16 2JU
Sat 22 Feb – 12.00(noon)-6pm – New Windmill Hall, St Mary's Lane, Upminster, RM14 2QH
Wed 26 Feb – 10am-7pm – Defoe Parade, Chadwell St Mary, RM16 4QR *
Thurs 27 Feb – 2pm-8pm – Cascades Leisure Centre, Thong Lane, Gravesend DA12 4LG
Fri 28 Feb –  12(noon)-5pm – Thames Chase Forest Centre, Broadfields Farm Cottage, Pike Lane, Upminster RM14 3NS *
Tue 3 March –  2pm-8pm – East Tilbury Village Hall, Princess Margaret Road,  East Tilbury RM18 8RB
Wed 4 March – 10am-7pm – Chalk Parish Hall, Pirrip Close, Gravesend DA12 2ND *
Fri 6 March – 10am-3pm – Higham Library Car Park,  8 Forge Lane ME3 7AS, Kent *
Fri 6 March – 4pm-7pm – Higham Train Station Car Park, ME3 7JQ, Kent *
Sat 7 March – 10am-5pm – Gravesend Town Centre, King Street DA12 2XX Gravesend *
Sun 8 March – 11am-4pm – Shorne Woods Country Park, Brewers Road, Shorne, Gravesend DA12 3HX *
Mon 9 March – 2pm-8pm – Orsett Hall Hotel, Prince Charles Avenue, Orsett RM16 3HS
Tues 10 March -11am-7pm – Homesteads Village Hall Car Park, Dunstable Road, Stanford Le Hope, Essex, SS17 8QT  *
NB. This event has been added due to public demand as HE had not originally planned any info events in the Stanford/Corringham area
Wed 11 March – 2pm-8pm – Linford Methodist Church, East Tilbury Road, Linford SS17 0QS
Thurs 12 March – 10am-3pm – Meadow Rooms, The Street, Cobham DA12 3BZ *
Thurs 12 March – 4pm-7pm – Sole Street Station Car Park, Cobham DA13 0XY *
Sat 14 March – 12(noon)-6pm – Gravesham Civic Centre, Windmill Street,  Gravesend DA12 1AU
CANCELLED – Tue 17 March – 2pm-8pm – Brandon Groves Community Club, Brandon Groves Ave, South Ockendon RM15 6TD
CANCELLED – Wed 18 March – 10am-7pm – Shorne Village Hall Car Park,  16 The Street, Shorne DA12 3EA *
CANCELLED – Thurs 19 March – 10am-7pm – Upminster Library, 26 Corbets Tey Road,  Upminster  RM14 2BB *
CANCELLED – Sat 21 March – 10am-5pm – Grays Town Centre, High Street, Grays RM17 6NP *
The events marked as CANCELLED above are due to the Government's announcments regarding Coronavirus and HE deciding to cancel remaining info/mobile events.  The consultation is still open and continues as normal, just minus these events.  Whilst we do not agree with the decision not to postpone the whole consultation that is the current situation.  Please read – www.thamescrossingactiongroup.com/coronavirus-covid19/.
New phone events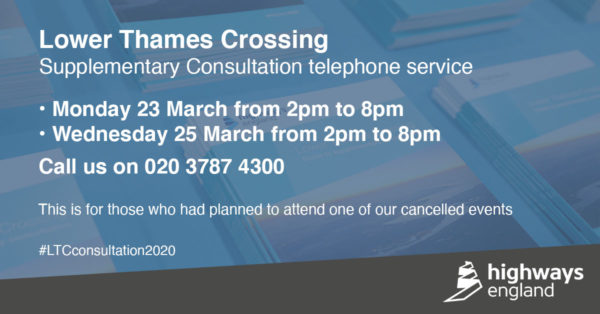 Highways England have announced two new phone events for those who had planned to attend one of the cancelled events.
We are not entirely sure how they will be able to show you maps, images, videos etc over the phone. Or indeed if you will be able to talk to various experts from all fields, or if there will be limitations.  At the info events there would be various staff from each area of expertise for the different fields that they cover, ie land & property, environment, traffic, construction etc, not sure how that will be adequately covered over the phone!
Also bearing in mind that many would have been attending the info events because they are not online to be able to view info and ask questions via email etc, we are at a loss as to how these residents are meant to find out about the phone events, or indeed that the consultation has been extended to April 2nd.
Please do comment on any concerns you have about all this in your consultation response. Together we are stronger!
The map that was previously displayed here has been removed as the event info no longer refected the up to date info 
This info has been taken from the Highways England website – https://highwaysengland.co.uk/lower-thames-crossing-consultation2020/
We have listed the deposit locations and information points of our site here – www.thamescrossingactiongroup.com/supplementary-consultation-deposit-and-information-locations.
How to have your say
Please only use the following official response channels. It cannot be guarantee that responses sent to any other address will be included in  analysis.
Online response form
Fill in the online survey at: www.lowerthamesscrossing.co.uk/consultation-2020 (NB the survey will be available from Weds 29th Jan – Weds 25th March 2020 Thurs 2nd April 2020)
Freepost
Post your response form or comments to: FREEPOST LTC CONSULTATION
(The Freepost address is the only text needed on the envelope, and no stamp is required.)
Email
Email your comments to: ltc.consultation@traverse.ltd
Events
Drop a copy of the response form into any of the official consultation events. Details of which can be found on our website www.thamescrossingactiongroup.com/supplementary-consultation-events or the Highways England website https://highwaysengland.co.uk/lower-thames-crossing-consultation2020/
Please note these are NOT Thames Crossing Action Group events