Initial reactions to the LTC Supplementary Consultation
So as of a minute past midnight on Weds 29th Jan 2020 the info regarding changes for the proposed Lower Thames Crossing have been announced as part of the Supplementary Consultation, which will run for 8 weeks through until 23:59 on Wed 25th March 2020.
Due to the Coronavirus Highways England have today (March 19th 2020) announced that the consultation will be extended by 1 week and will not end at 23:59 on Thursday 2nd April 2020.  More details of this can be found on their website – https://highwaysengland.co.uk/lower-thames-crossing-supplementary-consultation-extended.
Some of our initial reactions
Having been up until 5am this morning, and managing to grab about 4 hours of sleep, it seems the details released over night by HE leave us with more questions than answers!
LTC Website issues/errors
There were major issues with HE's consultation website last night, with it having serious accessibility issues within an hour or two of the consultation launching. Including at one point a message saying that the consultation was not available and didn't start until 29th of March, even though it will only actually run until 25th March.  People turned to social media to question what was going on and how to access the info.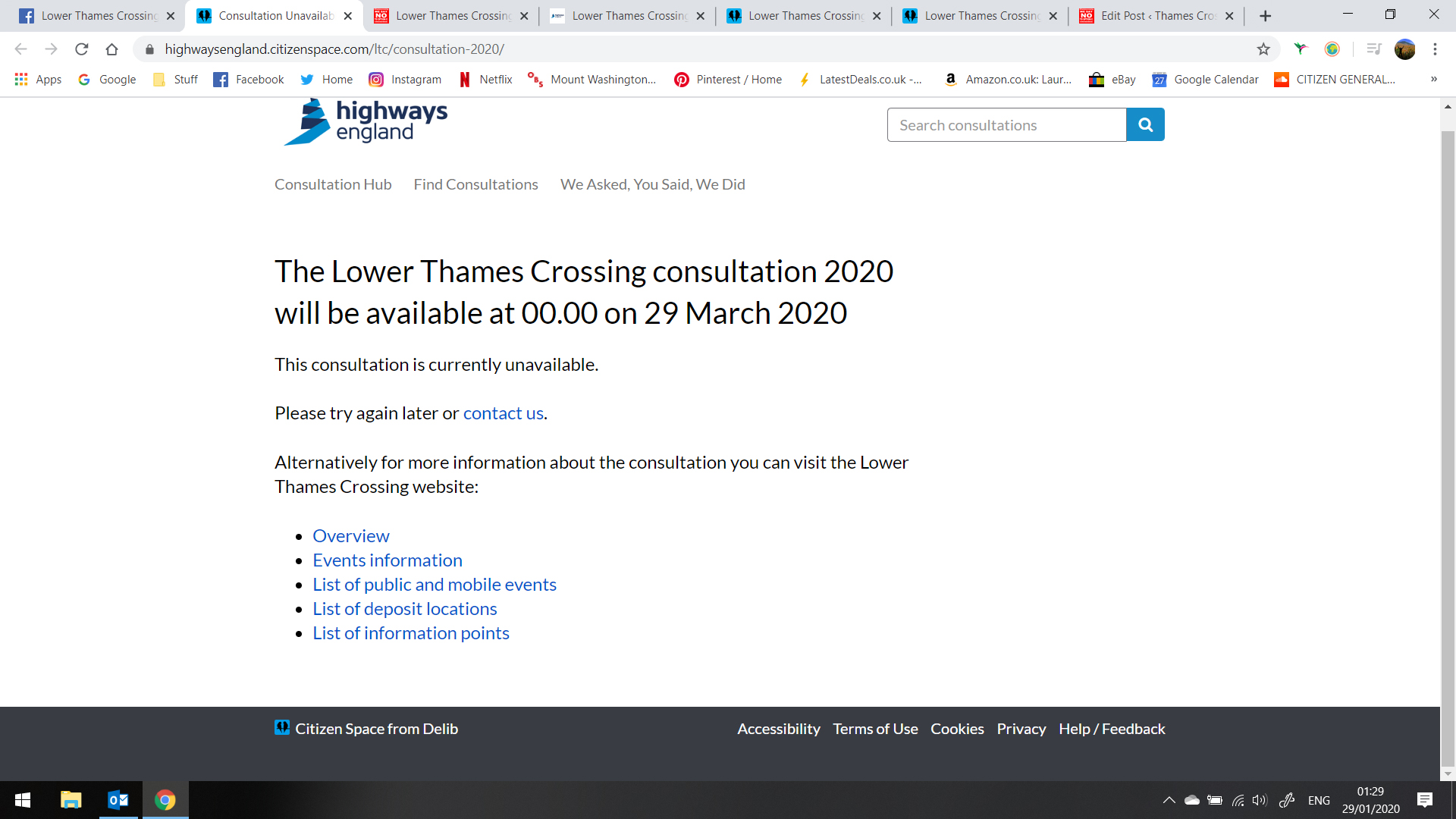 We have already noticed errors within the info/images provided on the website. We find much of the info confusing and contradictory, meaning we are going to need to be asking HE a lot of questions! For example look at these images, what hope do we have if it appears Highways England are struggling to know which way is North and which way is South again?! (1)  Image clearly show which direction North is yet the arrow showing the directions of traffic seem a little bit contradictory!

False economy
My initial reaction to what we have seen is that it appears to be about cutting costs wherever they can to try and improve the cost benefit ratio to try and help push the project through.  It has nothing to do with improving the route or listening to statutory consultation responses. It is obvious that things that are being cut and changed will simply lead to extra cost moving forward.
Service Station/Tilbury Link Rd
On one hand HE are saying they have removed the service station at East Tilbury due to responses to the Statutory Consultation, and environmental concerns (2). What about the Government guidelines, safety concerns, the issue of cars running out of fuel due to lack of service station that HE preached about during Statutory Consultation?!  Further into the documentation they then mention that they are actually still working with companies and organisations/groups to work out which location would be best for a future service station.(3)  So is it really being removed from LTC, or just delayed to suit their needs of trying to get LTC through DCO by reducing costs and being seen to listen to the public during statutory consultation?
We know from comments at LTC Task Force (4) that the Port of Tilbury, Thurrock Council and HE are already in talks about a Tilbury Link Road, as a side project not part of the LTC Development Consent Order.  Yet the changes announce that the Tilbury junction is being removed because there is no requirement to have a junction at Tilbury!(5).
This is false economy and the money will end up being spent, but just hidden away as what will technically be considered as different projects.  Very sneaky Highways England!
Bottlenecks and inadequate connections
The LTC southbound between the M25 and A13 is being reduced to 2 lanes. (6)  How will traffic migrate to the LTC when there is an incident at the Dartford Crossing (when there is an incident at the Dartford Crossing bridge)? From the many lanes of the M25 onto 2 lanes, that will be a wonderful bottle neck of congestion, pollution and chaos!
Dangers of Smart Motorways
After reading and hearing all the recent news about the dangers of so called Smart Motorways, and watching Secretary of State for Transport, Grant Shapps MP comment how dangerous they are on Panorama (7) this week, our concerns on safety of the LTC are strengthened, and we will be questioning HE further on this, especially in light of the fact that the Southbound LTC between the M25 and A13 is now down to 2 lanes.  HE hae also not made it clear how many Emergency Refuge Areas they propose along the LTC, so we will be questioning that also.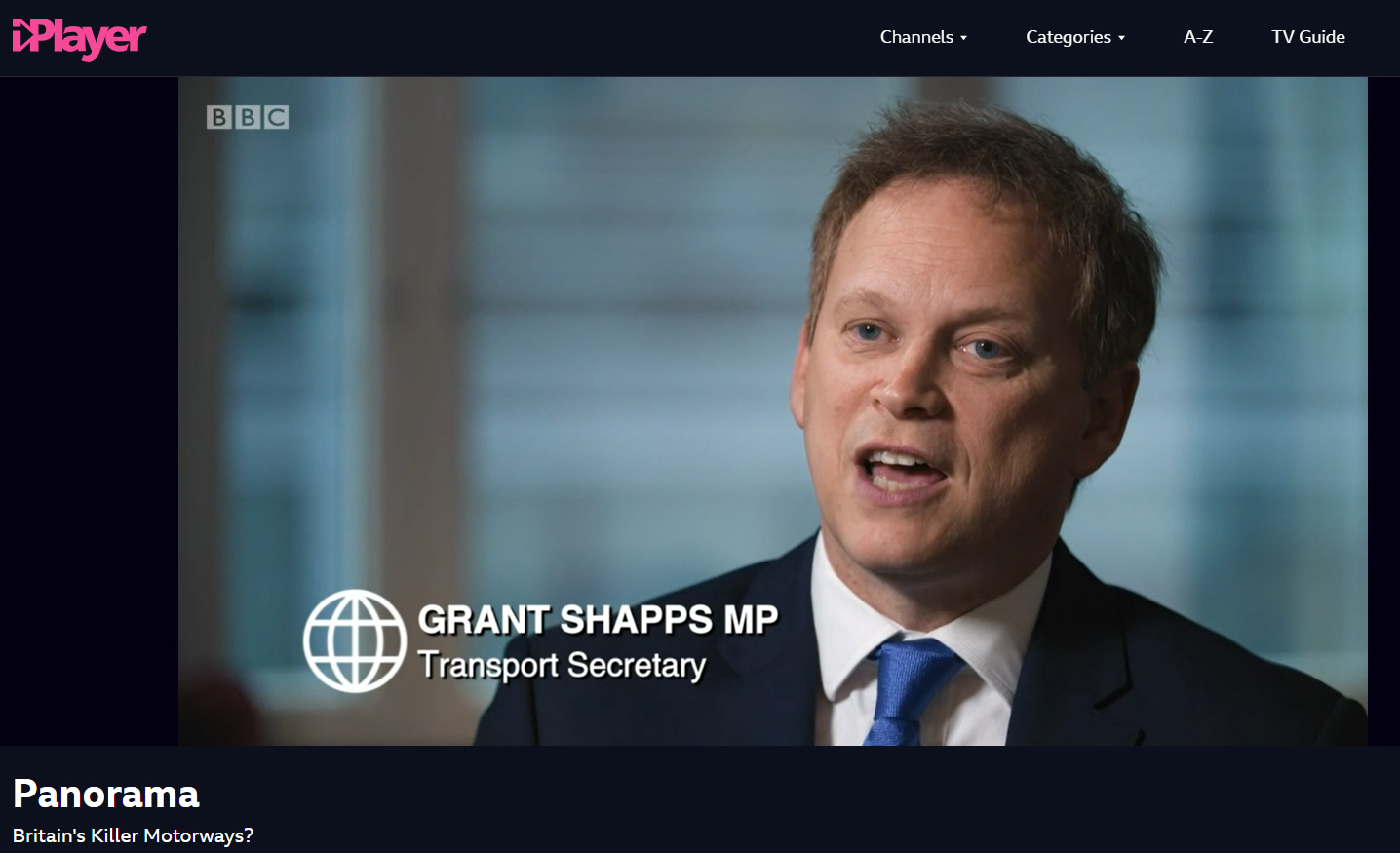 Construction Hours
Construction hours, if they get permission, will be horrendous for residents with 24/7 tunneling, and sites opening between 6am and 11pm through the Summer Mon-Fri, 6am-5pm Saturdays, and maintenance works from 'time to time' on Sundays. For 6 years!(8)
Poor communication
There are residents who don't know if they are coming or going, literally they were in the development boundary, were taken out of the development boundary, and are now back in it again.  This is having a major impact of people's lives, health,  and well being.  HE seem to have no concern for the impacts their actions are having on residents.
Lack of leadership and questions about salaries
We also note that the foreword comes from Chris Taylor (Director of Complex Infrastructure Programme for Highways England).(9)  Where are Alan Seyright (interim LTC Project Director) and Keith Rumsey (Interim Deputy LTC Project Director)?  What are they doing for their salary?  Why has Tim Jones not been properly replaced since he resigned in July last year?
Not fit for purpose
Fixing the problems we all suffer with due to the Dartford Crossing, which was the original criteria, is blatantly no longer a priority of the LTC project.  The Dartford Crossing will still be over capacity, even if the LTC goes ahead.  The LTC creates a hugely destructive toxic triangle that would be dangerous, a total waste of taxpayers money, and simply not fit for purpose.
I am still busy reading through the documents in better detail and starting to compile long lists of questions to put to HE and others!  I am sure there will be many more comments that we will be releasing in the near future in response to this consultation as soon as we have had adequate time to absorb and try to understand the documents, and hopefully get some answers to our questions from HE!
We would welcome and suggest that everyone reads through as much of the new consultation documentation, and shares their opinions and findings, feel free to comment on our social media channels!  We have until 23:59 on Weds 25th March Thurs 2nd April 2020 to respond, so let's make sure we are all armed with as much info as possible for our responses!  We will be making regular updates to the website, social media and via our newsletter throughout the consultation period, and hope you find it helpful!

References
(1) Images shown below 'A13/A1089 junction connections' subheading in Overview – Section 3b: Changes to the route – North of the river in Thurrock and Essex
(2) "Removal of the rest and service area and maintenance depot – having considered the benefits, the environmental impact and the views of consultees, we have concluded that it is not necessary to include the rest and service area in our proposals, but it would be beneficial for one to be located in the vicinity of the LTC." – Overview – Section 3b: Changes to the route – North of the river in Thurrock and Essex
(3)  "Highways England will be working with service area operators, the haulage industry and road user groups to consider the most appropriate location for any further service area provision on the Strategic Road Network. Any facility proposed in the future would need planning consent from the local planning authority." – Overview – Section 3b: Changes to the route – North of the river in Thurrock and Essex
(4) "The Assistant Director LTC replied that the Tilbury Link Road was not a part of the scheme, but provision for future access for the road was a desire of the Port of Tilbury and Thurrock Council, and stated that discussions were taking place with HE to ensure this design happened at a future point. She added that the scheme could only come from HE as the Tilbury Link Road would be funded through the Road Investment Strategy (RIS), and RIS1 was ending in April 2020. She commented that if the Tilbury Link Road was delivered, it would not be until RIS3 in 2025-2030." –  October 2019 LTC Task Force Meeting Agenda Item
(5) "Removal of the previously proposed Tilbury junction – as we are no longer including a rest and service area or maintenance depot in our proposals, there is now no requirement to have a junction at Tilbury. For this reason, the junction has been removed from our proposals, allowing the route here to be redesigned to reduce costs and impacts. As the junction is no longer required, there is no need for the connecting slip roads." – Overview – Section 3b: Changes to the route – North of the river in Thurrock and Essex
(6) "One lane has been removed southbound between the M25 and A13 junctions. Our traffic modelling predicts that a significant proportion of traffic travelling southbound on the LTC will join from the A13 junction, so fewer vehicles will use the route between the M25 and A13. We have therefore reviewed our plans and reverted to our previous design featuring two lanes southbound between the M25 and A13 junctions.  By making this change, we can reduce the amount of land required for the LTC on this section, lessen our environmental impact and offer better value for money by only providing the capacity required." – Under LTC/M25 junction subheading in the Overview: – Section 3b: Changes to the route – North of the river in Thurrock and Essex
(7) Watch Panorama – Britain's Killer Motorways?
(8) "To maximise the amount of daylight hours during construction, we are increasing our assumed core working hours from those presented during statutory consultation. We are planning to carry out most of the work between 7am and 7pm on weekdays (excluding bank holidays), and between 7am and 4pm on Saturdays. During the summer, to take advantage of the extended daylight hours and good weather conditions, we would undertake earthworks between 7am and 10pm. Our crews may work for up to an hour before and after to prepare and close the site.  From time to time we may have to carry out maintenance work on Sundays. … Operation of the tunnel boring machines and associated activities for tunnel construction will take place 24-hours-a-day throughout." – Overview – Section 7: Building the Lower Thames Crossing
(9) Overview – Section 1: Foreword
You can view the full suite of documents for the Supplementary Consultation here – highwaysengland.citizenspace.com/ltc/consultation-2020/