Estimated cost per mile (updated)
We all know what the true costs are to our lives, homes, communities, green belt, ancient forests, agricultural land, wildlife, countryside etc.  What about the cost in figures! What is the estimated cost per mile of LTC?
We have shared a similar update about this previously, which can be found here.
However, the Road Investment Strategy 2 report was released alongside the Spring Budget (more details) which now gives a new price tag of £6.4-£8.2bn, so now we're updating the numbers again!
We all know that these projects never run to budget, but lets be kind and work out the figures based on LTC costing £8.2bn. The current design states it is approx 14.3 miles long.
8,200,000,000 divided by 14.3 = 573,426,573.4265734‬
So the Lower Thames Crossing (at current estimates) would cost nearly £573.5m per mile.
Let that sink in………..nearly Five hundred and seventy three and a half million pounds per mile.
Do we consider that to be good value for money?  Spending such a huge amount of taxpayers money on a project that creates a hugely destructive toxic triangle that doesn't solve the problems we all suffer with due to the Dartford Crossing, which will still remain over capacity even if LTC goes ahead.
The answer is of course NO!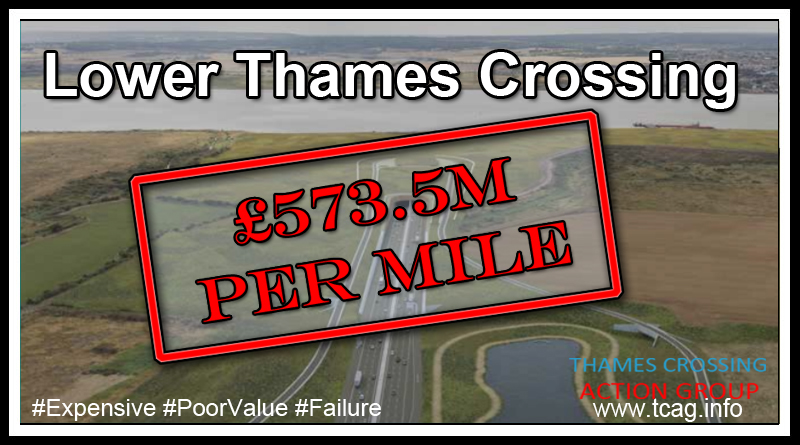 Comparing the cost per mile
There has of course been a lot of recent press attention over the cost of another hugely destructive Government project HS2.  How do the two projects compare mile for mile on cost?
Latest figure and articles suggest that HS2 costs is £307m per mile of track, as stated in a recent article in the Guardian – www.theguardian.com/uk-news/2020/feb/03/at-307m-per-mile-of-track-can-the-cost-of-hs2-be-justified.
£307m for HS2 per mile / nearly £573.5m for LTC per mile
False Economy
It should also be taken into account that as part of the Supplementary Consultation updates in 2020 it has been announced that the Service Station that had been added in 2018 (due to Government guidelines on providing rest areas for safety reasons) has now been removed. However, Highways England also state "Highways England will be working with service area operators, the haulage industry and road user groups to consider the most appropriate location for any further service area provision on the Strategic Road Network. Any facility proposed in the future would need planning consent from the local planning authority." – Overview – Section 3b: Changes to the route – North of the river in Thurrock and Essex.
Is this just another way to reduce the overal cost of LTC, to improve the cost benefit ratio to try and get this passed, whilst all along planning on adding a service station as a separate standalone project?
The same can be said about the removal of the Tilbury Junction and Tilbury Link Rd.  It has been reported that Highways England, the Port of Tilbury, and Thurrock Council are in discussions regarding the Tilbury Link Rd as a separate standalone project also.  Is this yet another way to keep costs down under the LTC project budget, whilst still discussing now removed sections of the LTC scheme as separate projects?
Or the fact that the 2 lane bottleneck on the LTC between the M25 and A13 southbound that will no doubt need upgrading as soon as it is realised, as we all know now, that 5 lanes of M25 traffic won't fit into 2 lanes on the LTC southbound when there is an incident at the Dartford Crossing/M25, and traffic needs to migrate to the LTC southbound!  Surely not another example of false economy?!
We would definitely say it appears to be the case!  What would the true cost of LTC be if they had to include these standalone projects?
Have your say!
Question 1c and 1d is where you need to make any comments relating to the Service Station and Tilbury Junction. Questions 8 in the Consultation Response Form allows for comments on anything not specifically themed in the other sections should you wish to comment on this point in your response.  Please do NOT copy and paste any of the above as your response.  Please use your own words, to avoid any confusion that you wish your comments to be considered an individual response. Copying and pasting could risk your response being considered a campaign response.
If you wish to also express your concern specifically about the estimated cost of the proposed Lower Thames Crossing you might want to consider also contacting the following:
The Prime Minister – Boris Johnson PM – 10 Downing Street, London, SW1A 2AA or Click Here – Twitter: @BorisJohnson
The Chancellor – Rishi Sunak MP – 1 Horse Guards Road London SW1A 2HQ – Email: public.enquiries@hmtreasury.gov.uk – Twitter: @RishiSunak
The Transport for Secretary – Grant Shapps MP – Department for Transport, Great Minster House, 33 Horseferry Road, London, SW1P 4DR or email: grant.shapps@dft.gsi.gov.uk or Twitter: @grantshapps
Transport Select Committee – Transport Committee, House of Commons, London SW1A 0AA or email: transcom@parliament.uk or Twitter: @CommonsTrans
(The Transport Select Committe are currently being decided and will be announced shortly, but contact them anyway, so they have some work ready for when the start!)
Taxpayers Alliance – 55 Tufton St, London SW1P 3QL or email: info@taxpayersalliance.com
Previous updates about LTC cost
You can find some of the comments we have made previously about the cost of LTC, including updates about when PFI and PF2 were abolished by the Chancellor in 2018 here – www.thamescrossingactiongroup.com/another-ltc-consultation-update/ and here www.thamescrossingactiongroup.com/yet-another-ltc-consultation-update/.
Stephen Metcalfe MP (South Basildon and East Thurrock) also spoke to the then Chancellor Sajid Javid about cost of LTC back in Sept 2019 – read our update on that here – www.thamescrossingactiongroup.com/stephen-metcalfe-asks-chancellor-if-lower-thames-crossing-is-value-for-money/.