10,000 reached, well done!
Earlier today we met the first milestone with the online petition started by our very own Claire Tovey.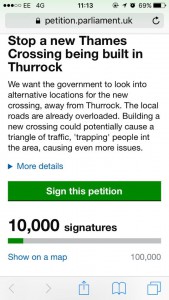 So what does passing signatures 10,000 mean? Well, it means the government has to respond to each and every one of us who signed the petition. Big deal I hear some people say but it does more than that, it reminds the government who put them there and tells them what we feel and think about what they are doing. This in conjunction with letters to the PM, MPs, as well as the consultation speaks in a very loud voice.
In a recently quoted poll, it was quoted the 55% of Thurrock residents were in favour of the crossing in Thurrock, turns out this was 55% of 1185. Meaning 651 people and we are not even sure if these people where these people are from, who seem to have more weight on the matter than the 4000 in the east and 2800 in the west of Thurrock. That's roughly 10:1 in favour of No to a crossing in Thurrock over the two articles.
This isn't over we need to push this out to everyone in this and neighbouring boroughs.
Let us get it up to 100K.
Here's that link again